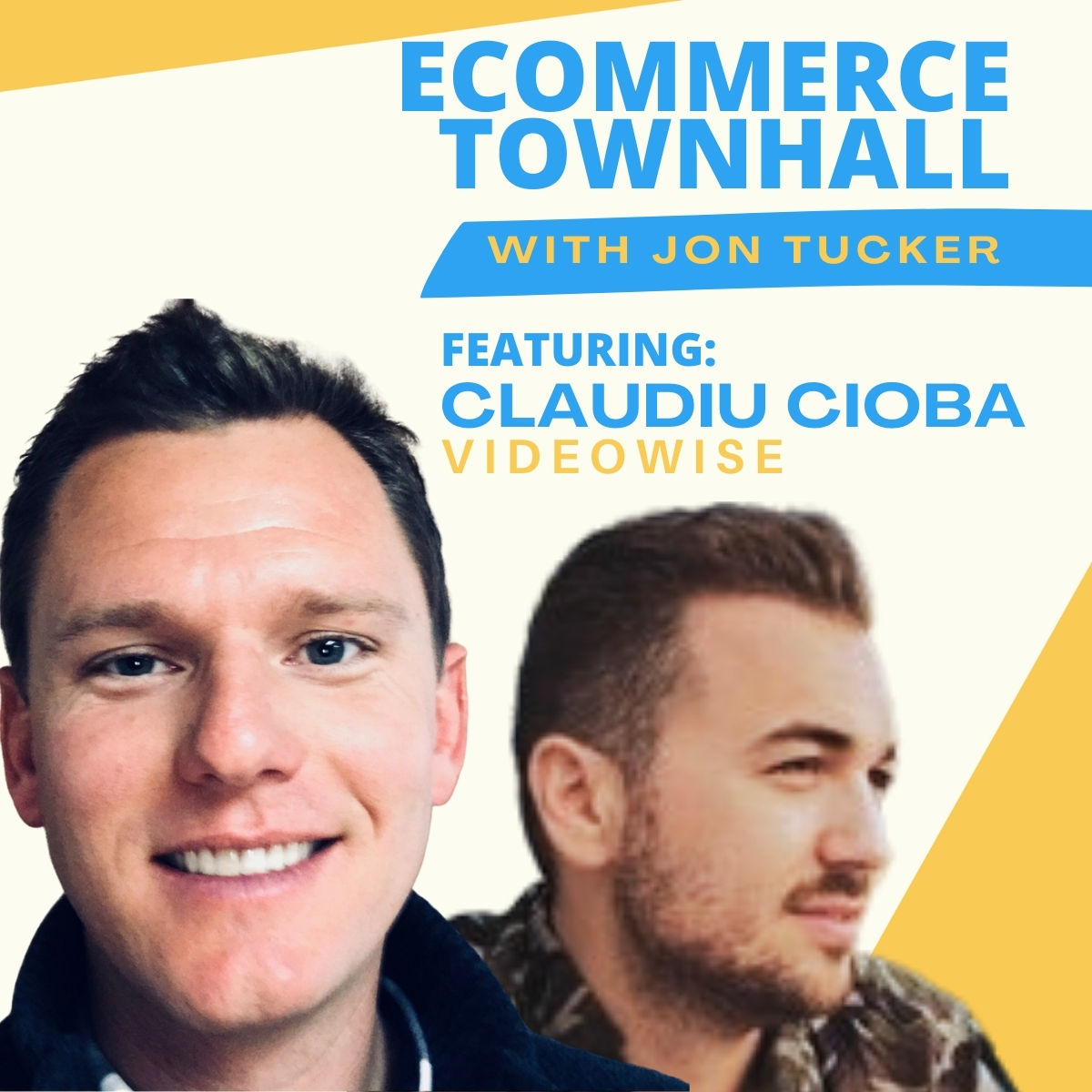 eCommerce Townhall Ep5: Integrating Customer-shared Videos Online with Your eCommerce Store with Claudiu Cioba of VideoWise
Using videos to increase your shopper's experience can be expensive and time-consuming, but with the right technology and guidance from experts, you will never shy off from the process again.
In today's episode, I'm joined by Claudiu Cioba, CEO of Videowise, which specializes in providing videos solutions by helping businesses search automatically, verify, and add product videos from YouTube, Instagram and TikTok straight to their site. Their mission is to help you improve your customer's experience to keep shoppers on your site for longer with better product presentation and increased conversions.
During this episode, we talk about how you can innovate and integrate videos into different aspects of your business to improve your customer's experience. We also dive into strategies that you can utilize to optimize and measure the videos' impact to increase
shoppers on your site and help them convert better.  Stay tuned, dig in and make sure to implement what you've learned.
We've got an awesome episode for you! We chatted with Claudiu from VideoWise.com. VideoWise enables you to do some pretty powerful stuff with video on your e-commerce store but at a really really big scale. It lets you automatically gather video reviews about your products from Youtube, Instagram, and TikTok and places them seamlessly in your product pages.
Normally here at ecommercetownhall.com, we talk about the tactic rather than focusing on the tool but for this particular episode, we let Claudiu go really deep into what VideoWise does and how it does it because to be fair, there's no really any other way to accomplish the stuff that VideoWise enables you to do at the scale that they do it.
We also talk about the analytics—how to measure the impact of the video and how to optimize its performance to increase your conversion and have good customer experience in your store.
You don't want to miss this episode about VideoWise. Stay tuned, dig in and be sure to implement what you've learned.
SHOW NOTES
In This Episode, You Will Learn:
[33:50] Claudiu career backstory
[04:30] The impacts of integrating videos on your brand if you do it the right way
[08:28] High-level strategies of integrating videos in eCommerce
[12:23] Lite video inventing strategies versus Shopify videos strategies
[15:09] The importance of content moderation in matching video content with products
[19:12] How to identify the videos that work for you
[22:49] How to optimize your shopper's engagement and experience
[25:27] The quick wins in videos content product marketing from Videowise
[30:39] Great takeaways from Claudiu
[31:57] How to reach out and connect with Claudiu
NOTABLE QUOTES
"The higher engagement is with how-to videos and video testimonials; they convert very well."
"If you want to see results, don't put one video on your products page."
"What is important for video success is knowing what video actually works for you."
"The instant social proof that you can get from videos is leveraging the existing content."
"If you do video right, it increases engagement which helps tremendously with SEO."
LET'S CONNECT
Claudiu Cioba
Website: www.videowise.com
LinkedIn: www.linkedin.com/in/claudiucioba
Twitter: www.twitter.com/claudiucioba
Jon Tucker
Website:
www.ecommercetownhall.com
www.helpflow.com
Email: jtucker@helpflowchat.com
Like our Facebook Page: Ecommerce Townhall
YouTube: Ecommerce Townhall
EPISODE TRANSCRIPT
0:00 – hey guys Jon Tucker from
0:02 – ecommercetownhall.com
0:03 – and i've got an awesome episode for you
0:06 – we chatted with Claudiu from
0:09 – VideoWise.com and what VideoWise enables
0:11 – you to do is some pretty powerful stuff
0:13 – uh with video on your e-commerce store
0:16 – but at a really really big scale uh and
0:19 – before i get into it uh fair warning
0:22 – normally in these things we uh talk
0:24 – about the tactic rather than focusing on
0:26 – the tool right so it doesn't feel like a
0:28 – demo of uh you know a piece of software
0:30 – but i'll be honest in this particular
0:32 – episode i let Claudiu go really deep
0:35 – into what VideoWise does and how it does
0:37 – it because to be frank there's not
0:38 – really any other way to accomplish the
0:40 – stuff that video wise enables you to do
0:42 – at the scale that they do it so i let
0:44 – them run really deep into how video eyes
0:46 – works because i think it's a really
0:47 – really powerful tool we talk about
0:49 – things like how to automatically gather
0:51 – you know videos about your products and
0:53 – reviews and things like that from
0:54 – youtube instagram tick tock all these
0:57 – different places in the background
0:59 – automatically
1:00 – we talk about how to easily display
1:01 – these videos on your website in a nice
1:03 – and clean way on product pages for
1:05 – example but also doing it on all your
1:07 – product pages right so being able to do
1:09 – it uh in a clean way but also at scale
1:12 – and then we talk about analytics how to
1:14 – measure the impact of video how to
1:15 – really optimize uh the performance of
1:17 – video and all those things so if you're
1:19 – focused on increasing conversions and
1:21 – you also want to have a really good
1:23 – customer experience on your store you
1:25 – don't want to miss this episode of how
1:26 – you can use video wise to do a lot of
1:28 – that so stay tuned to dig in and be sure
1:31 – to implement what you've learned
1:33 – welcome to e-commerce town hall where
1:36 – six seven and eight-figure e-commerce
1:38 – store leaders learn how to scale and
1:40 – streamline to get to the next level on
1:43 – each episode you'll see strategies from
1:45 – the industry experts behind successful
1:47 – stores that you can take back and apply
1:49 – with your teams right away
1:52 – the show is brought to you by
1:53 – HelpFlow.com help blow provides 24 7
1:56 – live chat teams to over a hundred
1:58 – e-commerce stores and can help you drive
2:01 – more sales while providing an awesome
2:03 – customer experience through their live
2:05 – chat agents
2:06 – check them out at HelpFlow.com but for
2:08 – now let's dive into today's episode
2:13 – hey guys welcome back to the show uh i'm
2:15 – super excited to have Claudiu Cioba from
2:18 – video wise uh he's the ceo of video wise
2:21 – and what they do is they're a shopify
2:23 – video marketing solution um that
2:26 – basically helps you sell more with video
2:28 – a ton of different stuff they do but
2:30 – that's ultimately um you know what he's
2:31 – here to talk about and some of the cool
2:33 – things that they're able to do and
2:34 – there's really nobody out there that
2:35 – does this um as a platform so um they
2:38 – have shoppable videos um and so Claudiu
2:41 – will touch on some of that um automated
2:43 – video solutions they enable you to like
2:45 – import all the videos from out on the
2:46 – internet from all these different
2:48 – platforms where your customers are
2:49 – talking about how awesome your products
2:50 – are so that you can really use those on
2:52 – your site and just um really make it a
2:55 – good experience for customers um by
2:57 – adding video and doing it unique ways so
2:59 – uh super super excited to dig in and you
3:02 – know when uh based on what we've talked
3:04 – about on some other episodes there's so
3:07 – many different ways to use video uh to
3:09 – really improve the shopping experience
3:11 – but
3:12 – it's time consuming um if you're trying
3:14 – to do it yourself it's expensive uh to
3:16 – do
3:17 – and also for much bigger brands like
3:19 – it's really hard to scale to like really
3:20 – be able to use you know customer
3:22 – generated content it's it's tough to
3:24 – scale and so what we're going to talk
3:25 – about today um is video wise's approach
3:28 – to to really integrating video into so
3:30 – many aspects of the business and in
3:33 – really a seamless and you know simple
3:34 – way um while also leveraging customer
3:37 – videos and so um super excited to dig in
3:40 – and just to clarify because i know we
3:42 – get a lot of partners on the call like
3:43 – the goal here is not to be a pitch of
3:45 – video wise like really what cloudio is
3:46 – going to do is just talk through like
3:48 – the right way that brands that are
3:50 – crushing it with video use video you
3:52 – know obviously video wise does a whole
3:53 – bunch of stuff that's going to enable
3:55 – you guys to do this i think it's a
3:56 – no-brainer to use it um but we really
3:57 – want to dig into the tactics so you
3:59 – understand kind of the strategies behind
4:00 – it um so Claudiu is super super excited
4:03 – to have you on the show thank you for
4:04 – joining us man
4:05 – thanks for having me Jon nice to see
4:07 – you again
4:08 – yes yes Claudiu was on our ecommerce
4:10 – town hall live the first event so uh be
4:12 – sure to dig into that if you haven't
4:14 – seen it yet but uh as a starting point
4:17 – you know
4:18 – what's the what's the potential for
4:20 – video if you get it right like what do
4:21 – you see for some of you know maybe your
4:23 – power users or brands that um that you
4:25 – guys have seen do well with video like
4:27 – what's the impact that it can have when
4:29 – you get it right the impact is uh is
4:31 – enormous to be honest
4:33 – we we're just literally scratching the
4:35 – surface ourselves uh i think we're being
4:38 – uh
4:39 – we're being surprised and we're truly
4:41 – amazed from month to month from shopify
4:43 – plus store to shopify plus store um and
4:47 – uh i mean the more traffic that these
4:48 – stores have the better the results that
4:50 – we've seen it's just amazing uh and uh
4:53 – every month seems like we you know we
4:55 – get really excited we get like one of
4:56 – those really big stores with hundreds of
4:58 – thousands of sessions uh every month or
5:01 – like millions and we're like oh let's
5:03 – see how this performs and um it really
5:06 – also depends on the industry so i'm
5:08 – gonna give i'm gonna be giving you some
5:10 – insights uh that industries matter a lot
5:12 – the type of products that you're selling
5:14 – matter a lot as well
5:15 – um but the impact is um
5:18 – yeah it's significant it's significant
5:20 – especially if you do it right there are
5:22 – a lot of uh challenges with adding video
5:25 – such as like page speed such as like
5:27 – where do you put it the position on the
5:29 – page how does it impact the brand the
5:31 – overall uh page site design
5:35 – especially for someone that has no
5:36 – design skills maybe like a regular
5:38 – merchant or
5:39 – um
5:40 – or even you know with agencies maybe
5:42 – there are you know just cro agencies
5:44 – they don't necessarily have like a
5:45 – design department that can't that can
5:47 – handle this uh so this is something that
5:49 – we also do with VideoWise is we provide
5:51 – consulting to all of our paying
5:52 – customers uh this is true design
5:54 – consulting i'm i'm a product designer by
5:57 – trade i've been doing this for more than
5:58 – a decade i had the opportunity to um to
6:01 – uh to be part of a facebook acquisition
6:03 – as a lead product designer to to work
6:05 – with uber in 2017 on their signup
6:07 – process uh on their growth team and i
6:10 – have my fair share of experience in um
6:12 – in the enterprise and startup ecosystem
6:15 – uh in the past decade uh decade so i'm
6:18 – definitely putting all of that into work
6:20 – into uh improving the overall user
6:22 – experience of the product page which
6:25 – if we think about it has remained
6:27 – unchanged since the beginning of
6:28 – e-commerce i mean
6:30 – what has actually changed to the core
6:32 – product page it's it's always image on
6:34 – the left product details on the right
6:36 – and then on the bottom you might have
6:38 – some text reviews or likes maybe more
6:40 – photos of that product or
6:42 – but that's pretty much your product page
6:44 – structure and i think that in 2021 which
6:48 – is the age i mean we're in the middle of
6:50 – the age of insta instagram stories of
6:53 – tick tock videos of i mean video is
6:56 – being digested at such a scale at such
6:58 – an unprecedented scale uh unlike ever
7:01 – before
7:02 – i think that that type of uh of
7:04 – communication of product presentation of
7:07 – customer social proof that should be
7:09 – present of your product page and not
7:11 – only just your product page but your
7:12 – entire online store and what we're doing
7:15 – with video wise um is uh it's truly a uh
7:19 – a video marketing platform
7:22 – um in terms of value proposition even
7:24 – for me as a founder it was very hard to
7:26 – define the exact value proposition i
7:28 – mean
7:29 – the core is you sell more we increase
7:31 – engagement and we increase sales and
7:33 – we're not just one of those
7:34 – shopify apps that say boost sales rocket
7:37 – emoji you know like
7:40 – now like prove it guys prove it show me
7:43 – the analytics show me the a b testing
7:45 – unless you prove it i'm not going to
7:46 – believe it so we're very data driven and
7:49 – we actually prove it we show how we
7:51 – increase engagement we show how we
7:53 – increase conversions
7:55 – and
7:55 – yeah the impact is significant if you do
7:57 – it right i'm going to get into all these
7:59 – details uh on different topics i mean
8:01 – there's a lot to talk about and i get
8:02 – pretty passionate about it
8:04 – so stop me at any point if you want to
8:07 – uh perfect i definitely i definitely
8:09 – will but i want to understand like what
8:11 – are the ways that brands um can be using
8:14 – video right like it's not as simple as
8:15 – just like oh just drop a youtube video
8:17 – somewhere on the site like give me give
8:18 – me kind of like the the higher level uh
8:21 – architecture of like a good e-commerce
8:24 – video strategy like what are the pieces
8:25 – of that puzzle
8:26 – of course so first of all there are
8:28 – multiple types of video content that a
8:30 – brand uh and a photoshop conversion can
8:32 – use um and depending on the type of
8:34 – video you have different use cases and
8:36 – different placements of this video
8:39 – so we have the presentation videos which
8:41 – should always go next to the product
8:43 – photo gallery or the product the main
8:45 – product uh photo that's that appears on
8:47 – your product page or it can go right
8:49 – underneath it uh then you have your
8:51 – how-to videos these can go into inside
8:53 – the description uh this can be one video
8:56 – or even a carousel videos then you have
8:58 – your social group which is the video
9:00 – testimonials the video reviews the
9:01 – unboxing videos you might have from
9:03 – influencers uh these what we've noticed
9:06 – is we've done two tasks we've done tests
9:08 – with underneath the add cart button just
9:10 – for like more uh social proof
9:13 – uh where the purchasing decision is made
9:15 – but the problem with the uh with the add
9:18 – to cart area is that it's usually pretty
9:20 – narrow in terms of width uh because you
9:23 – know the layout is sometimes split in
9:24 – half you're only going to get good
9:26 – visibility on mobile when the product
9:27 – photo is right above the product detail
9:30 – uh information the product name and
9:31 – price and on almost all websites the
9:34 – product um the add card and product
9:36 – information is on the right side and
9:38 – it's just half of the screen so what we
9:40 – do with these video testimonial
9:42 – testimonials is we try to put them above
9:44 – the text and photo reviews um a lot of a
9:47 – lot of times people were asking us if we
9:48 – are a a reviews app in any way and we
9:51 – were like no we're not we are a video
9:52 – marketing app we are complementary to
9:54 – any review app that you might use the
9:56 – looks the yacht posts the stamp whatever
9:58 – the judgements uh we are complementary
10:01 – to those types of apps because they
10:02 – don't feature video content
10:04 – especially not vertical video instagram
10:07 – the type of like instagram stories or
10:08 – tick tock swipeable video that we do
10:11 – they just do text and photo and from
10:13 – here
10:14 – here and there they might put a video
10:15 – but it's really hidden in your masonry
10:18 – of testimonials that they display on the
10:20 – page
10:22 – so
10:22 – depending on these types of videos that
10:24 – you have that's how brands you know can
10:26 – use them they can use them in different
10:28 – places they can use different types of
10:30 – video to actually engage more with the
10:32 – customers and the the higher engagement
10:35 – that we've seen uh so far it's actually
10:37 – with the how-to videos so when you
10:39 – actually need like to know how how am i
10:41 – going to use this product uh and this is
10:43 – this has been very appealing with a high
10:45 – engagement rate in our case in because
10:48 – in the cosmetics industry in makeup and
10:50 – eyelashes and wigs i mean i
10:53 – like i don't know like
10:55 – nail polish or they're all these
10:57 – different cosmetics for beauty industry
10:59 – where
11:00 – um
11:02 – you just want to see like is this the
11:03 – right tone is this the right shade how
11:05 – i'm actually going to apply this
11:07 – so that those how-to videos convert
11:10 – really really well and the video
11:11 – testimonials Jon the video testimonials
11:13 – work every single time people watch them
11:16 – especially if you can get a good
11:18 – influencer to say something about your
11:19 – brand to have them use your product
11:21 – they're going to be you know like really
11:23 – good converters
11:24 – and the conversion rate from these
11:26 – videos that we've seen is also very very
11:28 – high like this is something that
11:30 – we've noticed on average that the
11:32 – conversion rate is three
11:34 – up to six times higher so it can be
11:36 – three four or five depending on the
11:38 – industry higher so if most of our stores
11:40 – have like a two three percent average
11:41 – conversion rate uh for standard shoppers
11:44 – that don't watch video and then after
11:46 – the the shoppers have watched video the
11:48 – conversion rate and the chances of them
11:50 – buying it actually increases every time
11:52 – above eight percent so we're getting
11:54 – like we the highest one that we've got
11:56 – is actually 18
11:58 – uh this is on a cosmetic store on a
11:59 – shopify plus store so 18 conversion rate
12:02 – after shoppers watched video and the
12:04 – engagement rate of those shoppers it was
12:06 – i think 12 on that store uh because i i
12:09 – recently checked all the stats just to
12:11 – get ready for this podcast to make sure
12:12 – that i have enough accurate information
12:15 – um
12:16 – so yeah these are the types of videos
12:18 – that brand can use and and placement on
12:21 – their site however it's very important
12:24 – how you actually embed the video i mean
12:26 – shopify plus recently released an
12:29 – article um uh about page speed and how
12:32 – you improve page speed on your site and
12:34 – we all know how important that is and
12:36 – all merchants care about that and that's
12:37 – one of the first questions that i ever
12:39 – got asked since i started this company
12:40 – is like
12:41 – does your video affect my page speed and
12:44 – uh we've put a lot of effort to make
12:45 – sure they don't and when i read shopify
12:48 – plus article i never knew how to call
12:50 – the way that we embed videos i never
12:51 – could find a name until i read shopify
12:53 – the shopify plus article i don't know
12:55 – the exact article but if you find if you
12:57 – search for page speed on shopify plus on
12:59 – their blog that it's only one article
13:01 – and it has like i think 15 bullet points
13:04 – and on number 13 it's about video
13:06 – and what they mention is exactly what we
13:08 – do what we're doing so i found my name
13:10 – in their article so they're calling it
13:12 – light embedding l-i-t-e
13:15 – uh
13:16 – lit light video embedding
13:19 – which means that we don't actually put
13:21 – the video on your site we only put the
13:23 – thumbnails of the video on the site
13:25 – those thumbnails are loaded from cdn
13:27 – server so they're only like 15 20
13:29 – kilobytes like very small size images
13:31 – they load super fast on your site
13:34 – and we we separate the javascript from
13:36 – the css as well so this is a bit of a
13:38 – technical part so they load in parallel
13:41 – and then we only load just the bare
13:43 – minimum requirement for to have a play
13:46 – button some arrow icons or depending on
13:48 – the widget team that we're using the
13:49 – carousel slider
13:51 – on your page
13:52 – and then the actual video the javascript
13:54 – all the heavy lifting loads when you
13:56 – start playing the video so when the user
13:58 – clicks play
13:59 – everything else loads so it's very
14:01 – important how you actually embed these
14:03 – videos and in order to do such an
14:04 – embedding you need advanced engineering
14:07 – you cannot do it today in in shopify
14:09 – they don't offer this uh there aren't
14:11 – even even like other shopify apps that
14:13 – offer this type of light embedding
14:15 – usually what they do is they actually
14:17 – put um just the classic youtube i think
14:20 – uh
14:21 – embedded video uh and that's gonna slow
14:23 – so that will be that will be slowing
14:25 – down your uh your site uh your page
14:27 – speed if you're gonna do background
14:28 – video on your on your uh on your website
14:31 – that's gonna slow your page speed as
14:32 – well like try to avoid that as much as
14:34 – possible because that will pre-load the
14:36 – video even if you have lazy loading or
14:37 – other techniques it'll pre-load the
14:39 – video it'll slow down the page speed a
14:41 – bit and
14:44 – today in shopify if you actually want to
14:46 – load this video you're going to have to
14:47 – do it by hand product by product page by
14:51 – page video by video so it's a very
14:54 – tedious very time consuming process
14:57 – that requires a lot of man hours and
14:59 – one of the one of our value propositions
15:02 – is the fact that we do bulk video
15:04 – embedding
15:05 – so this is another another big advantage
15:08 – for merchants
15:09 – that we've seen
15:10 – and that we've helped is merchants with
15:12 – a lot of skus what happens when you have
15:13 – a thousand ten thousand skus i i would
15:16 – call that an impossible task of
15:18 – embedding video for all of those
15:20 – products and embedding relevant videos
15:22 – for those products
15:23 – uh so what we do in our in our platform
15:26 – is we actually provide all of our
15:28 – merchants a mean to do content
15:30 – moderation directly in our platform all
15:32 – of the content is actually curated prior
15:35 – to them getting it so we can curate all
15:37 – of the youtube content we cannot curate
15:39 – tiktok and instagram because the
15:41 – platforms do not allow it but with
15:43 – youtube we are one of their largest
15:45 – e-commerce official partners uh and we
15:48 – can scrape youtube and find relevant
15:50 – videos about your brand and products
15:52 – bring it into our app sorted
15:53 – pre-moderated for you
15:55 – automatically match the videos with the
15:57 – products and we're doing this again for
16:00 – tens of thousands of products so this is
16:02 – very beneficial for stores with with
16:04 – skus
16:05 – with lots of skus because
16:07 – again they would have to manually go and
16:09 – maybe inside shopify create a section or
16:12 – add each video at a time by by hand
16:15 – where with us
16:16 – you just have to install the video
16:17 – widget once and then all of the content
16:20 – moderation happens in our platform
16:22 – and you just have to approve the
16:23 – products that you want to have videos on
16:25 – that's pretty much it
16:28 – so i'm just giving you a round down of
16:30 – some of the benefits that they might
16:31 – have
16:33 – by using videos and how what is the
16:34 – correct way of using it again so the
16:36 – benefits will definitely be an increase
16:38 – in conversion rate that's very very
16:40 – important the video player actually
16:43 – plays quite an important role like we've
16:45 – experimented with different styles of
16:47 – video players um for example uh mobile
16:51 – on on a mobile screen it really matters
16:53 – what type of video player do you have uh
16:55 – because if you're not if you won't do
16:57 – this right people are not gonna are
16:59 – gonna end up double clicking on the
17:00 – video to watch the video if you cannot
17:02 – auto play it when the video player
17:04 – appears on mobile that's another thing
17:06 – um
17:07 – responsiveness and adaptiveness of the
17:09 – videos like what happens if you put a
17:11 – standard youtube
17:13 – embedded video it's not going to adapt
17:15 – to your resolution it's going to that's
17:16 – going to be performing into in like a
17:18 – fluid way where it adapts to the overall
17:21 – width of your browser or width of that
17:22 – section where it's being placed
17:24 – it'll be like a static rectangle like
17:26 – okay that's the youtube video that's
17:28 – pretty much it with all of the
17:29 – decorations from youtube and everything
17:31 – it's just gonna look out of place out of
17:33 – brand you know
17:35 – and um we certainly don't want that we
17:38 – want to we want videos to feel like
17:40 – they're part of that website like they
17:42 – were meant to be there they're part of
17:44 – the brand right they're an extension
17:46 – they're an extension of that brand
17:48 – and uh
17:49 – that's another key to success is making
17:52 – these videos feel like they're part of
17:53 – your website naturally
17:55 – um and that's not easy to achieve you
17:57 – might need some coding skills you you
17:59 – might need uh
18:01 – um
18:02 – some some design skills in order to make
18:04 – them look uh like they're part of your
18:06 – brand well we do you know with video
18:08 – wise we do all of that automatically
18:10 – like our app doesn't by default it
18:12 – offers you
18:13 – uh pre-made themes easy to customize and
18:16 – to make to make the the video widgets
18:18 – match your brand
18:19 – um so i think we've covered you know the
18:22 – placement of the video how important the
18:24 – type of embedding it is and also how
18:26 – important it is to embed at scale if you
18:28 – really want to see results don't just
18:30 – put one video on a product page i mean
18:31 – that will
18:32 – even if you put in a really good
18:34 – position it might not work because a lot
18:36 – of people like what i've seen in stores
18:38 – even i think even amazon does this
18:40 – uh usually what they do for product
18:42 – description is for for the product reel
18:44 – uh the pdp they put the the main photo
18:46 – you have some secondary photos from
18:48 – multiple angles of one product
18:50 – and then the last one is the video and
18:52 – it's usually pretty hidden nobody
18:54 – watches it
18:56 – and that's it they just like i'm gonna
18:59 – put it there fingers crossed hope for
19:00 – the best you know so
19:02 – that's usually what they do and they
19:04 – don't get any any analytics on it
19:07 – and again
19:08 – another idea came to mind which is
19:09 – really important for video success is
19:12 – knowing what video like what video
19:14 – actually works for you so this this came
19:17 – from direct customer feedback these are
19:18 – shopify plus stores
19:20 – um
19:21 – that really do really know what they're
19:23 – doing i mean some of these stores
19:24 – actually tested our analytics they
19:25 – reproduced them in google analytics just
19:27 – to double check our analytics
19:29 – like they were so they were so impressed
19:31 – with the engagement time they were like
19:33 – well how are you calculating these you
19:35 – know we gave them the formulas like this
19:37 – how we're calculating our engagement
19:38 – times and our average times and
19:40 – everything if we produced in google
19:41 – analytics they double checked everything
19:43 – just to make sure like is this actual
19:45 – data because they couldn't believe it
19:47 – and
19:48 – yes it is and these are very driven
19:50 – stores so any any serious merchant is
19:52 – data driven we all know that right
19:54 – they're not going to shoot blindly every
19:56 – action that they do
19:57 – is going to be quantified they're going
19:59 – to look at the results of that action
20:00 – and they're going to measure the results
20:02 – and then start a different experiment
20:03 – you know uh that can increase their
20:05 – conversion so what we do with video wise
20:07 – to help all of these merchants achieve
20:10 – that is advanced video analytics we
20:12 – don't just put videos on your site
20:13 – blindly just even though we embed them
20:16 – in the correct way that doesn't page
20:17 – affect your page speed even though our
20:19 – video will just look cool they work on
20:21 – any device
20:23 – i want to show you that it works and i
20:25 – want you as a merchant to be empowered
20:27 – to be able to do a b testing because a
20:29 – lot of
20:30 – a lot of our customers what they've done
20:32 – is they've tested videos
20:34 – against other types of videos so they've
20:36 – tested presentation video uh with how-to
20:38 – video they've tested different
20:40 – influencer videos they wanted to see
20:42 – okay do you look for i'm giving you a
20:44 – you know hypothetical example do blonde
20:47 – women perform better than brunette women
20:50 – i don't know you know what which type of
20:53 – video performs better in comparison to
20:55 – another and then you can make a
20:56 – data-driven decision on what type of
20:58 – video what type of influencers i mean if
21:01 – you think about the the the outcome of
21:03 – this decision it can go all the way to
21:05 – your marketing budget and to your
21:06 – influencer budget is like
21:08 – these videos with again blonde women i
21:10 – don't have anything
21:13 – to mind
21:14 – apparently they work very well right
21:17 – let's invest more in this and these type
21:19 – of influencers right and then you can
21:21 – make a data driven decision based on
21:24 – what shoppers are what servers are
21:26 – consuming on your site because your site
21:28 – is becoming a youtube almost like a
21:30 – video platform
21:31 – because again think about it they're
21:32 – already consuming this video content on
21:34 – tick tock they're already consuming it
21:37 – on instagram
21:38 – why shouldn't they be consuming it on
21:39 – your site you're already spending so
21:41 – much money driving so much traffic to
21:43 – your product pages to your site
21:45 – why wouldn't you keep them engaged on
21:47 – your site when they arrived over there
21:49 – what we've noticed is on average we add
21:51 – about 2 000 hours per month on on a site
21:54 – this is this is cumulative engagement
21:57 – time i don't even know how how much is
21:59 – that divided by by 24 hours like eight
22:01 – yeah 83 days of cumulative time can you
22:04 – imagine like one or three people
22:06 – that's on average and and i can you know
22:08 – we have case studies on that and i think
22:10 – we even shared some of this data in in
22:11 – your uh in e-commerce town hall uh yeah
22:15 – like why not keep people engaged the
22:18 – average view time that we're seeing is
22:20 – is four minutes and 30 seconds like
22:22 – people are gonna watch the videos if you
22:23 – put videos they're definitely gonna
22:24 – watch it
22:25 – right and here's where like poppable
22:28 – videos come in where we're seeing really
22:29 – good results
22:31 – make people shop while they watch the
22:32 – video they're going to shop if you give
22:34 – them a way to shop which is really nice
22:36 – non-intrusive doesn't feel forced like
22:39 – you know i'm just forcing this product
22:40 – to you
22:42 – they're gonna shop right because it's
22:43 – almost like
22:44 – i think i also think like one of
22:46 – customers told us
22:48 – this thing because i always ask them
22:49 – like how do you see our product what do
22:51 – you see as like the main benefit of our
22:53 – product and what we're doing with video
22:55 – for for your store and he said
22:58 – i really like because i feel more
22:59 – connected to my customers that's what he
23:01 – said i feel more connected to my
23:02 – shoppers through this video even though
23:04 – he was not doing the talking in the
23:05 – video he said i feel like somebody is
23:07 – doing the talking for me and my store is
23:10 – connecting better with the customer it
23:12 – almost simulates an in-store experience
23:14 – where you have a shopping assistant
23:16 – communicating about the product showing
23:18 – the product explaining it like just
23:20 – showing it around to the customer and he
23:23 – loved that sense of community of
23:24 – communication of a better in-store
23:26 – experience right yep um so i constantly
23:30 – tell people you know you're already
23:32 – invest you have a budget for influencers
23:34 – you're gonna go for influencers spend a
23:35 – lot of money on creating content
23:37 – creating those instagram stories that
23:39 – are going to sit on instagram for 24
23:41 – hours that's the lifespan of an
23:42 – instagram story you just spend several
23:44 – thousands of dollars for in for
23:47 – influencer content that just sits on
23:48 – their page for 24 hours they sponsor it
23:51 – okay you might sponsor you might invest
23:52 – in advertising budget but that's it
23:55 – it's gone after that why not put it
23:57 – forever on your page and keep the
23:59 – engagements going keep the engagement
24:01:00 – going keep the shopper engaged with all
24:02:00 – of that content create these reels of of
24:06:00 – or or grids or masonry of videos that
24:09:00 – really provide that social proof where
24:11:00 – the purchasing decision is being made on
24:13:00 – the site yeah so yeah
24:16:00 – it's
24:16:00 – it's so powerful like um it's funny we
24:19:00 – talked initially about like um let's
24:22:00 – talk through like the video strategy and
24:24:00 – um you know not so much about video wise
24:26:00 – but i'm purposely like
24:28:00 – i feel like i'm very silent in this
24:29:00 – interview because i'm frankly in my head
24:31:00 – i'm just like there's no other way to do
24:33:00 – that right now like each piece of what
24:35:00 – what Claudiu said here is like you can't
24:37:00 – really do that yourself and so i think
24:39:00 – this is a very unique interview where
24:41:00 – it's more about like the power of using
24:43:00 – a tool like this
24:45:00 – to deliver the experience that we're
24:46:00 – talking about i think everybody would
24:47:00 – agree that like if you can do all these
24:49:00 – things with videos like it's a good
24:50:00 – experience it's going to drive
24:51:00 – conversions like you have all this data
24:53:00 – um i want to actually kind of switch the
24:56:00 – approach here towards the end and i i
24:57:00 – want to ask you like um for people that
25:00:00 – are interested in pursuing this help me
25:02:00 – understand like what are some of the
25:04:00 – quick wins that they can get by by
25:06:00 – working with you guys using the platform
25:09:00 – like what is the first you know 90 days
25:11:00 – look like to get to a point where it's
25:13:00 – like okay we've got you know tangible
25:14:00 – results happening give me kind of like
25:16:00 – the quick start guide of uh for for you
25:19:00 – know a successful merchant to be able to
25:21:00 – drive results pretty quickly with video
25:22:00 – wise
25:23:00 – absolutely um first of all you don't
25:25:00 – need 90 days to see results results are
25:28:00 – visible within the first two weeks
25:29:00 – that's why we even offer 14 days free
25:31:00 – trial
25:32:00 – because you can see results if you have
25:33:00 – traffic on your site you're definitely
25:35:00 – going to see results
25:36:00 – but as a quick win as i mentioned before
25:39:00 – in this interview we are an official
25:41:00 – youth department and we are the only
25:43:00 – ones providing this type of solution
25:45:00 – because of our our big partnership with
25:47:00 – youtube that we appreciate a lot which
25:49:00 – gives us the ability to scrape youtube
25:51:00 – for millions of products every month
25:53:00 – again you heard me right it's it's
25:54:00 – actually over 20 million products per
25:56:00 – month that we can spray youtube for uh
25:59:00 – and we can do it for even more
26:01:00 – but this is like what we're doing it
26:02:00 – right now and what we do with this with
26:04:00 – youtube
26:05:00 – we were trying to leverage the power of
26:07:00 – youtube just because of the sheer amount
26:09:00 – of content that youtube has
26:11:00 – and
26:12:00 – as a quick win for any brand what they
26:14:00 – can do is
26:16:00 – install our app and see if they have any
26:18:00 – relevant content on youtube if anyone's
26:19:00 – talking about their brand if anyone's
26:20:00 – talking about their product on youtube
26:22:00 – we're gonna find it and we're
26:24:00 – automatically gonna associate that video
26:25:00 – with their products and automatically
26:28:00 – assign one video which we consider the
26:29:00 – best to their product
26:31:00 – to any to any of their products so as a
26:33:00 – quick win you don't even have to spend
26:35:00 – money on influencers yet if you're
26:36:00 – selling a product or if you're reselling
26:38:00 – a product if you're dropshipping it
26:40:00 – dropshipping a product
26:41:00 – see if you have any videos already about
26:43:00 – this product
26:44:00 – use those videos even from other
26:46:00 – influencers this is this is the the
26:48:00 – beautiful part of youtube
26:49:00 – what that you know got me started into
26:52:00 – creating this company that's how i
26:53:00 – actually started with video reviews from
26:54:00 – youtube i wanted to leverage the
26:56:00 – existing content of youtube millions of
26:58:00 – videos from youtube um because i noticed
27:01:00 – like there's so much content from
27:02:00 – influencers on youtube from companies
27:04:00 – and you can embed all of that freely if
27:06:00 – you're a youtube compliant partner you
27:08:00 – can allow stores to embed that content
27:10:00 – freely there you don't need you're not
27:12:00 – breaking any copyright laws as long as
27:14:00 – you don't download the video and show it
27:16:00 – on your site never do that by the way do
27:18:00 – not download any youtube videos and then
27:19:00 – show them on your site you're going to
27:21:00 – get a lawsuit on your hands pretty well
27:23:00 – that's that's what's going to happen
27:24:00 – what we do is we're complying youtube
27:26:00 – partner we use youtube's player and
27:28:00 – youtube's terms and conditions
27:30:00 – we show the website the videos embedded
27:33:00 – on your site and no problem it's
27:35:00 – absolutely no problem if the content
27:36:00 – creator removes the video
27:38:00 – we're automatically going to remove it
27:40:00 – ourselves so there are no broken links
27:42:00 – so there's no problem with that so as a
27:43:00 – quick win
27:44:00 – stores can add instant social proof and
27:46:00 – this really is instant because it's
27:48:00 – pretty much just finding the relevant
27:49:00 – content and then displaying it on my
27:51:00 – site so it's instant social proof you
27:53:00 – have to wait to collect more video
27:55:00 – testimonials to uh to pay influencers to
27:58:00 – create new content no try to leverage
28:00:00 – the existing content
28:02:00 – if you have existing instagram stories
28:05:00 – come come to us we're going to use them
28:07:00 – and we're going to put them on your site
28:08:00 – so that's another that's another quick
28:10:00 – win is all about this instant social
28:13:00 – proof that you can get with video is
28:14:00 – leveraging existing content not a lot of
28:17:00 – people know about this this is even one
28:18:00 – of my challenges as an entrepreneur uh
28:21:00 – with video wise is
28:23:00 – people don't know that they can do these
28:25:00 – things because there wasn't a solution
28:27:00 – like this one until now nobody nobody
28:30:00 – has a video
28:31:00 – tool in their stack if you ask them
28:33:00 – about email yes they have the klavios
28:35:00 – you ask them about customer support
28:37:00 – they're gorgeous you know what i mean if
28:38:00 – you if you think about a category
28:41:00 – of apps there's always like certain apps
28:43:00 – that come to mind right reviews i think
28:45:00 – about yatpo or you know
28:47:00 – blues
28:48:00 – but if you think about video
28:50:00 – nobody's doing it you might find these
28:52:00 – two dollar five dollar apps on the
28:53:00 – shopify app store with a really poor
28:55:00 – design really poor experience breaking
28:58:00 – copyright laws i'm not going to provide
29:00:00 – any names but there are some ones that
29:01:00 – are very shady and they're like
29:03:00 – downloading and using some things that
29:05:00 – you should not be doing you're doing
29:07:00 – them at your own risk
29:09:00 – but those are very dangerous things to
29:11:00 – do so there really isn't anyone doing it
29:14:00 – because nobody has discovered it and i
29:16:00 – know that even by doing this podcast i'm
29:18:00 – even sharing some of the power that like
29:20:00 – hey this actually works this is a tool
29:22:00 – that works and
29:24:00 – we're working on positioning ourselves
29:26:00 – as the
29:27:00 – video marketing solution for shopify
29:29:00 – there isn't a video marketing solution
29:30:00 – right now there are small micro apps to
29:33:00 – bits and pieces here and there but
29:35:00 – nobody actually provides you this
29:36:00 – instant win there's these quick wins
29:38:00 – that you're
29:39:00 – yeah i think
29:41:00 – it it's funny i think that's that's kind
29:42:00 – of where my mind's been going this whole
29:44:00 – time it's just um you know letting you
29:45:00 – kind of walk through how you guys
29:47:00 – approach it because i think it's such a
29:48:00 – powerful tool uh for merchants to you
29:51:00 – know be able to you know take all this
29:52:00 – social group display it well do it at
29:54:00 – scale across all the products um as well
29:56:00 – as all the other things that you guys do
29:58:00 – um so i think i i think what i'm really
30:00:00 – hearing is just that the power of video
30:02:00 – i think is obvious the execution of
30:04:00 – video is incredibly difficult video wise
30:06:00 – has put together a way to make the
30:07:00 – execution much easier power is still
30:09:00 – still there and now stronger right so it
30:12:00 – just seems like a no-brainer um
30:14:00 – and so i'm glad we were able to kind of
30:15:00 – dig into just all the different pieces
30:17:00 – of how you guys approach it like this
30:18:00 – would be a killer resource i think for
30:19:00 – for you know our customer base our our
30:21:00 – list um you know anybody that's looking
30:23:00 – at a ways to use video um as we wrap up
30:26:00 – are there any other like you know big
30:27:00 – insights you think are super important
30:29:00 – for listeners um
30:30:00 – that are just you know interested in
30:32:00 – using video interested in exploring this
30:34:00 – like is there anything you know major
30:35:00 – you want to share that you didn't cover
30:36:00 – so far i know we kind of went through a
30:38:00 – lot
30:39:00 – yeah i know uh i know that i did went
30:41:00 – through a lie and probably talked really
30:43:00 – fast uh that's good i talked the same
30:45:00 – way
30:47:00 – i hope the listeners were able to keep
30:49:00 – to keep up um
30:51:00 – i think that the major insight and the
30:52:00 – major takeaway from this is um
30:57:00 – if you do video right it definitely
31:00:00 – increases engagement which helps
31:01:00 – tremendously with seo you want shoppers
31:04:00 – on your side the longer they stay there
31:06:00 – the more likely they are to buy
31:08:00 – and increase engagement leads to higher
31:10:00 – conversion rate if you're going to
31:11:00 – increase engagement of a shopper on a
31:12:00 – site
31:13:00 – they're definitely more likely to
31:15:00 – convert more so my advice to to to all
31:18:00 – of the merchants and and my philosophy
31:20:00 – is that
31:22:00 – where uh you should try to keep shoppers
31:24:00 – for as long as possible on your site
31:26:00 – keep shoppers on your site and influence
31:28:00 – them influence them with video influence
31:30:00 – them with images with whatever tools
31:32:00 – you've got at your disposal to purchase
31:34:00 – your product right
31:36:00 – and we help we help to achieve this
31:38:00 – process and we can prove it so that that
31:39:00 – would be my final uh my final uh i think
31:42:00 – mention and recap is keep shoppers on
31:44:00 – your site and uh and help them convert
31:48:00 – better
31:49:00 – absolutely absolutely this has been
31:50:00 – super powerful uh for anyone listening
31:53:00 – what's the best way for them to connect
31:54:00 – with you and follow along is it
31:55:00 – VideoWise.com
31:57:00 – it's VideoWise.com where you can find me
31:59:00 – on linkedin or twitter uh it's
32:01:00 – Claudiu Cioba
32:03:00 – that's my handle name uh but you're
32:05:00 – gonna find me if you do a google search
32:06:00 – a video wise or cloudy choba you're
32:08:00 – gonna find me instantly on linkedin on
32:09:00 – twitter uh yeah i'm on all the
32:13:00 – um all the usual suspects you know
32:15:00 – social media
32:17:00 – awesome well i'm super excited we were
32:19:00 – able to dig into all this i know this
32:20:00 – was a little bit more of a different
32:22:00 – episode i just i just wanted to let you
32:23:00 – run with it because i was like it's so
32:25:00 – powerful or something like this uh so i
32:27:00 – think it was uh it was unique i'm super
32:29:00 – excited and uh for the listeners um you
32:32:00 – know definitely check it out there's a
32:33:00 – two-week trial super super simple to try
32:35:00 – it uh and again like there's there's not
32:37:00 – really legit other ways to do um you
32:39:00 – know even a portion of what we've talked
32:41:00 – about today um but the one thing i do
32:43:00 – ask is come back come back to the
32:45:00 – episode and let us know uh you know what
32:46:00 – you implemented how did it work what are
32:48:00 – what are some of the lessons that you
32:49:00 – guys have had i'm sure it'll make it
32:51:00 – into cloud use case studies and stuff
32:52:00 – but uh it'd be good to continue the
32:54:00 – conversation in the comments so that's
32:55:00 – at ecommercetownhall.com you can see the
32:57:00 – episode and uh Claudiu thank you so much
33:00:00 – man i really appreciate the time
33:02:00 – thank you Jon i really appreciate as
33:03:00 – well thank you
33:05:00 – thanks for tuning in to ecommerce town
33:07:00 – hall for more resources related to
33:09:00 – today's episode
33:10:00 – visit
33:11:00 – ecommercetownhall.com and don't forget
33:14:00 – to check out HelpFlow HelpFlow provides
33:16:00 – 24 7 live chat teams to over 100
33:19:00 – e-commerce stores and can drive more
33:21:00 – sales while providing an awesome
33:23:00 – customer experience through their live
33:25:00 – chat agents hopefuls done for you 24 7
33:29:00 – live chat team can predict and save
33:31:00 – abandons directly on your website by
33:34:00 – engaging with chat they can also use
33:36:00 – conversational upsells to increase
33:38:00 – average order value in a way that feels
33:40:00 – good to visitors
33:41:00 – ultimately they're going to provide an
33:43:00 – overall amazing brand experience to your
33:45:00 – customers learn more today at
33:47:00 – HelpFlow.com