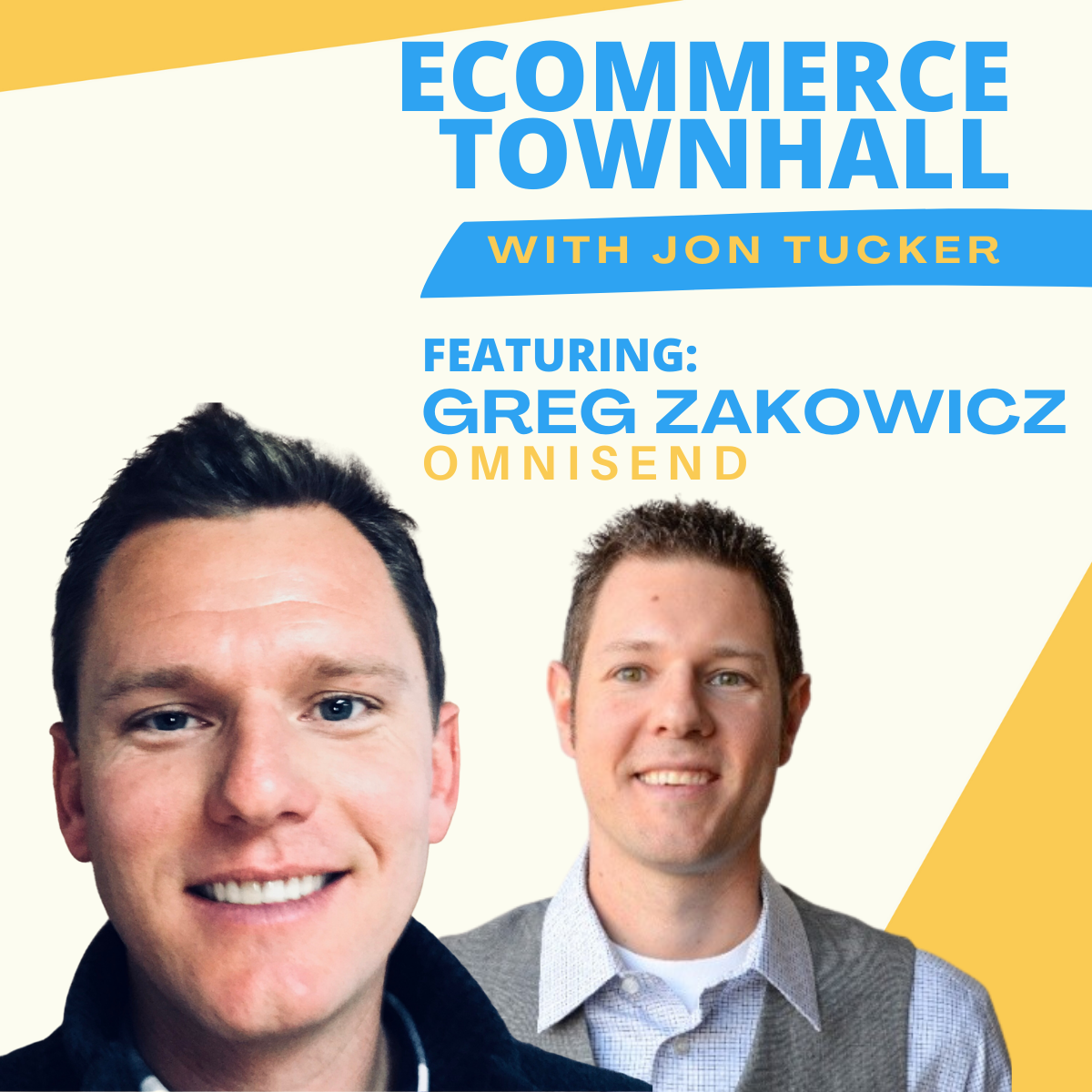 eCommerce Townhall Ep4: How to Evaluate the Health of Your Email Channel and Provide Tactical Ways to Improve with Greg Zakowicz of Omnisend
In today's episode, Greg Zakowicz of Omnisend will walk us through on How to evaluate the health of your email channel and provide tactical ways to improve. Greg has seen the inner workings of tons of accounts and been able to compare metrics between with his extensive knowledge in the MarTech and Retail verticals.
Omnisend is an eCommerce-tailored email & SMS marketing automation platform that helps stores increase sales without increasing workload. Making the platform easy to use and easy to drive results, that includes pre built automations for welcome series, abandon carts, transaction emails and a lot more.
If you want to grow your business on autopilot focusing email and SMS as a channel you can use the takeaways here today and evaluate the health of your email channel. So stay tuned, dig in and make sure to implement what you've learned.
Email marketing remains to be the best and most effective method of attracting and retaining customers. It can propel your business to higher levels financially keeping it afloat. Companies that effectively utilize email marketing report higher sales and a return on investment (ROI) of up to 1500 percent.
Join me in this fantastic episode as I talk to Greg Zakowicz. Greg currently serves as a Director of Content at Omnisend, a marketing automation platform focused on making it easy to drive results with email. In his 15 years of enormous experience in marketing strategies, Greg is an award-winning podcaster and a writer whose articles have been published and quoted by professional publications such as Forbes, AdWeek among others. He has spoken to over 100 commerce marketing events worldwide and consulted by over 130 companies on matters of eCommerce marketing such as Retailer Top 1000 & 500
In this episode, Greg walks us through on How to evaluate the health of your email channel and provide tactical ways to improve.  He will teach us how to build scalable and limitless relationships with our clients and have a more meaningful conversation leading to sales.
SHOW NOTES
In This Episode, You Will Learn:
[02:40] Episode introduction
[04:22] Greg's background on eCommerce marketing with emails
[09:00] Sourcing of email marketing statistics and data to draw insights and gaps
[11:44] Using email marketing data to make sound decisions in eCommerce
[14:17] The Four Main automation tools that each eCommerce brand should have
[17:04] Automation gaps that need to be addressed for effective implementation of email marketing strategy
[23:30] Effective building, performance, and optimization of SMS list as a marketing tool
[32:34] Greg's insights on the future of eCommerce marketing
[35:22] Episode recap
[37:19] Contact information and final thoughts
NOTABLE QUOTES
"Ecommerce marketing automation is super important for increasing sales and is what separates winners and losers in business."
"Marketing is the queen of eCommerce. it equals sales, and sales equal profits."
"An effective marketer knows that email marketing is a journey series with the customer. The client needs to be welcomed well and create awareness before becoming a potential customer who will convert into a sale."
LET'S CONNECT
Greg Zakowicz
Website:
omnisend.com
opensaredead.com
Email: greg@omnisend.com
LinkedIn: Greg Zakowicz
Twitter: @GregZakowicz
Content at Omnisend: Your marketing solutions HERE!
Jon Tucker
Website:
www.ecommercetownhall.com
www.helpflow.com
Email: jtucker@helpflowchat.com
Like our Facebook Page: Ecommerce Townhall
YouTube: Ecommerce Townhall
EPISODE TRANSCRIPT
0:00 – hey guys this is Jon Tucker here with
0:02 – another episode of e-commerce town hall
0:04 – and today i've got Greg Zakowicz on from
0:07 – Omnisend
0:08 – Greg has an insane amount of experience
0:11 – with email he's been
0:12 – involved in email marketing for over 15
0:14 – years
0:15 – so he remembers the days that some of
0:17 – you will remember where you had to work
0:18 – with the IT team to get a list of people
0:21 – that
0:21 – bought your product for example seems
0:23 – crazy now but um you know that's that's
0:24 – where the industry started
0:26 – and he's been able to see the evolution
0:27 – of the industry over time so he's got
0:29 – you know really
0:30 – interesting perspective at Omnisend now
0:32 – what they're really focused on with Greg
0:34 – and the team
0:34 – is making it easy to drive results with
0:38 – email so not having
0:39 – so much additional workload that comes
0:41 – from building email as a channel
0:43 – so part of that focus includes having
0:45 – pre-built automations rather than having
0:47 – to rebuild
0:48 – from scratch or build from scratch on
0:50 – every automation
0:51 – they have sms integrated directly within
0:54 – the platform in a really effective way
0:55 – so you can have email
0:56 – and sms in the same automations and a
0:59 – whole bunch of other things
1:01 – what we're going to dig into today is
1:03 – Greg and Greg's insights
1:04 – from analyzing literally billions with a
1:07 – b billions of emails
1:09 – and over 30 million sms is from the
1:11 – Omnisend system to really understand
1:13 – what is it that brands that uh drive big
1:16 – results with email do differently right
1:18 – so that's going to drive a lot of
1:19 – insights
1:20 – for you i think you're going to see what
1:22 – automations are most impactful and kind
1:24 – of a prioritized list of which ones
1:26 – drive the best results also how to find
1:28 – the balance between you know building
1:29 – these
1:30 – automations making them really robust
1:31 – while still getting the results out
1:33 – there and being able to drive revenue
1:35 – and then we also go into a really simple
1:38 – super simple but effective way
1:40 – to basically segment communication
1:42 – within the automations
1:43 – that will drive a lot more results so
1:46 – what i would say is if you haven't done
1:47 – a deep dive audit on your email uh
1:50 – channel in quite a while uh then i think
1:52 – you're gonna get a lot of ideas from
1:53 – today's episode so
1:54 – stay tuned dig in and be sure to
1:56 – implement uh what you learn
1:58 – in today's episode we'll see you in
1:59 – there welcome to e-commerce town hall
2:02 – where six
2:03 – seven and eight-figure e-commerce store
2:05 – leaders learn how to scale and
2:07 – streamline
2:08 – to get to the next level on each episode
2:11 – you'll see strategies from the industry
2:13 – experts behind successful stores
2:15 – that you can take back and apply with
2:17 – your teams right away
2:19 – the show is brought to you by
2:20 – HelpFlow.com HelpFlow provides 24
2:23 – 7 live chat teams to over a hundred
2:25 – e-commerce stores
2:26 – and can help you drive more sales while
2:29 – providing an
2:30 – awesome customer experience through
2:32 – their live chat agents
2:33 – check them out at HelpFlow.com but for
2:36 – now let's dive into today's episode
2:38 – hey guys welcome back to the e-commerce
2:40 – town hall podcast super excited to dig
2:43 – in today
2:43 – uh so today we got Greg Zakowicz from
2:46 – Omnisend
2:47 – uh and Omnisend if you guys have heard
2:49 – of them uh
2:50 – help stores really increase sales uh
2:52 – with
2:53 – email sms and automation with a big
2:56 – focus on not creating
2:58 – additional workload so really making the
3:00 – platform easy to use
3:01 – easy to drive results um and that
3:04 – includes things uh
3:05 – like pre-built automations so they have
3:06 – a lot of pre-built automations for
3:08 – you know welcome series abandoned carts
3:10 – transaction emails you're not starting
3:12 – from scratch and using their system to
3:13 – build everything there's a lot of
3:14 – pre-built stuff that's just ready to go
3:16 – and turn key
3:17 – they also enable you to segment really
3:19 – well based on a whole bunch of different
3:20 – factors so you're saying the right thing
3:22 – to the right people at the right time
3:24 – and a big factor for them too is having
3:26 – email and sms
3:27 – in one tool so you can hit really both
3:29 – of those channels
3:30 – again right time right place right
3:33 – channel all from within um
3:35 – a single platform um so super super
3:38 – excited to
3:39 – have you uh have you on the show here
3:41 – Greg um
3:42 – what we're gonna go into is really how
3:44 – to evaluate the health of the email
3:46 – channel and tactical ways um to improve
3:48 – uh to improve email as a channel
3:50 – and Greg's seeing the inner workings of
3:52 – a ton of different accounts um and so
3:54 – he's really gonna like pull back the
3:55 – curtain and show you like here's
3:57 – what we've seen by seeing hundreds if
3:59 – not thousands of accounts you know
4:01 – mashed up together to understand
4:03 – what works and what doesn't so for the
4:05 – listeners you can definitely use um the
4:07 – takeaways from today
4:08 – to really improve uh email as a channel
4:10 – for you so
4:11 – uh before we dive into it Greg take us
4:13 – through um your background i know you
4:15 – have a ton of background in MarTech
4:16 – ton of background in email kind of
4:18 – paint us a picture of like where does
4:20 – this experience that you're gonna drop
4:21 – today come from
4:22 – yeah well we'll start with college
4:24 – because i went to college for radio
4:25 – broadcasting so it's uh
4:27 – it's right on power uh also apologize i
4:30 – talk with my hands and i've got a green
4:31 – screen in the background because i'm in
4:32 – the middle of painting and moving and
4:34 – things like that so my walls are kind of
4:35 – beat up right now
4:37 – uh so it might not look like it john but
4:40 – i've been doing email
4:41 – for 15 16 years now it's kind of nuts if
4:45 – you go back
4:45 – and think about it but so i started when
4:48 – i pivoted from radio into marketing i
4:50 – went to work for a startup radio
4:51 – promotions company
4:52 – and that's kind of where i got into the
4:55 – the email marketing
4:56 – side we're doing in-person list growth
4:58 – and you know emailing afterwards trying
5:00 – to move
5:00 – the needle on e-commerce a little bit
5:02 – which eventually took me into
5:04 – uh a full-scale like digital media
5:07 – publishing company where
5:08 – our sole primary method of of marketing
5:12 – for the division i was in was email
5:14 – marketing that's all we did
5:15 – so it was still early days right there
5:17 – was cart abandonment but not
5:19 – really you kind of saw it on more b2b
5:21 – side than anything
5:23 – and i was there for uh for multiple
5:26 – years where i just
5:27 – started learning different techniques
5:29 – with subject line and copywriting and
5:30 – then you
5:31 – and segmentation which back then we were
5:33 – doing with uh
5:34 – my sequel right so we had a guy who was
5:37 – like hey these are the segments i want
5:38 – and he'd go through and like create the
5:40 – segments it was crazy
5:41 – and uh you know we did a lot of the bad
5:45 – practices we did a lot of good practice
5:46 – but you learned as he moved through
5:48 – eventually took me to the Martech space
5:50 – with a company called Bronto
5:52 – which was an email provider they were
5:53 – still uh they were established but still
5:56 – a startup environment i think i might
5:58 – have been employed like 54
5:59 – 56 somewhere around there and i was with
6:02 – them for eight years and went through
6:04 – two acquisitions with them and we kind
6:05 – of watched
6:07 – the market evolve into what it is now
6:09 – which is just
6:10 – an insane email digital media digital
6:13 – con
6:13 – you know commerce e-commerce has blown
6:16 – up over the time
6:17 – and when i was with Bronton i was doing
6:18 – client consulting so i was working with
6:20 – clients
6:21 – e-commerce companies around the world
6:23 – most in the u.s but
6:25 – australia i did a lot of australian
6:27 – clients and UK
6:28 – and Canada and i was going through and
6:32 – digging into their email programs and
6:33 – figuring out what we're going to talk
6:34 – about today are gaps you know how do we
6:36 – identify the gaps they had to drive
6:38 – additional revenue
6:40 – and emerge into sms and things like that
6:42 – to really improve the program so
6:44 – did that for eight years a couple
6:47 – different roles and now i'm with Omnisend
6:48 – i've been here for about a year and a
6:50 – half now
6:51 – very similar to what Bronto was back in
6:52 – the day i think i was employed like 52
6:54 – or something so i'm on
6:55 – this 50 mark and it's a great company
6:59 – i mean the tools and what we have from a
7:01 – platform standpoint are absolutely
7:03 – phenomenal
7:04 – you went through some of that before but
7:06 – i think the
7:07 – really cool thing which you didn't have
7:09 – eight years ago was
7:12 – you know i'll talk about resources today
7:13 – but we have
7:15 – you know if you talk about any brand
7:16 – even some of the large brands there's
7:17 – one or two people on an email team
7:19 – they're doing other things other than
7:21 – email
7:21 – and we're really you have this balance
7:24 – of
7:24 – time versus what can i do right with a
7:27 – limited time
7:28 – the tools now like you can just do stuff
7:31 – right you can automate it you can you
7:33 – can
7:33 – do messaging you can increase revenue
7:35 – even though you have one or two people
7:36 – on your email team and that's really
7:38 – i think where you were 10 years ago you
7:39 – didn't have that type of stuff the the
7:41 – platforms that allowed you to do those
7:42 – and now we do and
7:44 – that's that's the cool part because we
7:45 – can identify gaps and we can move
7:47 – quickly
7:48 – on filling those gaps and starting to
7:50 – increase revenue from there
7:51 – that's a really long answer for you john
7:53 – no it's good honestly like
7:55 – i think it's so cool to be able to see
7:58 – the the evolution of the entire industry
8:00 – because like
8:01 – it enables you to uh appreciate the
8:04 – tools that you have right there's always
8:05 – room to improve the tools that that are
8:08 – are current right but you remember what
8:10 – it was like to not even be able to do
8:11 – the query yourself right you got to work
8:12 – with the sql guy to do the queries and
8:14 – you know get get something back and then
8:16 – send it you know and now it's like you
8:17 – could probably do that in
8:19 – six minutes four to six minutes probably
8:21 – in Omnisend or any system
8:23 – i mean 20 seconds for some of these
8:25 – things right
8:26 – it's nothing you have to wait 48 hours
8:28 – for a segment i could do it in 20
8:29 – seconds though it's unbelievable
8:31 – but it gives you a nice perspective
8:34 – absolutely like see
8:35 – seeing uh seeing that evolution i think
8:37 – is uh is key
8:39 – um as we get into it uh let's kind of
8:41 – fast forward to where some of the data
8:43 – you're gonna talk about uh today comes
8:45 – from because you have that perspective
8:46 – of
8:47 – you know the whole industry right um but
8:50 – for the gaps you're gonna talk about the
8:51 – insights that you're seeing with email
8:53 – um where do those come from on the
8:54 – Omnisend side um like walk me through
8:57 – i know where it is but walk the audience
8:58 – through um you know where it comes from
9:00 – sure so last year we put out these
9:02 – quarterly reports on email
9:05 – metrics uh benchmarks right and we were
9:07 – doing we we did more than quarterly but
9:10 – we started doing quarterly reports where
9:11 – we're taking the data out of the Omnisend
9:13 – platform so we are looking at
9:14 – uh promotional email sends so those are
9:16 – the ones that you schedule on a daily
9:18 – basis
9:19 – automated sends and the type of
9:20 – automation sms web push notifications
9:23 – and we were pulling that out on a daily
9:25 – basis
9:26 – and we we put together not only
9:27 – quarterly reports we did some holiday
9:29 – ones we did a year end
9:30 – one which obviously encapsulated the
9:33 – whole year
9:34 – but we were looking at 2020 we also
9:35 – looked at 2019 we have some 2018 data
9:38 – for the holiday stuff as well
9:39 – uh and then we did a couple of one-off
9:41 – ones we we looked at when i joined the
9:43 – company
9:44 – i was in Lithuania which is where
9:45 – they're headquartered when covid kind of
9:47 – blew up and i got home a couple days
9:49 – later they shut down the borders
9:51 – and you know so was obviously we'll
9:54 – talk about it today a little bit because
9:55 – it's certainly still impactful but
9:58 – you know how the question became in one
10:00 – how do we get these metrics out of these
10:01 – reports and then two
10:03 – what impact did really covet have on
10:05 – these opt-in channels like email sms we
10:07 – wanted to see
10:08 – what we classified as quote-unquote
10:10 – pre-covet and then quote-unquote
10:11 – post-covert which is really when
10:13 – uh stay-at-home orders you know started
10:16 – being issued
10:17 – around the u.s and so we were looking at
10:20 – over 31 billion emails sent we or i'm
10:22 – sorry um
10:24 – uh 31 million sms and web push messages
10:27 – sent and then uh i forgot the exact
10:31 – number of billions of emails we looked
10:33 – at too i could think that up here in a
10:34 – second but
10:35 – uh i should probably know that right off
10:36 – hand so if it's billions
10:38 – we'll just say billions yeah billions
10:40 – there you go so we're in good shape
10:42 – there i had a number memorized
10:43 – before so we were putting out these
10:45 – reports the year-end report really is
10:47 – what we're looking at so we can see over
10:48 – billions of emails which ones are
10:50 – performing
10:50 – open rates click rates conversion rates
10:52 – uh we can look over or period over time
10:55 – reports are on omnisun.com under the
10:57 – resources section none of them are gated
10:59 – so you can just go there
11:01 – poke around as you wish check out what
11:03 – what is interesting to you or not
11:05 – uh without having to give us any
11:06 – information that's the beauty of it
11:07 – right we just want to make it publicly
11:09 – accessible so that's where the data is
11:10 – going to come from
11:12 – awesome awesome so uh we'll put that in
11:14 – the show notes also guys so that we can
11:15 – uh we can dig into that after
11:17 – um but walk me through um like the gaps
11:21 – that you were seeing the differences
11:22 – between stores that seem to be doing
11:24 – things well uh from a metrics
11:25 – perspective and you know not doing
11:27 – things well
11:28 – kind of um you know just walk us through
11:30 – what the insights were after
11:31 – seeing all of that data and um kind of
11:35 – paint a picture for listeners of
11:37 – how they can apply some of those
11:38 – insights to their store how they can
11:40 – analyze their store using some of the
11:42 – the insights from the data that you're
11:43 – going to talk through today
11:45 – yeah and i think the biggest thing is
11:48 – right we have a mantra
11:49 – at omni set of increasing sales without
11:51 – the workload and i talked about it a
11:52 – little bit before
11:53 – kind of tease that that we just know
11:55 – people are strapped for resources
11:56 – they're strapped for time they
11:57 – they can only do so much i think the
11:59 – thing we pull out of this
12:01 – stats report that kind of jumps at you
12:03 – is automation is the key and this has
12:05 – really always been the case but
12:06 – automation is the key to increasing
12:08 – those sales
12:09 – theoretically without the workload right
12:10 – because they're running in the
12:11 – background they're increasing you
12:12 – they're driving sales while you're
12:13 – asleep
12:15 – what the difference we're finding is the
12:16 – brands who are consistently
12:18 – increasing the revenue from the email
12:20 – and sms channel are the ones that have
12:22 – more automations in place
12:24 – so if we look at the entire 2020
12:28 – we had 29 percent of all email sends or
12:30 – um
12:31 – 29 of all uh email orders
12:34 – in 2020 came off of automated messages
12:37 – it accounted for less than two percent
12:38 – of email sends i think it was 1.8
12:40 – percent
12:40 – so around it so if you think about it
12:43 – theoretically
12:44 – not the case but theoretically you can
12:45 – never schedule an email for the entire
12:47 – year and you'll still maintain 29 of
12:49 – your revenue a day if you think about
12:51 – that from
12:52 – uh sole practitioners who are doing
12:54 – email
12:55 – all right some of these are big brands
12:56 – but they're doing them one message at a
12:59 – time
12:59 – starts to fill a small gap but it
13:01 – increases the revenue which provides you
13:03 – a little flexibility to spend more time
13:05 – on filling the next gap or
13:07 – optimizing what you had or adding to
13:09 – what you had
13:10 – at the end of the day is the automation
13:12 – is what the successful brands are using
13:14 – that the ones who are struggling
13:16 – they're playing catch-up or they're
13:17 – struggling to get started or recognize
13:19 – the value of email
13:20 – and sms they're just doing scheduled
13:22 – sends and they're not relying on the
13:24 – automation and if you want to boil it
13:25 – down to
13:26 – simplistic matter you need to automate
13:28 – things now you could automate a million
13:30 – different messages
13:31 – the stats report by looking at that i
13:33 – think will help you determine
13:35 – where do we start right low hanging
13:37 – fruit that's going to give us the best
13:38 – bang for the buck
13:39 – and then we start implementing those so
13:41 – it's almost like a checklist if you will
13:42 – look at the metrics and say okay where
13:44 – do we start
13:45 – high priority low priority let's start
13:46 – knocking them off the list i think if
13:48 – you boil it down
13:49 – automation's what separates the winners
13:51 – and losers yeah
13:52 – and what what are the automations that
13:54 – seem to drive the most
13:56 – you know like i'm assuming abandoned
13:57 – carts taught like high maybe top of the
13:59 – list but like
14:00 – if if there's a list of okay assume we
14:02 – have nothing
14:03 – and you guys have all this pre-built
14:05 – stuff anyway right for like a new omni
14:06 – send user that's saying okay i just want
14:08 – to maximize this as quickly as possible
14:10 – what's the laundry list as far as
14:11 – prioritized order of which automations
14:13 – to get in place uh as
14:16 – uh out of the gate so i'll give you four
14:18 – to start with and i think these are the
14:20 – kind of the baselines i think these are
14:21 – the four that every
14:23 – e-commerce brand should have it's the
14:25 – bare minimum right it's the new best
14:27 – practice then it can optimize them from
14:28 – there
14:28 – so welcome message no-brainer this has
14:31 – really always been the case but i think
14:33 – the
14:33 – the purpose of a welcome message has
14:35 – changed over the years we talked about
14:36 – like kind of seeing the evolution of the
14:38 – industry it used to be about one thing
14:40 – now it's about
14:41 – feeding customer intent and driving
14:43 – toward that point of purchase
14:45 – we can get into that a little bit later
14:46 – but welcome message i think last year if
14:48 – my memory served me correctly conversion
14:50 – rate across
14:51 – welcome messages was 52 which is just
14:53 – ridiculously high but this
14:55 – talks to the customer intent standpoint
14:57 – so much so welcome message you mentioned
14:59 – cart abandonment
15:00 – absolutely absolutely uh browse
15:04 – or product abandonment right the same
15:05 – thing just different strategies behind
15:07 – it but that is you think about window
15:08 – shoppers right
15:09 – they don't cart a product but they're
15:10 – checking something very specific
15:12 – we can then set an automation there and
15:14 – i'll talk about why i think that is a
15:16 – bare minimum now for companies
15:18 – and the fourth is post purchase and we
15:21 – could debate the fourth one a little bit
15:23 – right if you look at the stats report
15:25 – one of the things you'll see is
15:27 – the metrics between post purchase and
15:28 – lapse purchase messaging
15:30 – they're very comparable and i think the
15:32 – lapse purchase might have slightly
15:33 – higher conversion rates so the question
15:35 – then is well why would you go post
15:37 – purchase
15:38 – i used to battle with clients about this
15:40 – all the time we debate this and i
15:42 – i'm like no do the post purchase first
15:43 – right so uh
15:45 – you know i would tell them post purchase
15:47 – are your recent customers those are the
15:48 – ones you need to nurture the drive when
15:50 – you're targeting laps purchasers it's a
15:52 – great tactic to do
15:53 – great automation have but you're waiting
15:54 – until they lapse before you target them
15:57 – because they'll go what they already
15:58 – purchased from me well i'm not going to
16:00 – sell your post purchase but it's your
16:01 – chance to
16:02 – prevent the laps and that's why i always
16:03 – say post purchase first
16:05 – it's the nurturing ability you try to
16:07 – drive into a second purchase
16:08 – third and so on so welcome cart
16:11 – browse post purchase would be my four
16:15 – awesome awesome and uh we'll try to put
16:17 – in the show notes too
16:18 – um you know resources uh you know how to
16:21 – best structure
16:22 – some of those um uh but but question
16:25 – and this might be like the next gap that
16:27 – you see or maybe it's related to some of
16:28 – these but
16:29 – um you know what i'm hearing from you on
16:31 – this part is automations are super super
16:33 – important the stat you mentioned was 29
16:35 – uh of email orders came from those
16:38 – messages even though it's like two
16:39 – percent of send
16:40 – so like that's like the definition of
16:42 – not increasing workload right it's
16:43 – automated
16:45 – but it guides all the results um but but
16:47 – what uh
16:48 – is there any big gaps within those
16:50 – automations that you see
16:52 – or you know what are some of the
16:53 – additional gaps that you noticed um
16:55 – that uh that stores that we're doing
16:57 – well seem to
16:58 – attack well like what are the other
17:00 – things that listeners should be focused
17:01 – on other than you know making sure that
17:02 – they have these automations dialed in
17:04 – well i think a couple of similarities
17:06 – and
17:07 – so shameless plug but not a shameless
17:09 – plug is just more of a
17:11 – a proof point so i host the card
17:13 – insiders podcast at omni sense so this
17:15 – past season was
17:16 – interviewing customers of ours on
17:18 – specific automation so we had a customer
17:20 – talk
17:21 – about their cart abandonment strategy
17:22 – and they broke down exactly what they do
17:24 – how many messages
17:25 – whether they use incentives so some of
17:27 – this context that i'm going to talk
17:29 – about
17:29 – is based on on these customers here but
17:33 – i think the similarities that we find
17:35 – for customers who are
17:37 – doing these things well so yeah i'm
17:40 – getting more out of my cart abandonment
17:41 – let's say
17:42 – xyz brand over here is that
17:45 – they're implementing one at a time and
17:47 – then they're implementing multiple of
17:49 – them so if you think about yeah let's
17:50 – get one cart abandonment out
17:52 – let it run let's do its job while we
17:54 – work on a second carter band the minute
17:55 – and third cart abandon the same thing
17:56 – with any little series
17:58 – and they're letting the revenue come in
18:00 – the background and they're implementing
18:02 – one at a time i think that's where
18:03 – one of those gaps are because a lot of
18:04 – times you go check the box so you say
18:06 – okay
18:07 – Greg said i need a welcome message all
18:09 – right let me put a welcome message out
18:10 – there
18:11 – check and let's move on to the cart
18:13 – instead of saying okay well
18:15 – we need to feed the welcome a little bit
18:16 – more now so we have the one message
18:18 – which is high intent for the shopper
18:20 – do i convert so well but message two and
18:22 – three if we do those well
18:23 – we're going to convert the people that
18:25 – maybe missed the first message or didn't
18:27 – we didn't convince them enough and the
18:29 – same thing goes for all these other
18:30 – messages where you implement one at a
18:32 – time
18:33 – rather than waiting to all three
18:34 – messages are done and perfectly
18:36 – optimized and exactly how you want them
18:38 – before implementing them because then
18:39 – you're just waiting and you're leaving
18:41 – money on the table
18:42 – that's the one similarity we see one at
18:44 – a time
18:45 – doesn't need to be perfect as the other
18:46 – one and this is i
18:48 – i mean i struggle this with my own job
18:50 – from time to time as well it's like i
18:51 – want everything to be great i want
18:52 – everything to be perfect i want this
18:54 – podcast to be as best
18:55 – as it possibly can the truth is i'd
18:57 – rather do a
18:59 – good podcast and a great podcast if i
19:01 – can get five podcasts on the same time
19:02 – right
19:03 – so we struggle with this as marketers i
19:07 – think this is human nature but marketers
19:09 – right i'm one of them i fall into this
19:11 – trap of
19:12 – i need everything to be perfect so it's
19:13 – got to be optimized perfect i have to
19:15 – write have the right
19:16 – uh splits in the workflows rather than
19:19 – just having a good message out there and
19:20 – i
19:21 – if you can kind of relate it to uh say
19:24 – like a reorder reminder for example
19:26 – exist uh example all right i got a
19:28 – 30-day supply of something
19:30 – a lot of companies will go well i need
19:32 – the header to be perfect and i need
19:33 – the dynamic content to pull perfectly
19:35 – and i need this to be perfect
19:37 – you know the truth is a less than
19:40 – perfect reminder that is
19:41 – providing value and is still helpful for
19:43 – a consumer
19:45 – is better than not sending one right so
19:47 – we can capture sales
19:48 – and i think that's the one thing that's
19:49 – really hard for people to say well it
19:51 – reflects on my
19:52 – brand customers will appreciate the
19:54 – value of the message
19:55 – versus the how perfect the message is
19:58 – and i think those are the two things
19:59 – where we find these similarities between
20:01 – again
20:02 – brands that might be doing automation
20:04 – really well and then brands that
20:06 – are maybe struggling with it and it's
20:08 – not being perfect and one at a time so
20:10 – we have
20:10 – one of our other mantras that Omnisend
20:12 – uh internally is
20:13 – uh progress not perfection right and i
20:16 – think that
20:17 – applies to marketers across the board as
20:19 – well and i think that's it's something
20:20 – that
20:21 – brands should should look at and say can
20:23 – i just get it going
20:24 – right and then you can always opt to go
20:25 – back and optimize it
20:27 – so what i'm hearing from that one just
20:28 – to clarify is
20:30 – is what i'm hearing is focus on one
20:32 – automation at a time like
20:33 – do the welcome series and build out the
20:36 – welcome series so it has multiple
20:37 – messages not just one
20:39 – one welcome series message not just one
20:41 – email uh you know cart recovery email
20:43 – but basically like building out the
20:46 – automation
20:46 – doing one at a time focusing on actually
20:48 – getting it right don't just have it
20:50 – while also balancing like it doesn't
20:53 – need to be perfect
20:54 – there the the difference between one
20:56 – email and six emails that are super
20:57 – tuned and every subject line is split
20:59 – tested like that's not necessarily what
21:00 – you're saying you're saying make it a
21:01 – good
21:02 – robust welcome series focus just on the
21:04 – welcome series then move on to the next
21:06 – one
21:06 – and and as you're getting data is that
21:08 – right yeah
21:10 – so this goes into the debate mode right
21:13 – you get one welcome message out there
21:15 – that first one going now you have the
21:16 – option to say
21:17 – okay do i want to finish the series or
21:19 – do i want to get the first cart
21:20 – abandonment out there
21:21 – just so we're hitting people at
21:23 – different points of their customer
21:24 – journey
21:26 – and then once you get those four key
21:27 – messages of the three if you decide you
21:28 – want to do three
21:29 – you go back and say okay where am i
21:32 – getting the most revenue from because
21:33 – you're collecting
21:34 – you're collecting data in the background
21:35 – so we're saying okay our welcome message
21:37 – is doing well but our cart abandonment's
21:39 – crushing it like this is where we're
21:40 – getting revenue from let's go ahead and
21:41 – get a second message going there
21:43 – so it doesn't mean you have to do all
21:44 – three consecutively but i think if you
21:47 – hit different stages of that customer
21:49 – journey
21:50 – it gives you the option to collect data
21:52 – drive revenue and then figure out where
21:54 – you want to focus your next attention to
21:55 – now some people say okay i got the first
21:57 – welcome message it's automated it's
21:58 – sending
21:59 – let me go ahead and finish it off i
22:00 – don't think it's a bad strategy i think
22:02 – it depends on what your other messages
22:03 – are because
22:04 – if you're focused on the acquisition not
22:07 – bad but
22:08 – i mean cart abandonment right they're so
22:09 – close to making the purchase you
22:11 – tipping over that line or you know how
22:13 – do we capture a window shop or so this
22:14 – goes into
22:16 – into the debate where i don't think
22:17 – there's a right answer or a wrong answer
22:19 – but it kind of depends on what other
22:22 – messages you have in your program
22:24 – myself make sense i'll give him my per
22:26 – i'll give you what i would do
22:29 – because why not right uh i would do one
22:31 – message of each series at a time and
22:33 – like i said
22:34 – you go back once you finish say the
22:36 – third or fourth one so hey i got my
22:38 – first post purchase thank you message
22:39 – going out there
22:40 – i've got the data and i would then look
22:42 – at it and say okay
22:44 – card chances are card banner is going to
22:45 – convert the best for you even though i
22:47 – said welcome message 52
22:49 – conversion rate i think cards ultimately
22:50 – going to convert better for you over the
22:51 – long run
22:52 – drive the most revenue i would then go
22:54 – do a second cart abandonment and then
22:56 – maybe a second welcome message
22:57 – and that's how i would approach it got
23:00 – it totally makes sense
23:01 – um what's uh what's some additional gaps
23:04 – that stood out maybe something related
23:06 – to like the routine of how they're
23:07 – running email
23:08 – or maybe like mindset around email uh
23:11 – maybe it's you know omni channel stuff
23:13 – like uh what what's some additional gaps
23:15 – that set out
23:16 – so i i think the other two that we
23:18 – really look at here and
23:20 – the one is not this first one's not in
23:22 – the stats report the second one is but
23:23 – i'll give you anecdotal stuff and what
23:25 – i've seen
23:26 – over time and what i used to do as a
23:28 – consultant as well but
23:30 – i think implementing is one optimizing
23:33 – is the second
23:34 – and that's really the key we talked
23:36 – about optimizing messages make them look
23:37 – prettier or do whatever i think the
23:39 – other part of optimizing is what you
23:40 – want to do with your workflows
23:42 – so cart abandonment is a really good
23:44 – example of this
23:45 – right say you have a 49 free shipping
23:48 – threshold on your website
23:50 – well an easy split to do on your
23:51 – optimization for your workflow
23:53 – automation is to say okay
23:54 – let's filter by cart abandonment like
23:56 – cart total all right so
23:58 – we have under 49 dollars is the cart we
24:01:00 – send one message that is maybe
24:03:00 – encouraging them to increase their spend
24:04:00 – so they get free shipping and maybe we
24:06:00 – want to incentivize them maybe we don't
24:07:00 – but
24:08:00 – your value add and the key focus of that
24:10:00 – message is a lot different
24:12:00 – to than the person who may be abandoning
24:14:00 – a 300 cart they've qualified for free
24:16:00 – shipping
24:16:00 – doesn't really matter to them and i've
24:18:00 – gotten emails like this before i was
24:20:00 – like hey free shipping i'm like there's
24:21:00 – 800
24:22:00 – of my cart it's a dishwasher right i
24:24:00 – know i qualified for
24:26:00 – so i think this is the other thing where
24:28:00 – if you're over that free shipping
24:29:00 – threshold you
24:30:00 – like that's a nice touch add-on it could
24:33:00 – just be in your header or something but
24:35:00 – like what does that person care about at
24:36:00 – that point well it's probably
24:39:00 – return policies or satisfaction
24:41:00 – guarantees or speed of shipping or
24:43:00 – you know they have different needs and
24:45:00 – different reasons for abandoning so a
24:46:00 – very simple split is if you have a free
24:48:00 – shipping threshold
24:49:00 – split up your baseline cart total you
24:51:00 – know and then
24:52:00 – make your value points a little bit
24:54:00 – different than messaging
24:56:00 – this happens with really any purch any
24:58:00 – uh automation have post purchase cart
25:00:00 – abandonment browse band as well if you
25:01:00 – think about the purchaser itself
25:03:00 – so you can easily put a split in there
25:05:00 – and say all right have they purchased
25:07:00 – before
25:08:00 – yes or no have they purchased one time
25:11:00 – and this is now their second purchase
25:12:00 – which we know
25:13:00 – is where a customer is going to get the
25:15:00 – they start term profitable at that point
25:17:00 – right or more profitable at that point
25:19:00 – or they a loyal customer because that
25:21:00 – might dictate what you want to do from
25:22:00 – an incentive standpoint
25:24:00 – a number messages standpoint and timing
25:26:00 – standpoint a channel standpoint
25:28:00 – so a simple split like that have they
25:31:00 – purchased before
25:32:00 – no let's get them purchasing one time
25:34:00 – how do we get them to go a second time
25:36:00 – so these are really simple things that
25:37:00 – you can do
25:39:00 – to automate it takes two seconds to put
25:41:00 – a split in a workflow there now you have
25:42:00 – to come up with
25:43:00 – you know a different creative or
25:46:00 – different verbage
25:47:00 – but it's it's minuscule to improve the
25:49:00 – experience there
25:51:00 – the other thing is i mentioned channels
25:53:00 – and this is
25:54:00 – in the stats report sms i mean this is a
25:56:00 – huge topic nowadays you know
25:58:00 – sms marketing has been around for years
26:01:00 – we're at the tipping point now where
26:03:00 – it's just full scale right it is a
26:05:00 – channel if you're not doing i keep
26:06:00 – saying if you're not doing it by this
26:08:00 – time next year
26:09:00 – you're you're going to be playing catch
26:10:00 – up it's going to be too late there's a
26:12:00 – lot of reasons for that
26:14:00 – so give you a couple stats here just to
26:16:00 – put this in the perspective
26:18:00 – so 2020 we sent nearly 400
26:21:00 – more sms messages than we did the
26:23:00 – previous year and i talked about 31
26:25:00 – million sms messages
26:26:00 – all right conversion rates over that
26:28:00 – time and a lot of times the more you
26:29:00 – send conversion rates kind of come down
26:32:00 – over 100 improvement year over year as
26:33:00 – well so not only are we setting more
26:35:00 – consumer which means consumers are
26:37:00 – adopting it more
26:38:00 – so are brands but they're converting
26:40:00 – from there
26:41:00 – right so then i look at all right what
26:44:00 – do we do with the purchase experience
26:45:00 – now
26:46:00 – or the customer journey well we can
26:47:00 – implement you mentioned at the intro
26:50:00 – we allow you to Omnisend to put sms
26:53:00 – into the same workflows as
26:55:00 – email so we can we talk about these
26:57:00 – splits you know
26:59:00 – cart abandonment are they an sms
27:01:00 – subscriber yes well maybe we don't need
27:02:00 – to send them three emails maybe we
27:04:00 – didn't send them one email and then we
27:05:00 – give them this
27:06:00 – sms message you know reminding them come
27:08:00 – back to the cart or whatever so
27:10:00 – sms is one of these things that you know
27:12:00 – it is just a mainstay
27:13:00 – of marketing now it's still it's
27:16:00 – increasingly being used but i still
27:18:00 – think it's under utilized so there's a
27:19:00 – lot of opportunity i think for brands
27:20:00 – here to
27:21:00 – jump on and get ahead of their
27:23:00 – competition a little bit right now
27:25:00 – now the other thing john that i look at
27:27:00 – is okay it's a great channel right
27:29:00 – people are aware of it some people don't
27:30:00 – like it some
27:32:00 – think their customers won't like it
27:34:00 – there's two things i always look at here
27:36:00 – right so holiday season e-commerce
27:38:00 – brands
27:39:00 – holiday season was like push comes to
27:41:00 – shove if something's not working then
27:44:00 – might be an indication it's too early
27:46:00 – it's uh not going to work
27:48:00 – sms blew up during the holidays last
27:50:00 – year so black friday was the number one
27:52:00 – sunday for sms which makes sense it's
27:54:00 – one of the highest you know second
27:55:00 – highest shopping day
27:56:00 – typically the first or second highest
27:59:00 – email send volume date
28:01:00 – brands are using it to cut through that
28:02:00 – inbox noise right because they know
28:04:00 – everyone's sending four or five emails a
28:05:00 – day
28:06:00 – uh but from through Omnisend almost
28:09:00 – three percent of all
28:10:00 – set uh email or all orders through
28:13:00 – Omnisend
28:14:00 – last year on uh black friday
28:17:00 – came on from sms messages so if you
28:19:00 – think about it nearly three
28:21:00 – and i would i would tell a you know an
28:23:00 – e-commerce brand like how would you like
28:24:00 – to raise your black friday revenue
28:26:00 – three percent right would you take that
28:28:00 – you know most people take a half a
28:29:00 – percent right but if i go three percent
28:31:00 – great you know i think the number was
28:33:00 – two and a half percent but i'm just
28:34:00 – rounding up here
28:35:00 – so you know it's being used during the
28:37:00 – holidays and that is proof point to me
28:39:00 – uh number one i think the other thing
28:41:00 – here which is uh
28:43:00 – kind of a lazy anecdote it used to be a
28:45:00 – real anecdote but now it's kind of a
28:46:00 – lazy anecdote it's like these
28:47:00 – generational cohorts and like well
28:49:00 – you know it's only for young people it's
28:51:00 – for gen z or whatever
28:53:00 – i like to remind people now i'm aging
28:55:00 – myself because i'm a
28:56:00 – gen xer but millennials are now in their
28:59:00 – young 40s
29:00:00 – right so let's remove that from there
29:04:00 – gen z which is your younger generation
29:06:00 – like they're graduating from college two
29:07:00 – years ago right they're like 23 this
29:09:00 – year
29:09:00 – so like to say like the purchasing power
29:11:00 – with them
29:12:00 – is immense but this is now the world you
29:14:00 – go
29:15:00 – gen xers who are me you know young to
29:18:00 – mid 40s
29:19:00 – and above and everyone below i mean
29:22:00 – that's three
29:22:00 – three quarters of your US demographic
29:24:00 – right there so to say that
29:26:00 – now baby boomers are still texting as
29:28:00 – well i mean no one goes a day without
29:29:00 – checking the sms message so
29:31:00 – uh you know this this narrative of
29:36:00 – you got to be young the text i think is
29:37:00 – out the window but
29:39:00 – like classify young for me it's you know
29:41:00 – 75
29:42:00 – of the US population here so you know
29:45:00 – that is another thing where it's another
29:47:00 – one of these proof points that say
29:49:00 – you should probably get on this now i'm
29:52:00 – going to keep talking Jon if i can
29:54:00 – i think the beauty it's less for you
29:56:00 – right
29:58:00 – uh i think the beauty here is that so
30:02:00 – you can collect sms numbers the same
30:04:00 – time you're collecting email addresses
30:05:00 – on a pop-up the beauty there is that
30:07:00 – just because you collect it doesn't mean
30:08:00 – you have to use it right away
30:10:00 – right so you might have a couple brands
30:13:00 – that based on product or demographic or
30:15:00 – whatever the reason is
30:17:00 – maybe it's not the perfect fit for sms
30:19:00 – and that's okay
30:20:00 – but if you ask for sms and no one's
30:22:00 – opting into it
30:23:00 – that is your own specific brand's proof
30:25:00 – point to say okay maybe our customers
30:27:00 – don't want that channel
30:28:00 – if they're opting into it you don't lose
30:31:00 – anything you got the sms the mobile
30:33:00 – number but it's your proof point that
30:34:00 – yeah my customers do want it and they do
30:36:00 – want to hear from it
30:38:00 – and i think the value of opt-in channels
30:40:00 – now with what we're seeing from ios 14
30:42:00 – and ios 15 updates
30:45:00 – uh the 15 is going to be a big one but
30:47:00 – like
30:48:00 – knowing that you have these opt-in
30:49:00 – channels that people are
30:51:00 – wanting and they're they're purposely
30:54:00 – choosing to receive messages for
30:55:00 – cannot be understated now it would you
30:57:00 – know come this fall right before holiday
30:58:00 – season when ios
30:59:00 – ios 15 rolls out it's gonna be a game
31:02:00 – changer right email is going to be
31:04:00 – not turned upside down but it is going
31:05:00 – to be forever shifted
31:07:00 – from what we're doing now and metrics
31:09:00 – we're looking at sms
31:10:00 – is one of those fill the gaps there uh
31:13:00 – in relation to ios 15. so that's
31:15:00 – that's a big one yeah it's going to be
31:18:00 – really interesting to see
31:20:00 – see that and i feel like that that trend
31:22:00 – of owning the customer relationship has
31:25:00 – repeated itself in so many channels with
31:27:00 – you know organic search in the early
31:28:00 – days
31:31:00 – then you know with ios 14 and the whole
31:33:00 – ad game like there was a lot of value in
31:35:00 – having you know really built up facebook
31:36:00 – pixel and
31:37:00 – you know having all that data in there
31:38:00 – and then you know now it's much less
31:40:00 – valuable right
31:41:00 – um and so it's really important just to
31:43:00 – own those channels
31:44:00 – and uh one thing that stood out to me
31:46:00 – what you just said is
31:47:00 – um and i think i'm i'm paraphrasing a
31:49:00 – bit but collecting the sms
31:52:00 – uh audience now like building up that
31:54:00 – sms audience now even if you don't have
31:56:00 – some grand plan of like how you're gonna
31:58:00 – communicate with all of them
31:59:00 – just having that as part of your whole
32:01:00 – cycle with uh with customers is good
32:03:00 – because
32:03:00 – it shows you if they're interested and
32:06:00 – then you have it as an asset and then
32:07:00 – you can use it and test it and go from
32:09:00 – there
32:10:00 – so it's important to build that up i
32:12:00 – want to i want to do kind of a quick
32:14:00 – recap in a second but is there
32:15:00 – is there anything else any other big
32:17:00 – insights you think are super important
32:19:00 – for um
32:19:00 – for the listeners as we wrap things up i
32:22:00 – think
32:23:00 – for i briefly mentioned ios 15 here a
32:27:00 – second ago
32:28:00 – so i'm sure if you're an email marketing
32:31:00 – you've heard about it by now
32:33:00 – uh you know we launched a website called
32:35:00 – opensaredead.com but
32:37:00 – really just a high level what this means
32:39:00 – there's a lot of things with the update
32:40:00 – biggest thing for email marketers
32:42:00 – is that you're not apple's not going to
32:44:00 – let you track whether the email is
32:45:00 – opened or not which creates a whole slew
32:47:00 – of
32:47:00 – like you know cascading waterfall effect
32:50:00 – what that ultimately means is that it's
32:52:00 – not a reliable metric you're still going
32:54:00 – to see open rates those numbers can be
32:55:00 – skewed
32:56:00 – but what happens with gmail what happens
32:58:00 – with other providers
32:59:00 – a year from now we don't know but open
33:01:00 – rates are not available
33:02:00 – uh a reliable metric anymore so if you
33:05:00 – think about things like re-mailing or
33:07:00 – booster sends
33:08:00 – whatever term you want to use for them
33:09:00 – so sending something two days after
33:12:00 – the initial send if it didn't open gone
33:14:00 – any sort of automation you have based on
33:16:00 – whether they open the email
33:17:00 – gone well what does that mean come the
33:20:00 – holiday season when we're doing things
33:22:00 – like this well
33:23:00 – emails are a common tactic there right
33:25:00 – so this is where sms kind of fits in
33:27:00 – well instead of re-mailing if they're
33:28:00 – sms subscriber
33:30:00 – right you have the option to then target
33:31:00 – them on a different channel and make it
33:33:00 – new whatever
33:34:00 – so i mean there's a lot of ramifications
33:35:00 – there but i think that's the big one
33:37:00 – where
33:38:00 – email marketers should start preparing
33:39:00 – for that reality now because we're going
33:41:00 – to have to start basing things on clicks
33:43:00 – or conversions like there's different
33:45:00 – metrics
33:46:00 – pretty much killing the open rate right
33:47:00 – which yep i've always rallied against
33:50:00 – the open rate when i came to clients of
33:51:00 – mine so
33:52:00 – i mean it's a health thing from a
33:53:00 – deliverability standpoint
33:55:00 – we don't know what's going to happen
33:56:00 – with that yet but
33:58:00 – uh i'm kind of glad open rates are kind
34:00:00 – of going ways like this gold star metric
34:02:00 – but it's going to change how a lot of
34:03:00 – marketers think and especially new
34:04:00 – marketers coming in
34:06:00 – that is a little problematic for them so
34:08:00 – outside of the ios 15
34:10:00 – you know owning that data and having
34:12:00 – that first party data
34:13:00 – is crucial if your provider Omnisend
34:16:00 – does so it's
34:17:00 – somewhat a shameless plug but right
34:19:00 – tracking email activity we're tracking
34:21:00 – clicks activity things like this
34:23:00 – sms activity having the ability to do
34:26:00 – uh google ad re-sync or facebook ad
34:28:00 – recent from the same platform you're
34:30:00 – collecting that first party data from
34:32:00 – which is why these opt-in channels are
34:33:00 – so important now
34:35:00 – you can you don't have to rely on you
34:37:00 – know some other
34:38:00 – method of getting facebook data now that
34:40:00 – apple kind of shut that out or gave the
34:42:00 – opportunity for consumers to shut that
34:43:00 – off which most are opting into
34:45:00 – so if you could put all this stuff into
34:47:00 – one platform and then be able to spit
34:48:00 – that out and use it
34:50:00 – strategically it's huge for marketers
34:52:00 – Omnisend does that
34:53:00 – by the way but um whether you're with
34:56:00 – Omnisend or not
34:56:00 – look for things that like that that you
34:59:00 – can use multiple
35:00:00 – uh touch points with that opt-in data
35:03:00 – because that's going to be key for
35:04:00 – marketers i think
35:05:00 – as we move the next year two years three
35:06:00 – years four years
35:08:00 – absolutely yeah it's amazing to see just
35:10:00 – that trend of where things are at
35:12:00 – um so so for the listener we're gonna
35:14:00 – have some solid show notes
35:16:00 – um that you can dig into with some of
35:18:00 – these resources but
35:19:00 – um you know the things that stood out to
35:21:00 – me uh from what you mentioned Greg is is
35:23:00 – just automations are
35:24:00 – are super super important for increasing
35:27:00 – sales
35:28:00 – uh we talked about 29 of all email
35:30:00 – revenue uh
35:31:00 – comes from automated sends even though
35:33:00 – they're less than two percent of sense
35:34:00 – so again like
35:35:00 – classic 80 20 on steroids right we're
35:37:00 – talking 1982 or something i don't know i
35:39:00 – don't know the math you can apply that
35:40:00 – to anything right
35:42:00 – yeah do do automations for sure um
35:45:00 – the other part though that Greg
35:46:00 – mentioned which i think is important as
35:47:00 – as people are kind of uh honing in on
35:49:00 – their
35:49:00 – their action items from this is um don't
35:52:00 – just check the box and say okay welcome
35:54:00 – email's done okay abandoned cart email
35:55:00 – is done
35:56:00 – um like really focus on building those
35:58:00 – things out uh being intentional with
36:00:00 – what's in there track the data on how
36:01:00 – they're doing
36:02:00 – while also balancing that against the
36:04:00 – whole perfection game of like you know
36:06:00 – get it out there make it good but don't
36:08:00 – spend a month building out
36:10:00 – a three-part email series right like
36:12:00 – spend spend however much time you need
36:14:00 – to but um
36:14:00 – maybe not more than a week right i don't
36:16:00 – know exactly how long this stuff should
36:17:00 – take but i wouldn't spend more than a
36:18:00 – couple days on it max
36:20:00 – uh the other takeaway too i saw is um
36:22:00 – you know segmenting the audience within
36:25:00 – automations and that's something we we
36:27:00 – get into a lot of client accounts for
36:28:00 – you know different systems they're using
36:29:00 – including email
36:30:00 – um and uh building out the automations
36:33:00 – is key but also
36:34:00 – segmenting those uh audiences in the
36:37:00 – automations is really important and Greg
36:39:00 – mentioned
36:40:00 – um you know where they're at with the
36:41:00 – free shipping threshold as an example
36:43:00 – right like have a different offer
36:44:00 – depending on where they're at
36:46:00 – um are they in the sms channel or not
36:48:00 – right so then you can basically
36:49:00 – um you know change change the medium of
36:51:00 – how you're communicating
36:53:00 – so that was a good takeaway and then
36:54:00 – last one is sms if you're not focused on
36:56:00 – at least building an sms list and
36:58:00 – nurturing that to some extent
37:00:00 – um you'll be behind the behind the
37:02:00 – industry pretty quick on that so
37:04:00 – lots of good takeaways um Greg for
37:06:00 – people that want to continue the
37:07:00 – conversation or dig in uh you mentioned
37:09:00 – a couple of resources
37:10:00 – um during the actual interview um can
37:13:00 – you kind of recap those as a way to
37:14:00 – connect before we wrap up
37:16:00 – sure so oOmnisend website omnisend.com
37:19:00 – pretty simple i mentioned the ios 15
37:22:00 – update so opensaredead.com
37:24:00 – great resource and it's not only our
37:26:00 – resource but we have uh
37:27:00 – we have industry people competitors we
37:29:00 – have podcast webinars all that stuff in
37:31:00 – there as well
37:32:00 – so check that out uh if you want
37:34:00 – questions for me
37:35:00 – feel free to email me Greg@
37:37:00 – omnisend.com that's just one g
37:38:00 – so Greg@omnisend.com you can find me on
37:41:00 – LinkedIn twitter wherever you want so
37:43:00 – i think those are the big ones here the
37:44:00 – stats report uh go to the resources
37:46:00 – section and Omnisend you'll find them
37:48:00 – there
37:48:00 – i got the data today for the first half
37:50:00 – of 2021
37:51:00 – so within a couple weeks or if this is
37:55:00 – after if you're watching this
37:56:00 – we'll have a 2021 first half stats
37:58:00 – report out for you as well so you can
38:00:00 – cut to see the shifts and behavior
38:01:00 – changes there so
38:02:00 – beyond that i think people can find me
38:04:00 – yeah or find only 10.
38:06:00 – awesome awesome we'll throw those in the
38:07:00 – show notes but uh thanks for everyone
38:09:00 – listening i hope that uh that you found
38:11:00 – this helpful and
38:12:00 – uh definitely make an action item list
38:14:00 – of some things to put in place um
38:15:00 – because that's really what we want to do
38:16:00 – with uh with e-commerce town hall is
38:18:00 – enable you to get actionable takeaways
38:20:00 – that you can apply so i know Greg
38:22:00 – dropped a lot here
38:23:00 – feel free to ask any questions as needed
38:24:00 – and Greg just thanks for your time today
38:26:00 – we really appreciate it
38:27:00 – Jon appreciate you having me man this
38:29:00 – is fun awesome take care
38:32:00 – thanks for tuning in to e-commerce town
38:34:00 – hall for more resources related to
38:36:00 – today's episode
38:37:00 – visit ecommercetownhall.com and don't
38:40:00 – forget to check out HelpFlow
38:42:00 – HelpFlow provides 24 7 live chat teams
38:45:00 – to over a hundred e-commerce stores
38:47:00 – and can drive more sales while providing
38:50:00 – an awesome customer experience
38:52:00 – through their live chat agents helpful's
38:54:00 – done for you 24 7 live chat team
38:57:00 – can predict and save abandons directly
38:59:00 – on your website
39:00:00 – by engaging with chat they can also use
39:03:00 – conversational upsells
39:04:00 – to increase average order value in a way
39:06:00 – that feels good to visitors
39:08:00 – ultimately they're going to provide an
39:10:00 – overall amazing brand experience to your
39:12:00 – customers
39:13:00 – learn more today at HelpFlow.com