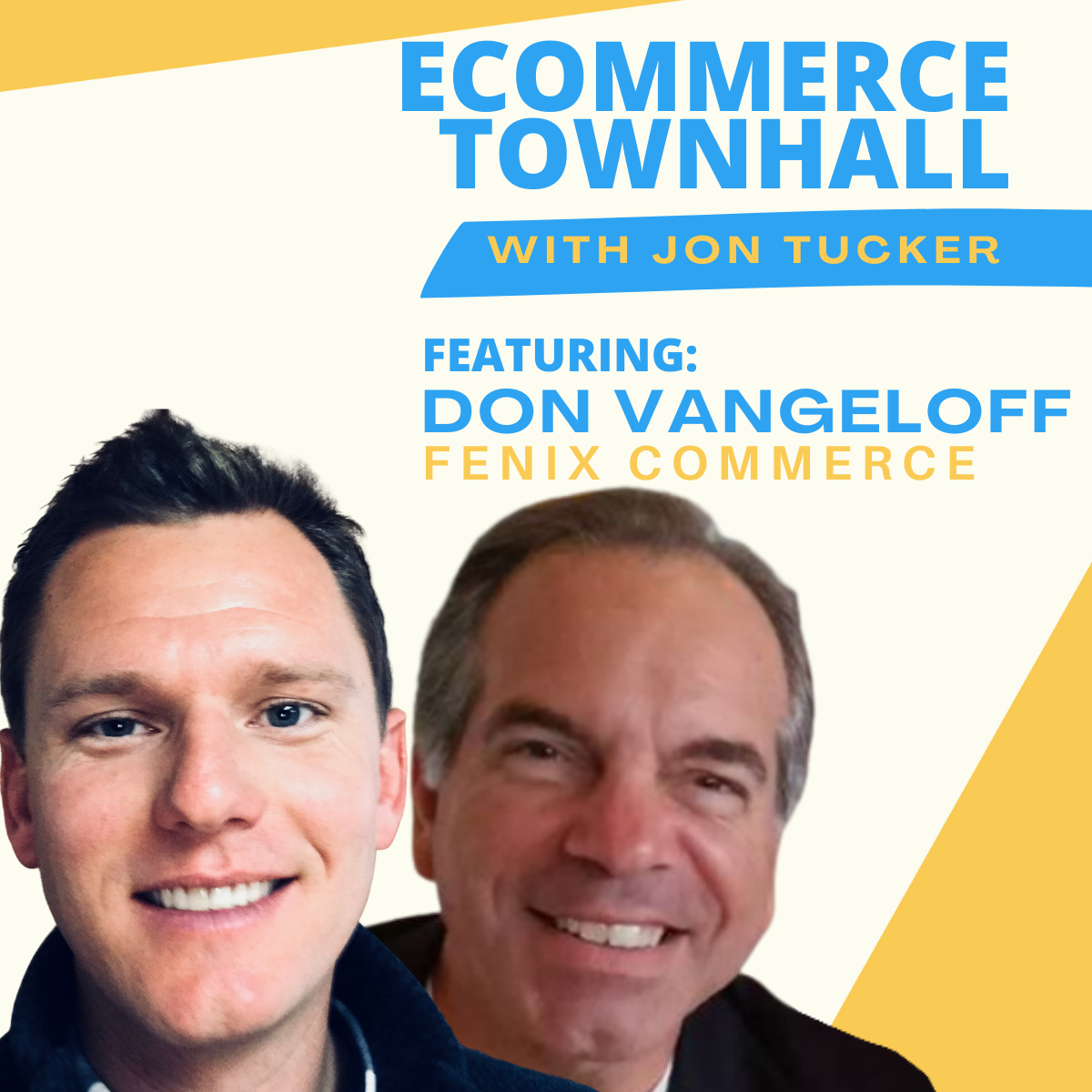 eCommerce Townhall Ep3: Email Marketing – Delivery Promises: Impact to Conversion and How to Execute Effectively with Don Vangeloff of Fenix Commerce
In today's episode, Don Vangeloff of Fenix Commerce joins us as we deep dive into how this concept of "Delivery Promises" can impact your conversion. He will also explain the ins and outs of how to execute it effectively. Amazon is Amazon because they've perfected the logistics side of how to provide this awesome customer experience… but today we're going to dive into how savvy brands can do the same.
Don Vangeloff heads Client Success and Partnerships at Fenix Commerce. Fenix Commerce is an AI-powered shipping and delivery platform that enables stores to provide a really good customer experience when it comes to shipping and delivery—personalized shipping options, clear delivery times and dates, costs, tracking, and a lot more.
If you are really focused on growing your business while making sure that you fulfill your "Delivery Promise", this episode is for you and you don't want to miss it. Stay tuned, take down notes and make be sure to implement what you've learned. 
Shifting your store online requires a different approach and a well-thought-out process to create a smooth and outstanding customer experience. Consumers are looking for convenience, and adopting top-level customer service will help you compete with big players in the market and maintain your edge.
Join me in this power-packed episode, engaging with Don Vangeloff as he gives you masterpiece lessons on the strategies you can employ to improve your delivery promise and increase conversions. Don is the head of Client Success and Partnership at Fenix Commerce. Fenix Commerce is a shipping and delivery platform that helps stores in providing exemplary shipping services to their customers through personalized delivery options, and real-time tracking services. Their goal is to help you optimize your shipping process from different angles to increase your efficiency and productivity while improving your customers' experience in the digital era.
SHOW NOTES
In This Episode, You Will Learn:
[05:44] How Fenix Commerce came to be and their virtue of existence.
[07:52] How delivery time and customers shipping experience impacts your overall conversion rates
[10:13] Common mistakes that stores make when strategizing their shipping process that hinder them from attracting more revenue from sales
[12:57] Tactics to consider when optimizing your customer's experience to increase conversion rates
[19:20] Metrics to track and benchmark to monitor your performance and improve your efficiency in the delivery process
[23:34] Area to focus on when framing out your shipping and delivery process
[28:18] Ways to differentiate your shipping strategies from competitors to take your eCommerce business to the next level
[31:47] Removing the friction of uncertainty through automation and effective communication to your customers
[33:48] Key takeaways from the episode
NOTABLE QUOTES
"Shipping can be painful and complicated, but this should not prevent you from experimenting and moving forward; the worst thing is doing nothing."
"When starting, begin by adopting simple steps and build into more sophisticated steps gradually."
"Offering shipping options with incentives and delivery dates will motivate your customers to upgrade to different options which will increase conversion."
"Removing uncertainty and communicating clearly on when the products will reach the buyer is key in enhancing a positive customer experience."
"To improve your overall customer experience, you must focus on both pre-purchase experience and post-purchase experience."
"Buyers' experience does not end after the transaction; post-purchase experience is as critical as pre-purchase experience; it's where you build your relationship with your customers."
"Post-purchase is a highly emotional experience, and fulfilling your delivery promises is key for long-term business with your customers."
"Optimizing shipping and delivery processes is an endless journey for everyone, and you can take it to the next level from where you are."
LET'S CONNECT!
Don Vangeloff
Email: donvangeloff@fenixcommerce.com
Linkedin: Don Vangeloff
FenixCommerce
Website: fenixcommerce.com
Linkedin: FenixCommerce Inc
Facebook: FenixCommerce Inc
Jon Tucker
Website:
www.ecommercetownhall.com
www.helpflow.com
Email: jtucker@helpflowchat.com
Like our Facebook Page: Ecommerce Townhall
YouTube: Ecommerce Townhall
EPISODE TRANSCRIPT
0:00 – hey guys Jon Tucker here with
0:01 – e-commerce town hall
0:03 – and i've got a really interesting
0:04 – episode for you today something a little
0:06 – different
0:06 – uh we're talking with Don Vangeloff from
0:09 – Fenix Commerce
0:11 – and what Fenix enables you to do as a
0:13 – store owner is basically provide an
0:15 – amazon style delivery and shipping
0:17 – experience
0:18 – as a store without actually being amazon
0:21 – so what i mean by that
0:22 – is they enable you to provide
0:23 – functionality like um you know order
0:26 – within the next two hours to get it by
0:28 – wednesday
0:28 – and with your different shipping options
0:30 – you know this option is going to arrive
0:32 – on wednesday this option is going to
0:33 – arrive on tuesday next week etc right so
0:36 – really specific
0:37 – delivery options um they also give you
0:39 – the ability
0:40 – for customers to do real-time tracking
0:42 – and real-time notifications right so
0:44 – where's my order where is it at in the
0:46 – process if it looks like it's going to
0:48 – be delayed it'll notify them in advance
0:50 – and just make that that whole process
0:51 – really good
0:52 – while also giving you as the store owner
0:55 – the ability to really
0:56 – optimize the shipping process from a
0:59 – range of different
1:00 – angles so it's a really interesting uh
1:02 – company
1:03 – and what we dig into is basically how
1:06 – this concept of the delivery promise
1:08 – really impacts the customer experience
1:10 – and how you can be strategic
1:12 – with that throughout the whole buying
1:14 – cycle and the whole customer experience
1:15 – so
1:16 – before the order while they're on
1:17 – product pages during the order while
1:19 – they're in the checkout process
1:21 – after the order before it arrives after
1:23 – it arrives all those different things we
1:24 – really talk about
1:26 – how it can impact conversion rate impact
1:28 – abandon rate uh for cart abandonment
1:31 – decrease your support costs massively
1:34 – and also cause a jump in reorders so
1:36 – there's a lot of nitty gritty details
1:38 – here
1:38 – of how something like the shipping and
1:40 – delivery experience
1:42 – can really be optimized so if you have
1:44 – focused mostly
1:45 – on driving traffic and conversions
1:48 – i think this is going to spark a lot of
1:50 – ideas for you because you can drive
1:51 – massive massive results
1:52 – by focusing in on the delivery side of
1:55 – things so
1:56 – jump into today's episode dig in and be
1:58 – sure to implement
1:59 – what you've learned welcome to
2:01 – e-commerce town hall where six
2:03 – seven and eight figure e-commerce store
2:05 – leaders learn how to scale and
2:07 – streamline
2:08 – to get to the next level on each episode
2:11 – you'll see strategies from the industry
2:13 – experts behind successful stores
2:15 – that you can take back and apply with
2:17 – your teams right away
2:19 – the show is brought to you by
2:20 – helpful.com help blow provides
2:22 – 24 7 live chat teams to over a hundred
2:25 – e-commerce stores
2:27 – and can help you drive more sales while
2:29 – providing an
2:30 – awesome customer experience through
2:32 – their live chat agents
2:34 – check them out at HelpFlow.com but for
2:36 – now let's dive into today's episode
2:38 – hey guys welcome back to the e-commerce
2:41 – town hall podcast
2:42 – super excited to dig in today uh today
2:44 – i've got Don
2:45 – Vangeloff uh who's head of client success
2:47 – and partnerships at
2:48 – Fenix Commerce um and what Fenix
2:51 – does they're an AI
2:52 – powered uh shipping and delivery
2:54 – platform which really enables stores um
2:57 – to provide just a really good customer
2:59 – experience when it comes to
3:00 – you know shipping and delivery and
3:02 – getting the product to them um
3:04 – through a range of ways and Don's going
3:06 – to talk about a lot today
3:08 – if you know what they do but at a high
3:11 – level
3:11 – it's basically personalized shipping
3:13 – options you know
3:14 – really clear delivery times and dates
3:18 – and costs for shipping
3:19 – um and the ability to do a lot more when
3:22 – it comes to shipping um
3:24 – for things related to you know promotion
3:27 – so doing promotions based on customer
3:28 – inventory product parameters whole bunch
3:30 – of different things and then
3:32 – um in addition to those types of
3:34 – shipping options things around real-time
3:36 – shipping tracking right so like
3:37 – enabling people just watch the package
3:39 – come into their home or come into their
3:41 – office right
3:42 – um they enable that type of customer
3:44 – experience
3:45 – while also empowering you as a store
3:47 – owner to actually deliver on that right
3:49 – so there's a lot of you know fulfillment
3:51 – and shipping and logistics processes
3:53 – that that make that really hard to
3:54 – actually deliver
3:55 – and Fenix helps with that part too so
3:57 – it just enables you to provide
3:59 – a really good uh delivery and shipping
4:02 – experience
4:03 – for the customer but also for you uh as
4:05 – the merchant so today
4:07 – what we're gonna dive into with dawn is
4:09 – this this concept of like delivery
4:11 – promises and how this whole part of you
4:13 – know shipping and delivery and
4:14 – everything i just mentioned
4:16 – like how that impacts conversions um the
4:18 – ins and outs of how to execute it well
4:20 – because that is
4:21 – is the big hard part about this um and
4:24 – you know you might be thinking of amazon
4:27 – that's that's what i think of when i
4:28 – when i talk about like all the things i
4:30 – just mentioned right amazon's amazon
4:32 – because they've perfected the logistics
4:34 – side of how to do this at a at a
4:35 – ridiculous scale right um at least when
4:38 – it comes to amazon prime
4:39 – and today we're going to dive into how
4:41 – savvy brands can do the same right how
4:43 – to basically provide that level of
4:45 – experience
4:46 – um without being amazon because it's
4:48 – hard to compete with amazon at their
4:49 – level for logistics so
4:50 – Don super excited uh to dig in thank you
4:53 – so much for joining us i really
4:55 – appreciate it
4:57 – yeah Jon hey uh thank you uh thank you
5:00 – for inviting me on here and i'm i'm
5:01 – i'm really excited to be here as well
5:03 – too uh you know it's a fun topic for me
5:05 – and for Fenix Commerce of course
5:07 – and uh and i think in many ways can be a
5:09 – fun topic for store owners i mean people
5:11 – uh you know delivery and shipping is a
5:13 – pain we understand that um you know
5:15 – you'd much rather be doing other things
5:16 – with your brand and with your store
5:18 – but you also know in the back your head
5:19 – that uh gosh if i Don't get delivery
5:21 – right you know
5:22 – it's all for naught and we understand
5:24 – that and so
5:25 – uh we think this is fun so really really
5:27 – glad to be here and have the opportunity
5:30 – awesome awesome before we get into like
5:32 – the tactical stuff
5:33 – paint a picture of kind of the context
5:35 – of Fenix Commerce and
5:36 – and how you guys built up this expertise
5:38 – like where does all of this come from
5:40 – that you're going to share today give us
5:42 – some context around the company
5:44 – sure absolutely so um though the founder
5:47 – and i uh worked together at infosys
5:49 – um some years back and uh in our retail
5:52 – cpg business unit and uh and he in
5:55 – particular has got
5:56 – a broad background in logistics and
5:58 – order management
5:59 – and uh after there he was actually ebay
6:01 – for for three years and really
6:03 – the ideas that he has for Fenix he
6:06 – came from his time in running shipping
6:08 – and returns for north america for ebay
6:11 – and uh and he came up with this idea he
6:12 – put together a team of both
6:14 – kind of logistics order management
6:17 – technical experts as well as
6:18 – some e-commerce technical expertise and
6:21 – that's what really brings this together
6:23 – by taking the the technical aspects
6:26 – of managing carrier networks logistics
6:29 – and fulfillment
6:30 – and bringing it forward by virtue of
6:33 – delivery dates and shipping costs
6:35 – into that e-commerce front-end
6:37 – e-commerce stack
6:39 – and so the whole point is is you would
6:41 – fit it up very well for us
6:43 – how can we help retailers provide an
6:46 – amazon like experience
6:48 – and it's a combination of bringing that
6:50 – back end logistics
6:52 – carrier management fulfillment systems
6:54 – and processes
6:55 – into something that makes it very simple
6:57 – to communicate to the shopper when
6:58 – they're going to receive their order
7:00 – before they've even decided to put it
7:02 – into the cart
7:03 – so powerful and i think i think that
7:06 – explains it well is um the power of what
7:08 – you guys do is connecting those thoughts
7:09 – right
7:10 – because i Don't think bring the
7:11 – background forward yeah
7:13 – like connecting them so that uh you can
7:16 – do
7:16 – you can take that data from the carriers
7:18 – and communicate that to
7:20 – to the customer essentially which is a
7:22 – ridiculously
7:23 – complex task to do i understand because
7:25 – carriers and the tech and
7:26 – all different carriers and the packages
7:28 – are always moving like it's it's complex
7:30 – um help me understand um like the impact
7:34 – that getting this right can have like
7:36 – give me a kind of a high level overview
7:38 – of how
7:39 – you know the delivery experience and
7:41 – logistics experience for customers how
7:44 – does that um
7:45 – matter to the shoppers experience how
7:46 – does that impact conversion for
7:48 – retailers like help us understand kind
7:49 – of what's at stake with that
7:52 – sure um let me mention a couple of
7:54 – numbers up front
7:55 – and then i'll i'll come back to it um
7:58 – you know
7:59 – we we when our clients have uh a b
8:01 – tested uh
8:02 – Fenix uh and many of them do we you
8:05 – know on average their conversion their
8:07 – incremental conversion will increase by
8:08 – 11
8:09 – uh we've had as high as 14 a b tested
8:13 – uh we've had other clients that have
8:14 – seen their conversion rates actually
8:16 – double
8:16 – when they've put our delivery date
8:19 – information
8:19 – uh on their product detail pages carton
8:22 – checkup
8:23 – now what does that mean what does that
8:25 – impact on conversion
8:27 – let me throw another statistic at you uh
8:29 – forrester did a survey last year
8:31 – and as part of their survey of 2500
8:33 – shoppers in the u.s and
8:35 – in the uk they they asked him what's
8:37 – important to you about a retailer's
8:38 – website
8:40 – 83 said estimated time of arrival
8:43 – is important it was the highest uh
8:46 – statistic it was the highest percentage
8:47 – of importance it was higher than having
8:49 – the ability to search for products
8:51 – customer ratings um you know payment
8:54 – flexibility
8:55 – uh those are all in the 70s or 30 83
8:59 – rated this is most important knowing it
9:01 – so
9:02 – the point is is amazon has trained us
9:04 – all
9:05 – bottom line uh so shoppers expect it
9:08 – and if they Don't uh have an idea of
9:11 – when they're going to get the item
9:12 – they leave card abanDonment rates are in
9:16 – the
9:16 – 68 to 85 percent uh already uh
9:19 – so if you need to remove the friction so
9:22 – the
9:23 – knowing when you're going to receive
9:24 – your order is a key friction point in
9:26 – the minds of shoppers it's the
9:27 – psychology
9:28 – so when you remove that you are enabling
9:32 – a much higher percentage or much higher
9:35 – motivation
9:36 – for that shopper to put that item into
9:38 – the cart and then ultimately convert
9:40 – that into
9:40 – sale awesome i think that that's so well
9:43 – said
9:44 – um what are what are the big mistakes
9:47 – um that you see stores make when it
9:50 – comes to
9:51 – you know delivery promises and
9:52 – communicating the timing of delivery and
9:54 – those types of things
9:55 – um i want you to answer that kind of
9:57 – from the perspective of of uh store
9:59 – owners listening
10:00 – to say oh no that's me right like we we
10:02 – make that mistake like what
10:04 – what are some of the mistakes that you
10:06 – see stores make that they might not
10:07 – realize that they're making
10:08 – and and it has a big impact on on
10:10 – conversion what are some of those
10:11 – mistakes
10:13 – sure well there's there's sort of two
10:16 – big fundamental mistakes um
10:19 – and let's let's just assume for the
10:21 – moment that um the
10:23 – at any of the retailers are talking
10:24 – about have you know some idea that you
10:26 – know we know delivery is important
10:27 – we know we have to compete somehow um
10:30 – probably the the most fundamental
10:32 – mistake
10:33 – is they Don't have anything on their
10:35 – website related to the delivery aspect
10:38 – until a shopper gets to check out
10:41 – so you're already you know you're you're
10:43 – waving the white flag
10:44 – and you're you're letting the friction
10:46 – at the beginning of your journey
10:48 – stay there and you're hoping that not
10:51 – knowing when you're going to get the
10:52 – item
10:53 – is that still going to get to your
10:54 – checkout the second most fundamental
10:56 – mistake
10:57 – is even at checkout or even if you do
10:59 – have some sort of
11:00 – messaging earlier in the shoppers
11:02 – journey on your website's pages
11:04 – is they'll put a simple date range um
11:07 – this is so common
11:08 – of you know five to seven business days
11:11 – for maybe your standard shipping
11:13 – and maybe you've got a second shipping
11:15 – option that's faster
11:16 – and maybe it's you know one to three
11:18 – business days or even you know one to
11:20 – two business days but it's this date
11:22 – range
11:23 – now why is that problematic um first of
11:26 – all
11:27 – you are assuming that your shopper is
11:29 – going to say
11:30 – okay uh well five to seven business days
11:34 – i got to figure out what day of the week
11:35 – does that really mean all right and
11:37 – number one they're already taking time
11:38 – to figure something out you Don't want
11:39 – to do that
11:40 – secondly what's a business day
11:43 – i mean fedex home delivery delivers on
11:46 – saturdays and sundays now you know
11:47 – even the post usps that has saturday
11:50 – home delivery has even sunday home
11:51 – delivery in some locations
11:53 – so as a business day just monday through
11:55 – friday
11:56 – is it the weekend they see the amazon
11:59 – prime truck out there on sundays right
12:02 – again you're injecting uncertainty so
12:05 – uh those are the the two most i think
12:07 – fundamental mistakes that you have out
12:09 – there and there there's a few others
12:11 – got it i mean yeah it all comes down to
12:13 – that friction
12:14 – and making people think of you know when
12:17 – is it going to arrive
12:18 – what if it doesn't arrive and all those
12:19 – types of things um
12:21 – what what are the options that somebody
12:23 – has you know whether it's with Fenix
12:25 – or or just other tactics that you've
12:27 – seen work i know Fenix makes a lot of
12:29 – things
12:29 – much easier to do but like what are the
12:31 – things that a brand should be doing
12:34 – to be able to really um provide just a
12:37 – really good
12:38 – um customer experience when it comes to
12:40 – uh when it comes to
12:41 – delivery and ordering and logistics and
12:43 – that type of thing you mentioned
12:45 – you know showing uh shipping timing and
12:47 – those things before checkout
12:49 – like give me kind of a laundry list of
12:50 – the things that a brand can do to really
12:52 – like deliver on
12:54 – a good shipping experience sure
12:57 – sure um and probably one
13:00 – again sort of fundamental business thing
13:02 – they need to take into consideration
13:04 – and it also kind of relates to another
13:06 – experience if some people are watching
13:08 – right now and they say yeah i get it the
13:09 – date range
13:10 – you know that's bad news i actually on
13:13 – my checkout it says
13:14 – um i have you know two-day you know
13:16 – fedex uh delivery or two-day ups
13:18 – delivery and i put that right out there
13:20 – ups two-day shipping all right
13:21 – well okay that's two days when the
13:24 – carrier picks it up you still haven't
13:26 – accounted for how long it takes you and
13:27 – your fulfillment in your warehouse to
13:29 – pick pac-time
13:30 – so first thing that i think stores have
13:33 – to do is you have to realize that in
13:34 – order to communicate
13:35 – an actual delivery date which is where
13:37 – we're going with this you have to know
13:39 – it's not just a carrier piece
13:40 – it's your own fulfillment piece whether
13:42 – you have your own warehouse whether you
13:43 – use a 3pl
13:44 – or however you do it even if you drop
13:45 – ship so that you have to understand that
13:48 – part
13:49 – so what are some things that retailers
13:51 – can do
13:52 – uh well what what Fenix does is we can
13:55 – take
13:55 – uh both your carrier information as well
13:58 – as your
13:59 – your processes on your your own
14:01 – warehouses and your fulfillment
14:03 – we can take your inventory and data and
14:05 – your product data and we can
14:06 – help you determine uh from a given ship
14:10 – from ship to location how long it's
14:13 – going to take
14:14 – so you need to look at uh from the
14:16 – detail page
14:17 – or even even for all from a group page
14:20 – when you get to maybe a group of your
14:21 – products if you're shipping from one
14:23 – location one warehouse
14:24 – is understand that uh you can through
14:28 – geolocation
14:29 – no by that shopper's ip address you can
14:32 – know where they are right away
14:33 – you know what zip code they're in and uh
14:36 – and even if it's one zip code over
14:37 – Fenix gives you the ability to change
14:39 – the zip code right there in the detail
14:41 – page
14:41 – so the shopper will see okay yep they
14:44 – have my zip code
14:45 – um great they know where i'm at then by
14:48 – uh having our the the carrier services
14:51 – data which we're fully integrated with
14:52 – having your own warehouse data set up
14:54 – which is predetermined
14:55 – knowing where your inventory is at all
14:57 – times because we can do
14:59 – re real-time inventory tracking you can
15:01 – then calculate that date on the detail
15:03 – page
15:05 – then the second thing you need to do is
15:07 – carry that experience over to the
15:08 – checkout
15:09 – page now between your detail page and
15:12 – your carrier page you may change the
15:14 – messaging a little bit and in particular
15:16 – do what also amazon does is
15:18 – order buy and we can calculate
15:21 – based on when is your order cut off time
15:23 – you know do
15:24 – do you cut off your your web orders at
15:26 – 12 noon do you cut it off at 3 o'clock
15:28 – you cut it off at 5 o'clock
15:29 – 10 o'clock in the morning is it is it 10
15:31 – o'clock in the morning on mondays
15:33 – because you got to make up for
15:34 – all the weekend orders and and then 3
15:36 – o'clock the rest of the week you know
15:38 – Fenix can handle all of that but we
15:40 – can calculate that order
15:42 – cut down order buy order in the next two
15:44 – hours and 36 minutes and you can get it
15:46 – by this day
15:47 – you want to communicate that at checkout
15:50 – that
15:50 – i'm sorry at the cart and then you carry
15:52 – that experience then over into the
15:54 – checkout page
15:57 – uh the other aspect you need to be
15:59 – thinking about
16:01 – uh particularly at the checkout page but
16:03 – we'll get into this more of how you can
16:04 – also bring it forward in
16:06 – product detail is at checkout what you
16:09 – also need to do is a merchant you have
16:10 – to realize
16:11 – people want options okay
16:14 – if you just have standard shipping and
16:18 – maybe over 100
16:19 – cart value it turns into free and just
16:21 – that one option
16:23 – that's just not good enough anymore you
16:24 – got up your game you got to have a
16:26 – couple of options you need to have a
16:27 – standard option you need to have a
16:29 – priority or a rush
16:30 – or an express and really like a lot of
16:33 – things in life you really ought to have
16:34 – three options but you need to pro
16:38 – provide your customer with multiple
16:40 – options
16:41 – uh definitely a checkout and if you can
16:43 – bring that forward into the detail page
16:44 – they'll see
16:45 – okay yeah i can get it free shipping but
16:47 – if i really need it right away
16:49 – i can pick this option instead so i just
16:52 – threw a lot of information out there but
16:54 – the
16:54 – the in terms of a checklist you've got
16:56 – to understand that fulfillment in your
16:58 – warehouse part
16:59 – is a variable along with the carriage
17:01 – you need to bring that information
17:03 – forward in a simple clear when i can get
17:05 – it by message
17:06 – you need to tell them hey ordered by
17:08 – this and create a sense of urgency
17:11 – and then you need to provide multiple
17:12 – shipping options you know not
17:14 – five or six that's too confusing but the
17:16 – right number and it's
17:18 – probably definitely more than one it's
17:19 – probably more than two probably no more
17:21 – than four
17:22 – yeah super super valuable and
17:25 – for the listeners we're gonna have show
17:26 – notes where we kind of um have like a
17:28 – checklist format for this
17:30 – um but this is super super helpful and
17:33 – as you're talking i'm thinking about an
17:35 – order experience that i've had recently
17:36 – uh i'm big into mountain biking
17:38 – um i bought a custom wheel i broke one
17:41 – of my wheels on my on my bike
17:43 – so i ordered this custom wheel set um
17:45 – and
17:46 – it's basically six you must have been
17:47 – wearing a helmet job because your mug
17:49 – looks great so
17:50 – i was but i i did i did almost good for
17:52 – you
17:53 – so it was my foot not my face um but i
17:56 – uh i ordered these wheels 600 bucks
17:58 – and um number one it's a custom wheel
18:01 – set so there is a build time
18:02 – it was technically on the product page
18:04 – very small but it's like a
18:06 – uh 25 business day build time for the
18:08 – wheel so it's a long time just to build
18:09 – it
18:10 – um another thing that happened when i
18:12 – ordered it is they needed some parts
18:14 – um so they Don't even start building
18:16 – until they get the parts right so now
18:17 – it's turned into two months
18:18 – um but during the ordering process like
18:21 – i i i'm big into biking
18:23 – it's my hobby and i would have and i had
18:24 – a trip coming up too so i would have
18:26 – been willing to pay another
18:28 – i mean round number off the top i had
18:29 – another 100 bucks just to rush it like
18:31 – get to the front of the build line
18:32 – maybe 200 that's that's uh if my math is
18:35 – right that's a third of the order right
18:36 – if i were to pay 200 bucks for it to
18:38 – come fast
18:39 – um but they didn't give those options
18:41 – right my only option would be to email
18:42 – them and say that which they probably
18:43 – say oh no we can't do it
18:44 – so if they have these things they can
18:45 – drive a lot of uh of results for
18:48 – for i guess picky people like me with
18:49 – bike wheels i wouldn't do that for all
18:51 – orders uh things that i buy
18:52 – but i'm curious for for you from a
18:54 – metrics perspective
18:56 – what do you see happen to like
18:58 – conversion rate or cart abanodnment
19:00 – or you know support volume there's so
19:02 – many things that this can
19:04 – influence what are the metrics that you
19:07 – see
19:07 – impacted by getting these things right
19:10 – that you just mentioned
19:12 – absolutely so let me uh run through a
19:14 – couple of these metrics these are the
19:16 – things that
19:16 – we uh we encourage our clients to track
19:19 – and we in turn
19:20 – Fenix helps them track so number one
19:23 – is conversion
19:24 – you know incremental conversion lift and
19:27 – i mentioned some numbers of a few
19:28 – minutes ago
19:29 – uh and we always encourage our clients
19:31 – to a b test what is you know a b
19:33 – test when you have delivery dates versus
19:34 – not showing delivery dates and what's
19:36 – the difference
19:37 – and we've seen again on average 11
19:40 – incremental
19:41 – uh conversion lift uh as high as 14
19:45 – and i'll get back to conversion in a
19:46 – minute why that's why that can totally
19:48 – impact your bottom line here
19:50 – um the second thing is uh card
19:52 – abandonment we have seen
19:53 – cart abandonment go down on average 38
19:58 – because uh shoppers are seeing that
20:01 – delivery date even when it comes into
20:03 – when they get to the cart page
20:05 – and uh uh wismo where is my order
20:08 – uh queries which can really tie up your
20:11 – customer service
20:12 – uh because a lot of times your customer
20:14 – service has no idea they got to go out
20:16 – to the fedex or ups website
20:18 – find a tracking number blah blah blah
20:20 – customers getting upset
20:21 – uh when you when they know already where
20:23 – they're how when they're going to get
20:24 – their order
20:25 – we've seen uh wismo orders go down
20:27 – queries go down
20:28 – 75 we've had clients that have come to
20:32 – us that maybe Don't care as much as
20:33 – conversion
20:34 – but for the simple fact that by they
20:36 – know by communicating a date
20:38 – they will free up their customer service
20:40 – people to do other things
20:42 – and then the fourth metric that we track
20:44 – is an increase in shipping revenue
20:47 – and so well and we'll we'll get into
20:50 – this a little bit more in a few minutes
20:51 – but the point is is that um shipping can
20:55 – be a revenue generator you can certainly
20:57 – cover more the cost of your shipping
21:00 – when you have multiple shipping options
21:02 – and you can do flat rates or you can do
21:04 – actual rates plus a percentage
21:06 – you offer free shipping but with
21:08 – delivery dates you motivate
21:10 – or incentivize your customer to upgrade
21:13 – the shipping option you just gave a
21:15 – perfect example
21:17 – um you know you're willing to spend a
21:19 – hundred dollars
21:20 – or more to get it overnighted to you so
21:23 – you could provide an overnight option
21:25 – plus 10
21:28 – and uh and not and that one order won't
21:30 – won't pay for free shipping order
21:32 – and we've seen uh uh our merchants
21:34 – collect uh
21:35 – shipping revenue again on average have
21:36 – it go up 21 because they provided
21:38 – more options and it needs to motivate so
21:41 – conversion
21:41 – cart abandonment reduction in wismo and
21:44 – an increase in shipping revenue are all
21:46 – metrics that are out there
21:48 – super powerful and one of the things
21:50 – that comes to mind for me so
21:51 – uh so with HelpFlow we have you know we
21:53 – provide the 24 7 live chat teams for
21:55 – stores which is uh you know big part of
21:57 – our business
21:58 – but we also run full cs operations for
22:00 – brands for a lot of brands so like it's
22:02 – our team doing the cs work it's our team
22:04 – and their systems
22:05 – and we're very metrics driven with that
22:07 – so when you say you know it drops the
22:08 – wismo questions by 75
22:11 – like that's a that's a hard cost you
22:13 – know um the csc
22:15 – is a major major cost in an e-commerce
22:17 – business and if you can make the team
22:20 – you know 40 more efficient like that's
22:22 – big dollars
22:23 – um and so it makes that investment you
22:25 – know no brainer
22:26 – um one of the things uh
22:29 – i want i want to kind of step back a
22:31 – little more from the tactical stuff
22:33 – and understand just um some of what you
22:36 – touched on here was more of like the
22:38 – bigger picture strategy
22:40 – around shipping and you know the
22:42 – strategy
22:43 – of um the customer experience when it
22:45 – comes to delivery time
22:47 – um to kind of tie all this together and
22:50 – get
22:50 – listeners into kind of that frame of
22:52 – mind coming out of this interview
22:54 – how should brands really be thinking of
22:56 – this stuff
22:57 – from just a broader strategic level
23:00 – because i feel like everyone focuses on
23:02 – driving traffic and conversions and
23:04 – conversion rates
23:06 – but this this influences all of those um
23:09 – while also providing a really good
23:11 – customer experience which causes people
23:12 – to come back right
23:13 – there's a reason why amazon is amazon
23:15 – it's really easy to buy from amazon this
23:16 – is a good experience
23:17 – right um how how should brands kind of
23:20 – be thinking of this from a strategic
23:21 – level
23:22 – and how it should influence you know um
23:25 – you know
23:26 – either their q4 strategy or their
23:27 – overall strategy for next year like
23:29 – how should brands be thinking about
23:31 – shipping and delivering from a strategic
23:32 – level
23:34 – sure um that's a that's a great
23:38 – question and i would i would say and
23:40 – what we tell our clients
23:42 – um there there are two main ways that
23:44 – you ought to be looking at this and then
23:46 – there there's a third
23:47 – way when you're when you're really ready
23:50 – or a third aspect
23:52 – and the two main ways is about how
23:54 – delivery can in fact
23:56 – affect your customer experience is the
23:58 – pre-purchase experience
24:00:00 – and the post purchase experience
24:03:00 – we've been spending a lot of time here
24:04:00 – talking about the pre-purchase
24:06:00 – experience
24:07:00 – how can i drive conversion you know how
24:09:00 – can i increase shipping revenue how can
24:10:00 – i reduce card abanDonment
24:12:00 – and that's that's critical and you know
24:14:00 – just to give you an idea i mean if
24:15:00 – you're
24:16:00 – a retailer with 10 000 orders a month
24:18:00 – you know and uh you know
24:20:00 – 80 uh average order value you know just
24:22:00 – you increase
24:24:00 – your your orders by 10 000 by by 10
24:27:00 – that's another thousand orders per month
24:29:00 – you know do the math
24:31:00 – that is very big incremental impact
24:34:00 – every month take it out the whole year
24:36:00 – right
24:38:00 – that's the pre-purchase and there's
24:40:00 – where the the customer is really kind of
24:42:00 – getting the first
24:43:00 – you know glimpse of your whole your
24:45:00 – whole product no customer experience but
24:46:00 – the post purchase
24:47:00 – is just as important because and i'll
24:50:00 – give you an example in a minute i think
24:51:00 – of another part of the stack that has
24:53:00 – Done a very good job of this
24:55:00 – but uh it doesn't end once the the
24:57:00 – transaction is made and and as we all
24:59:00 – know it doesn't end even when the
25:00:00 – carriers pick it up from your warehouse
25:03:00 – uh but you know orders are going to be
25:05:00 – late
25:06:00 – or the customer is going to want to know
25:08:00 – okay
25:09:00 – check out i knew what my date was but
25:11:00 – you know where is it again
25:13:00 – so providing tracking is is really key
25:16:00 – now everybody does tracking right now
25:18:00 – and you can do the default in shopify or
25:20:00 – use your carrier's tracking but
25:22:00 – if you will that's a pretty antiseptic
25:24:00 – approach
25:26:00 – you should think about the post purchase
25:27:00 – experience as a way
25:29:00 – to continue your relationship with your
25:32:00 – customer
25:33:00 – so even the tracking page and we offer
25:35:00 – this um other companies do too
25:38:00 – but a branded tracking page where when
25:40:00 – they click on the link it is branded to
25:42:00 – fit your store
25:43:00 – it gives you the opportunity to provide
25:45:00 – your promotions
25:47:00 – it gives you the opportunity to educate
25:49:00 – uh
25:50:00 – obviously where that particular order is
25:52:00 – but as a means of getting that shopper
25:54:00 – back
25:54:00 – to your website however you want to do
25:57:00 – it
25:57:00 – all right there's also alerts
26:02:00 – we we have the ability to provide an
26:04:00 – automated
26:05:00 – proactive alert when an order is going
26:08:00 – to be late
26:09:00 – even before you know if it's going to if
26:11:00 – we say it's going to be there in three
26:12:00 – days
26:13:00 – and because of a delay at the warehouse
26:14:00 – or a delay of the carrier and you're
26:16:00 – still at day two
26:18:00 – uh but we know it's going to be late we
26:21:00 – can send out an automated notification
26:23:00 – now imagine
26:24:00 – the goodwill you can build on a
26:26:00 – post-purchase experience
26:28:00 – when you let them know hey we're very
26:29:00 – sorry it's going to be
26:31:00 – one day late um here's a 10
26:34:00 – off the next coupon or whatever the next
26:36:00 – time you come back or you know do
26:38:00 – something to build that relationship
26:40:00 – um and then you know letting it know
26:42:00 – when it actually arrives
26:44:00 – uh we've got a couple of mattress
26:46:00 – companies and
26:47:00 – um you know they're very concerned about
26:49:00 – you know porch pirates
26:50:00 – so they want to let their shoppers know
26:53:00 – hey it is delivered it just got there
26:55:00 – so we can provide that level of tracking
26:58:00 – as well too so the point is
27:00:00 – that's that post purchase experience and
27:02:00 – what i mentioned a few minutes ago the
27:04:00 – the returns guys the guys that do the
27:05:00 – returns
27:06:00 – they've Done a very good job i think of
27:07:00 – educating the market out there store
27:09:00 – owners that hey
27:11:00 – you know return is an opportunity to
27:12:00 – make another sale you know it's not just
27:14:00 – a return it's not a refund it's an
27:16:00 – exchange
27:18:00 – so that post purchase experience is what
27:20:00 – is also very important you need to think
27:22:00 – about
27:22:00 – delivery and and letting them know and
27:25:00 – and
27:25:00 – and being um mindful of your shoppers
27:29:00 – concerns about when they receive that
27:30:00 – order it's an emotional thing right
27:32:00 – you've made a promise um you're gonna
27:34:00 – get it there
27:35:00 – if it happens to be late you know you
27:37:00 – let them know if it's early you can let
27:38:00 – them know but it's that emotional
27:40:00 – connection that's the post-purchasing
27:41:00 – experience
27:41:00 – so pre and post oh i gotta i gotta
27:44:00 – sorry i got a little off there i i
27:46:00 – really kind of get into this
27:48:00 – uh there is a third aspect if you want
27:49:00 – me to touch into it or not
27:51:00 – yeah what's the what's the last one what
27:53:00 – i'm really hearing is um it affects the
27:55:00 – entire experience like delivery
27:57:00 – is the entire thing and at every touch
28:01:00 – point of delivery
28:02:00 – you want to focus on just enhancing that
28:05:00 – customer experience
28:06:00 – um and that's that's either going to
28:08:00 – cause them to buy more
28:09:00 – uh cause them to buy more later cause
28:11:00 – them to refer like it's
28:12:00 – it's making the experience really really
28:15:00 – good does that kind of encapsulate it
28:18:00 – yeah well and i guess the thing is that
28:20:00 – you can the third thing i was going to
28:21:00 – bring up is that you can take
28:23:00 – how you manage shipping really to
28:26:00 – another level
28:27:00 – if if you want if you're ready and and
28:29:00 – it's a it's a journey for everyone
28:31:00 – but um you know what i haven't really
28:33:00 – talked about at all as as merchants
28:35:00 – um the tools that we give because we
28:37:00 – collect all this data
28:39:00 – we we also give the merchants to the
28:40:00 – retailers tools that they can manage
28:43:00 – their whole back end they can track how
28:44:00 – well they're doing fulfillment wise they
28:46:00 – can track hey does this carrier be
28:48:00 – doing better from this carrier so
28:50:00 – there's all kinds of you know reporting
28:51:00 – and tracking and how to make your
28:53:00 – uh shipping and delivery much more
28:54:00 – efficient uh that that's all out there
28:56:00 – too
28:57:00 – but where i was kind of going with the
28:58:00 – third level is which you get really
29:00:00 – strategic about shipping is
29:02:00 – you can have customer-based promotions
29:05:00 – you know the loyalty customer you have
29:07:00 – your loyalty customers right however you
29:09:00 – do it your
29:10:00 – your rating fans your loyalty customers
29:12:00 – people that sign up
29:13:00 – for you as a brand um you can take
29:16:00 – shipping and you can marry up shipping
29:18:00 – with you know a new line that's coming
29:20:00 – out
29:20:00 – and maybe you're doing an early preview
29:22:00 – sale to just your loyalty customers
29:24:00 – to really enhance that experience you
29:27:00 – can provide
29:28:00 – you know dedicated or shipping based
29:30:00 – promotions
29:32:00 – for a designated customer base or
29:36:00 – margin based promotions you know imagine
29:39:00 – uh you've got a high margin product and
29:42:00 – the the shopper puts it in there into
29:44:00 – the cart and they're ten dollars away
29:46:00 – from free shipping
29:47:00 – because it isn't over the cart value yet
29:49:00 – but it's high margin
29:51:00 – wouldn't you want to give them free
29:52:00 – shipping anyway if they're ten dollars
29:54:00 – away from the threshold because of the
29:56:00 – margin of that product or because it's a
29:58:00 – new line you can you know use your data
30:01:00 – configure Fenix in order to help you
30:04:00 – focus
30:04:00 – on that aspect as well too so there's
30:07:00 – the pre and post-purchase experience
30:08:00 – but then there's really getting
30:10:00 – strategic about who am i trying to serve
30:13:00 – what am i trying to achieve as a
30:15:00 – retailer how am i trying to
30:16:00 – differentiate from my competition
30:18:00 – and and managing shipping and providing
30:21:00 – that delivery experience is really
30:22:00 – another tool in your tool kit
30:24:00 – to do that awesome one of the things
30:27:00 – this actually reminds me of is we uh
30:29:00 – we have an interview with omnisend with
30:31:00 – greg over at omnisend uh the email yeah
30:36:00 – yeah great team great team he's got some
30:38:00 – good data he drops in that interview but
30:39:00 – one of the things he talked about is
30:40:00 – just um
30:42:00 – the amount of revenue that comes from
30:43:00 – the automation side of email like once
30:46:00 – you have it set up
30:47:00 – and you optimize it a bit it drives a
30:49:00 – massive chunk of the email revenue
30:51:00 – um even though it's a small percentage
30:53:00 – of the actual sends that go out compared
30:55:00 – to like self uh
30:56:00 – compared to uh you know one-time
30:57:00 – promotions and things like that and what
30:59:00 – i'm hearing that kind of connects back
31:00:00 – to this
31:01:00 – is when you get you know shipping and
31:03:00 – delivery and that entire experience
31:06:00 – you know configured and dialed in and
31:08:00 – everything's working really well
31:10:00 – a lot of what you're talking about at
31:11:00 – this point becomes automated once you
31:14:00 – have it
31:14:00 – set up and if you're able to drive a lot
31:17:00 – more
31:18:00 – revenue by you know dropping the free
31:20:00 – shipping threshold because you can you
31:22:00 – can afford it because it's a super high
31:23:00 – margin product like that's a no-brainer
31:25:00 – but it's it's hard to do without the
31:26:00 – right tools right so once you have it
31:28:00 – all in place it can just constantly be
31:30:00 – uh you know improving the revenue and
31:31:00 – improving the results
31:33:00 – i'm curious um you know as we wrap up
31:35:00 – here um
31:36:00 – is there anything anything else any
31:39:00 – other big insights any other big
31:41:00 – takeaways that you want to make sure um
31:43:00 – you know listeners
31:44:00 – uh listeners uh take away from this
31:48:00 – yeah yeah thanks thanks Jon there is um
31:50:00 – uh
31:51:00 – but let me first just because you
31:52:00 – brought up omnisend and
31:54:00 – and the automation part let me just
31:56:00 – throw out one more good
31:57:00 – sort of um a fairly low hanging fruit
32:01:00 – um use case that i think merchants they
32:03:00 – ought to resonate a lot and
32:05:00 – a lot of this really isn't as
32:06:00 – complicated as it sounds
32:08:00 – but um because omnisend puts out a lot of
32:10:00 – great data
32:11:00 – about um you know even their cart
32:14:00 – abandonment email
32:15:00 – so imagine this use case if you're
32:17:00 – already sending out cart abandonment
32:18:00 – emails hey
32:19:00 – you know come back to us imagine having
32:22:00 – a delivery date
32:24:00 – in that a dynamic delivery date hey come
32:27:00 – back to us we see you left this in the
32:28:00 – cart and here's when you can get it
32:31:00 – we can do that and that type of
32:33:00 – automation
32:35:00 – um that type of use case kind of gets
32:37:00 – right to the heart
32:38:00 – of taking away friction and it's a real
32:41:00 – relatively simple thing
32:42:00 – uh to provide but very powerful so
32:45:00 – something about but uh you know in
32:46:00 – wrapping it up i think the main thing is
32:48:00 – is
32:48:00 – uh i i would love to your audience here
32:51:00 – to understand that yes
32:52:00 – shipping is complicated um it's it's
32:56:00 – a pain but by no means should it prevent
32:59:00 – you from
33:00:00 – trying to experiment and trying to move
33:02:00 – forward i mean you can
33:03:00 – do this i mean obviously i'm here
33:05:00 – talking about Fenix
33:07:00 – but there are things you can do even
33:08:00 – some simple things you can do
33:11:00 – to really make this problem much more
33:13:00 – manageable for yourselves
33:15:00 – and gosh you know the worst thing you
33:16:00 – can do is not do anything you know
33:19:00 – Don't settle for just your date ranges
33:21:00 – on checkout you can do better
33:23:00 – there's steps you can do in the
33:24:00 – beginning to get started and then
33:26:00 – there's more sophisticated things you
33:28:00 – can do
33:28:00 – later but um you know delivery is so key
33:33:00 – Don't ignore it any longer awesome
33:36:00 – awesome so there's a lot here and for
33:37:00 – the listeners we're gonna have show
33:38:00 – notes uh
33:39:00 – where you can really uh use it as a bit
33:41:00 – of a checklist share with your teams and
33:43:00 – and really get this stuff
33:44:00 – implemented but the things that stood
33:46:00 – out to me as i kind of look through my
33:48:00 – notes um
33:49:00 – is just this whole concept of removing
33:51:00 – friction um
33:52:00 – is ultimately what's going to drive
33:53:00 – conversion removing the friction of
33:55:00 – uncertainty of when this product is
33:57:00 – going to arrive is super super important
33:59:00 – um some of the mistakes that dawn talked
34:02:00 – about when it comes to
34:03:00 – you know delivery promises and the
34:05:00 – timing of delivery was you know number
34:07:00 – one not having anything about delivery
34:09:00 – time uh until checkout right so not
34:11:00 – even if it's just a range and business
34:12:00 – days and all those mistakes um
34:14:00 – if you hold that until checkout you know
34:16:00 – that's a mistake because people are
34:17:00 – gonna have that that uh concern
34:19:00 – much sooner Don also talked about you
34:22:00 – know not using
34:22:00 – you know ranges and business days and
34:24:00 – that type of thing make it simple for
34:26:00 – people to understand when it's going to
34:27:00 – arrive
34:28:00 – but at a minimum communicate it through
34:30:00 – the whole purchase journey
34:32:00 – um and then rattling off um you know
34:34:00 – really quickly some of the tactical
34:36:00 – things
34:36:00 – um to consider when you're doing this is
34:38:00 – uh including fulfillment time
34:40:00 – super super important um when you get
34:43:00 – people into the cart and into the
34:44:00 – checkout
34:45:00 – you can use that to drive urgency of if
34:47:00 – you order by 2 p.m pacific time today or
34:49:00 – maybe
34:50:00 – normalize it to their time zone right
34:51:00 – which i'm sure is possible exactly
34:53:00 – um yeah so order now order invite in the
34:57:00 – next two hours whatever it is
34:59:00 – um to get it by that date right so
35:01:00 – driving um driving that urgency
35:03:00 – um and then in the show notes we'll also
35:05:00 – include some of the metrics so you guys
35:07:00 – can kind of benchmark yourself
35:08:00 – as you implement some of these things
35:10:00 – but you know Don mentioned conversion
35:12:00 – rate increased by 11
35:14:00 – cart recovery dropped by 38 where's my
35:16:00 – order questions down by
35:17:00 – 75 which is a customer service guy i
35:20:00 – look at that and go wow that's a lot of
35:21:00 – money
35:22:00 – um there's a lot of things you can do
35:24:00 – here but the key thing to understand
35:26:00 – in one sentence i think is delivery time
35:30:00 – and the shipping experience impacts
35:32:00 – everything
35:33:00 – and every interaction every interaction
35:35:00 – around that is an opportunity to enhance
35:37:00 – that customer experience and if you do
35:38:00 – that
35:39:00 – you drive revenue um and so definitely
35:42:00 – get some takeaways from this episode
35:44:00 – apply those on your site and uh i hope
35:46:00 – you're able to drive some some solid
35:48:00 – results with this
35:49:00 – um Don if listeners want to uh want to
35:52:00 – connect with you
35:53:00 – or want to dig into additional resources
35:54:00 – from Fenix rattle off what what some
35:57:00 – of the best ways are to connect so we
35:58:00 – can put those in the show notes
36:00:00 – sure um so first of all you can go to
36:03:00 – our website
36:05:00 – Fenixcommerce.com and that's fenix
36:08:00 – commerce.com and there we've got a
36:11:00 – variety of resources it
36:13:00 – obviously explains our solutions and
36:14:00 – blogs and stuff but we've also got on
36:16:00 – there
36:17:00 – uh about a 90-second youtube video
36:20:00 – that really explains the value
36:22:00 – proposition
36:23:00 – of providing delivery dates from both
36:26:00 – the retailer and the shoppers point of
36:27:00 – view
36:28:00 – so definitely check that out um we're
36:30:00 – also on
36:31:00 – both linkedin and facebook and we also
36:34:00 – participate in the shopify and big
36:36:00 – commerce
36:36:00 – communities uh so just you know search
36:38:00 – for for Fenix Commerce
36:40:00 – um and in by all means you can always
36:41:00 – get a hold of me too uh it's Don
36:43:00 – Vangeloff
36:44:00 – at Fenixcommerce.com awesome
36:47:00 – evangel office v-a-n-g-e-l-o-f-f
36:51:00 – uh we'll also have that in the show
36:52:00 – notes but thank you guys everyone for
36:54:00 – listening Don thank you so much for your
36:56:00 – time and we'd love to hear from you guys
36:58:00 – with this so we can see uh see the
37:00:00 – impact that this is having that's the
37:01:00 – whole purpose to ecommerce town hall
37:03:00 – is to help you basically scale and
37:04:00 – streamline and get to the next level so
37:05:00 – hopefully this helps you get there
37:07:00 – dawn thank you so much for your time
37:09:00 – thank you Jon this is great thank you
37:11:00 – thanks for tuning in to ecommerce town
37:13:00 – hall for more resources related to
37:15:00 – today's episode
37:17:00 – visit ecommercetownhall.com and Don't
37:20:00 – forget to check out HelpFlow
37:22:00 – HelpFlow provides 24 7 live chat teams
37:25:00 – to over 100 e-commerce stores and can
37:27:00 – drive more
37:28:00 – sales while providing an awesome
37:30:00 – customer experience
37:31:00 – through their live chat agents
37:33:00 – HelpFlow's Done for you 24 7 live chat
37:36:00 – team
37:36:00 – can predict and save abanDons directly
37:39:00 – on your website
37:40:00 – by engaging with chat they can also use
37:42:00 – conversational
37:43:00 – upsells to increase average order value
37:46:00 – in a way that feels good to visitors
37:48:00 – ultimately they're going to provide an
37:49:00 – overall amazing brand experience to your
37:51:00 – customers
37:52:00 – learn more today at HelpFlow.com