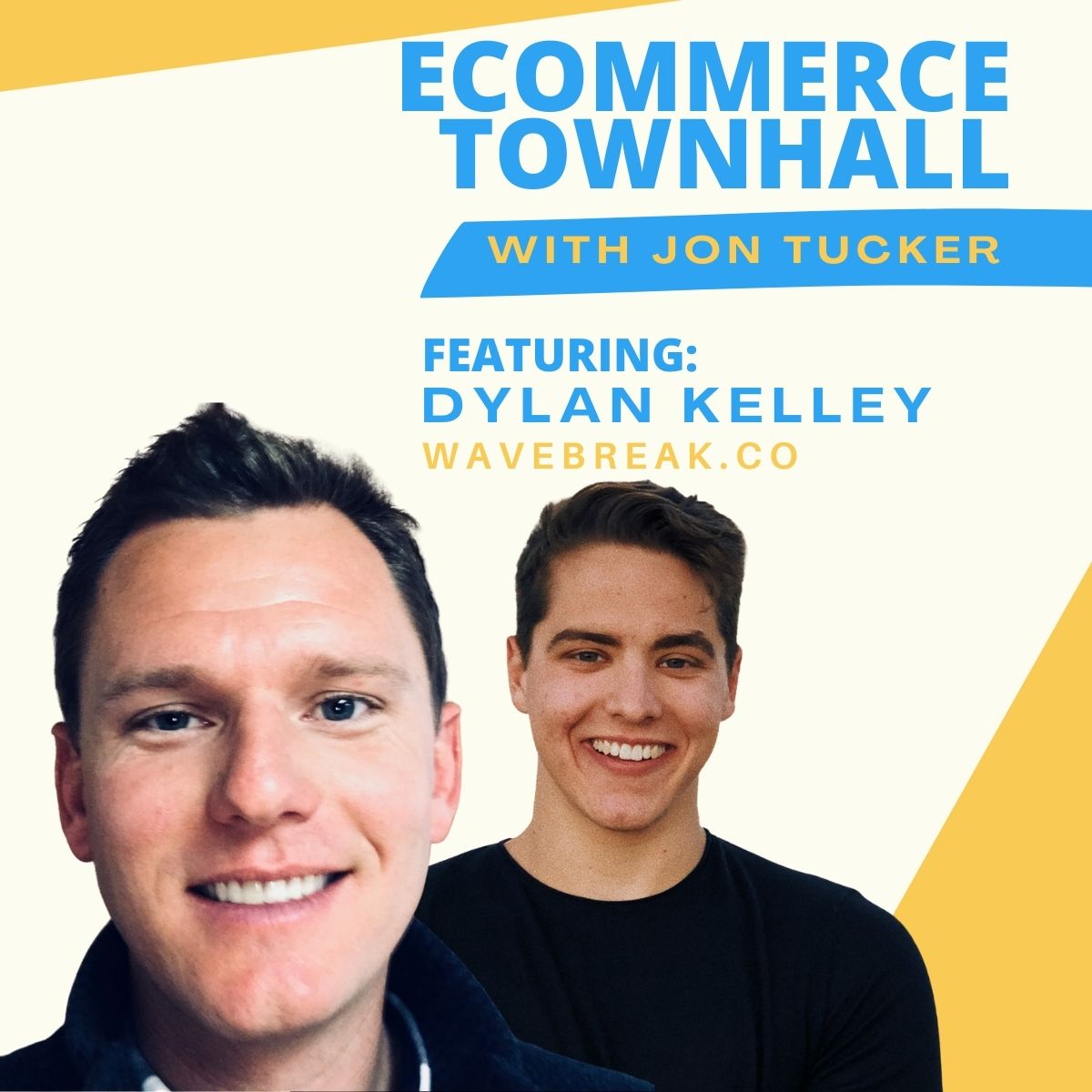 eCommerce Townhall Ep2: Email Marketing – Flow Architecture, Segmenting and SMS with Dylan Kelley of Wavebreak.co
On today's episode, we're digging in with email marketing ninja Dylan Kelley.  Dylan runs email for 8 and 9 figure brands and has this stuff really down to the science. 
He was one of the first Klaviyo consultants in the early days when Klaviyo came out and really just knows this stuff when it comes to email.  We are going to talk about things like flow architecture, segmentation and how to not overdo it with segmenting, SMS and where that fits into the channel, and really everything in between. 
Assuming you're focused on growing email as a channel which you definitely should be, then, you don't want to miss this episode.  Stay tuned, dig in  and make sure to implement what you've learned.
In this episode, I have the pleasure to interview Dylan Kelley, the founder and CEO of Wavebreak.co.  Dylan is an email marketing ninja with more than eight years of experience, and he started his journey as a Klaviyo consultant in the early days when it came out. He also runs email for 8 and 9 figure brands aimed at helping eCommerce stores turn their email marketing into a top revenue driver.
Wavebreak is a boutique email agency specializing in email marketing and eCommerce to help businesses turn their email into a channel for more conversion and revenue. Initially, the brand focused on conversion rate optimization by creating optimized landing pages for Facebook ads traffic. But after a while, Facebook traffic disappeared overnight, leaving them in search of better and stable ways to help their client, and that's when Wavebreak.co was born.  Since then, email marketing has been the best solution, where businesses spent less and for more in return.
During this episode, we talk about email marketing, and we dive deep into flow architecture, segmentation, and SMS marketing, the aspects that will lead you to real e-commerce success.
SHOW NOTES
In This Episode, You Will Learn:
[02:57] What Wavebreak.co is and how Dylan and his team started out
[06:40] Why email is important as a channel for brands and the key aspects to focus on when building your email marketing.
[11:08] What high-level brands in email marketing are doing right and the strategies that they focus on to unleash their success.
[15:50] How to measure the financial success of your email marketing as a channel and how to set achievable goals.
[19:35] The must-have for stores and the low hanging fruits that you can pick for your brand email marketing to thrive.
[22:10] The right way to do optimization on email marketing as an entire channel.
[26:05] Where most e-commerce businesses go wrong in segmentation and automation of email marketing.
[29:40] Defining customers journey and what part of the customers' journey has the best opportunities for you and the customer.
[35:38] Where SMS fits in the overall email architecture and rhythm balance between email and SMS.
[38:07] The most efficient ways to use email and SMS in sequence communication with customers to ensure they serve customers in the intended ways.
[42:18] Take aways from Dylan on SMS marketing as the most powerful tool of marketing your brand.
[44:30] Episode summary.
NOTABLE QUOTES:
● SMS marketing is the most powerful driver and the easiest to start working with to take your business to the next level.
● Email marketing doesn't just diversify your market, but it also builds a stronger brand that actually stands out the test of time.
● The best practice in email marketing is to be simple and optimize what you have on hand; the scale is the most important part of the whole.
● If you don't have a fully optimized email and SMS marketing program, you are missing a significant amount of revenue at the table and probably spending a lot on ads.
LET'S CONNECT!
Dylan Kelley
Website:  www.wavebreak.co
Email: dylan@wavebreak.com
Jon Tucker
Website:
www.ecommercetownhall.com
www.helpflow.com
Email: jtucker@helpflowchat.com
Like our Facebook Page: Ecommerce Townhall
YouTube: Ecommerce Townhall
EPISODE TRANSCRIPT
0:00:00 – hey guys in today's episode i'm digging
0:02:00 – in with email marketing ninja
0:04:00 – Dylan Kelley. Dylan runs email for eight
0:07:00 – and nine figure brands
0:09:00 – and has this stuff really down to a
0:11:00 – science he was one of the first Klaviyo
0:13:00 – consultants in the early days when
0:14:00 – Klaviyo came out
0:15:00 – and really just knows his stuff when it
0:17:00 – comes to email so we're going to be
0:18:00 – talking about things like flow
0:19:00 – architecture
0:21:00 – segmentation and how not to overdo it
0:23:00 – with segmenting
0:24:00 – sms and where that fits in to the
0:27:00 – channel and and really everything in
0:28:00 – between so
0:29:00 – assuming you're focused on growing email
0:32:00 – as a channel which you definitely should
0:33:00 – be
0:34:00 – uh then you don't want to miss this
0:35:00 – episode so stay tuned dig in and be sure
0:37:00 – to implement what you've learned
0:39:00 – welcome to e-commerce town hall where
0:41:00 – six seven and eight-figure e-commerce
0:43:00 – store
0:44:00 – leaders learn how to scale and
0:46:00 – streamline
0:47:00 – to get to the next level on each episode
0:49:00 – you'll see strategies from the industry
0:51:00 – experts behind successful stores
0:53:00 – that you can take back and apply with
0:55:00 – your teams right away
0:57:00 – the show is brought to you by
0:59:00 – helpflow.com help blow provides 24 7
1:02:00 – live chat teams to over a hundred
1:04:00 – e-commerce stores
1:05:00 – and can help you drive more sales while
1:08:00 – providing an awesome customer experience
1:10:00 – through their live chat agents check
1:12:00 – them out at helpflow.com
1:14:00 – but for now let's dive into today's
1:16:00 – episode
1:18:00 – alright guys welcome back to the
1:20:00 – ecommerce town hall
1:22:00 – uh today i'm pumped to have dylan kelly
1:24:00 – uh dylan kelly is ceo at Wavebreak also
1:26:00 – a friend of mine
1:27:00 – uh and waybreak is a boutique email
1:30:00 – agency
1:31:00 – that really helps um you know seven
1:33:00 – eight and even nine figure brands
1:34:00 – um turn email into really like a
1:38:00 – top revenue driver for them and
1:41:00 – there's so much going on with you know
1:43:00 – advertising and ios 14 and just
1:46:00 – you know acquisition has always been
1:47:00 – hard it just changes over time
1:49:00 – um but with all of that happening right
1:51:00 – now it just shows like the importance of
1:53:00 – owning your audience
1:54:00 – and email and sms is a killer way to do
1:56:00 – that and so we're going to dive in
1:57:00 – um we're going to dive in with dylan
1:59:00 – into email from the perspective of you
2:01:00 – know these brands that have turned it
2:03:00 – into a big channel for themselves
2:05:00 – like how do they approach email how do
2:06:00 – they think about it and
2:08:00 – you know how has that helped them to
2:09:00 – really have you know a fortified
2:11:00 – owned audience that you know facebook
2:13:00 – google tick tock whatever advertising
2:15:00 – network's gonna be big next
2:16:00 – like it can't take it away right um we
2:18:00 – want you to see that from their
2:19:00 – perspective and really see how you can
2:21:00 – do that uh
2:22:00 – in your business as well so uh dylan
2:24:00 – super super excited to have you man
2:26:00 – thanks for joining us
2:27:00 – yeah thanks for thanks for having me on
2:29:00 – like you mentioned we've been friends
2:30:00 – for a long time and it's great to
2:32:00 – you've been on my show a few times and
2:34:00 – it's great to be to to be on your show
2:36:00 – now
2:37:00 – yeah yeah i'm super excited man um
2:39:00 – before we get into kind of you know
2:40:00 – email like how to do email marketing
2:42:00 – um give me kind of a background um i
2:45:00 – mean i know your background but you're
2:46:00 – working with some big brands you've been
2:47:00 – doing this for a long time like
2:49:00 – give us kind of a snapshot um of like
2:52:00 – the journey you've been on and how you
2:53:00 – got to this point like why
2:55:00 – why you know the stuff that you know
2:58:00 – yeah absolutely so
2:59:00 – yeah like you mentioned way breaks a
3:01:00 – boutique agency all we do
3:02:00 – is email and sms for e-commerce brands
3:05:00 – and retail brands
3:06:00 – and that's 100 all we're focused on and
3:08:00 – i started way break back in 2016
3:11:00 – really as one of the first agencies in
3:12:00 – this space focused on email because i
3:15:00 – saw the gap in the marketplace so
3:17:00 – you know i was an outsider when it came
3:19:00 – to e-commerce uh you know typical
3:20:00 – background of a lot of people who are in
3:22:00 – e-commerce now i was doing this
3:23:00 – affiliate marketing stuff
3:24:00 – you sometimes you make a lot of money
3:25:00 – sometimes you don't i saw these brands
3:27:00 – on instagram starting to grow
3:28:00 – think movement watches the pure video
3:30:00 – bracelets i was like wow that's really
3:32:00 – cool
3:32:00 – i want to get in on that and i had this
3:35:00 – experience doing different things in web
3:37:00 – design and affiliate marketing
3:38:00 – um and so i created weight break back in
3:40:00 – 2016 first
3:42:00 – initially focused on conversion rate
3:44:00 – optimization
3:45:00 – but that didn't really last very long it
3:46:00 – only lasted a few months because what
3:48:00 – ended up happening is
3:49:00 – uh you know brand that's still around
3:51:00 – today that's been really successful in
3:52:00 – the d2c and shopify circles
3:54:00 – hired me to optimize their landing pages
3:56:00 – that they're sending facebook ads
3:57:00 – traffic to
3:58:00 – um and what ended up happening was the
3:59:00 – larger brands entered the space which is
4:01:00 – something that we're seeing even more
4:03:00 – now uh almost five years later since
4:05:00 – then um
4:06:00 – and drove up the cost of ads and they
4:08:00 – were basically like hey dylan you know
4:09:00 – we can't fit like our traffic's to zero
4:12:00 – this is this was a seven figure brand at
4:13:00 – the time now i think they're well into
4:15:00 – the eight figures probably approaching
4:16:00 – nine figures but they're like
4:17:00 – you know we can't afford to keep you on
4:19:00 – because there's no traffic for you to
4:20:00 – optimize
4:21:00 – and i was like okay like that sucks
4:25:00 – um and then what i started noticing was
4:26:00 – like for these brands particularly the
4:28:00 – up and coming brands like they really
4:30:00 – overlooked email klavio wasn't as
4:32:00 – popular as it is now
4:34:00 – sms wasn't even really a thing for
4:36:00 – especially like
4:37:00 – up-and-coming brands who were
4:39:00 – experiencing high growth on shopify
4:40:00 – and i really saw that gap and i was one
4:42:00 – of the first people to see it and that's
4:44:00 – kind of when i went to work because i
4:45:00 – had this experience designing landing
4:47:00 – pages
4:47:00 – emails are essentially a landing page um
4:50:00 – that you're sending you know a few times
4:51:00 – a week
4:52:00 – through triggered sequences took that
4:54:00 – applied it to the email channel
4:55:00 – figured out it worked really well first
4:57:00 – client uh increased their email revenue
4:59:00 – 5x within 60 days
5:00:00 – had a super successful black friday
5:02:00 – continued to scale and grow from there
5:04:00 – now we're a small boutique team powering
5:06:00 – email like you said for
5:07:00 – a lot of eight and nine figure brands um
5:09:00 – you know we've
5:10:00 – we've had success scaling programs from
5:13:00 – 5 million a year to 30 million a year um
5:15:00 – and taking those economies of scale to
5:16:00 – our clients you're only doing five
5:18:00 – million total revenue and applying those
5:19:00 – learnings to their business
5:20:00 – um and yeah like you said like email is
5:22:00 – a powerful revenue driver sms's now too
5:25:00 – um and we're really focused on quality
5:27:00 – over quantity approach working with a
5:28:00 – select few clients driving maximum
5:30:00 – results from the channel and just
5:31:00 – building
5:32:00 – really great programs around it so
5:34:00 – that's quick overview of
5:35:00 – what web brick is and how i got into it
5:38:00 – awesome awesome
5:39:00 – uh i like your style man we both talk
5:41:00 – really fast um
5:42:00 – most people would say we're going to
5:43:00 – slow down a little bit for the listener
5:44:00 – but what i would say is
5:45:00 – if you're watching on youtube or
5:47:00 – listening on the podcast you can
5:48:00 – actually slow it down too so uh maybe
5:50:00 – listen at 75 percent if dylan and i
5:52:00 – this is not one to listen in 2x speed
5:54:00 – it's funny because people
5:55:00 – your brain will be like they're like hey
5:57:00 – i only have 30 minutes for a meeting and
5:58:00 – it's funny because like people will
6:00:00 – email me and they'll be like
6:01:00 – it's fine dylan talks fast we only need
6:03:00 – 15. um it's just because i get really
6:05:00 – excited about email and its potential
6:07:00 – but yeah
6:07:00 – definitely not a podcast to listen to a
6:09:00 – two-time stream with both of us talking
6:11:00 – i love it i love it but you'll get uh
6:12:00 – you'll get a lot of content ideas
6:15:00 – um we'll cover as much as the 90 minute
6:16:00 – podcast in 30 minutes
6:18:00 – um getting into it though why email
6:21:00 – like why why should brands be focused on
6:23:00 – email maybe paint a picture of like a
6:25:00 – little more
6:26:00 – depth of what happened to that brand um
6:28:00 – that kind of got you focused on email
6:29:00 – what do you see happening to certain
6:31:00 – clients that are coming to you now
6:33:00 – is there anything like specific related
6:34:00 – ios 14 like
6:36:00 – why is email so important um
6:39:00 – as a channel for brands yeah
6:42:00 – ultimately just like you said like the
6:46:00 – there's been a shift where everybody
6:48:00 – initially was focused so much on
6:49:00 – acquisition because nobody had any
6:51:00 – customers
6:52:00 – um now acquisition is getting a lot
6:54:00 – harder so
6:55:00 – if channels like facebook it's getting
6:56:00 – more competitive it's getting more
6:58:00 – expensive
6:59:00 – it has been even before updates like ios
7:01:00 – 14
7:02:00 – um it's just a trend right even tv like
7:05:00 – a tv ad 20 years ago
7:06:00 – is not cheaper today it's more expensive
7:09:00 – and it's just a trend in advertising
7:10:00 – advertising is always going to cost more
7:12:00 – the cost to require customers always
7:14:00 – going to get more expensive
7:15:00 – and what's crazy in digital is it's it's
7:17:00 – increasing even
7:18:00 – faster on a platform like facebook and
7:20:00 – then you have the pandemic
7:22:00 – accelerating spend of bigger retailers
7:24:00 – with deeper pockets buying up that
7:25:00 – inventory increasing prices
7:27:00 – then you have ios 14 now rolling out
7:29:00 – which you know
7:30:00 – nobody still i don't know when exactly
7:32:00 – this is going to air but like we're
7:34:00 – still recording this early on where
7:35:00 – we're not really sure what's happening
7:37:00 – yet nobody really knows what's going on
7:40:00 – not a lot of good things are happening
7:41:00 – in terms of ios 14.
7:43:00 – we don't have a lot of people saying wow
7:44:00 – my facebook roads is going up or like we
7:46:00 – had a record facebook
7:48:00 – this month like nobody's having that
7:49:00 – like roast from 2016 to present has done
7:52:00 – nothing but go down
7:53:00 – it doesn't and what i'm saying is like
7:55:00 – facebook it doesn't mean get rid of
7:56:00 – facebook as a channel you definitely
7:58:00 – need it but the problem is people have
7:59:00 – been so focused on acquisition
8:01:00 – and acquisition's just getting more
8:02:00 – competitive and it's getting harder so
8:04:00 – you can't just build a business off the
8:05:00 – back of acquisition anymore
8:06:00 – you need to start thinking about how you
8:08:00 – can do more of your existing traffic so
8:10:00 – even influencer marketing it's getting
8:11:00 – more expensive
8:12:00 – seo it's getting way more competitive uh
8:14:00 – google search same thing's happening
8:16:00 – cost of advertising is getting expensive
8:17:00 – there's more competition
8:19:00 – and you're not going to be able to
8:20:00 – survive if the price keeps increasing on
8:22:00 – all these channels and
8:23:00 – the return on investment keeps getting
8:25:00 – lower and lower and what's so great
8:26:00 – about email and sms
8:28:00 – is it extracts revenue from what you're
8:30:00 – already doing inside your customers and
8:31:00 – inside your traffic
8:32:00 – it's not going to solve your problems if
8:34:00 – you have no customers and you have no
8:35:00 – traffic
8:36:00 – but if you don't have a fully optimized
8:38:00 – email and sms program
8:39:00 – and you're spending a lot of money on
8:40:00 – facebook or you're doing a lot of
8:41:00 – organic search
8:43:00 – and seo to drive a lot of traffic to
8:44:00 – your website you're probably leaving a
8:46:00 – significant amount of revenue on the
8:48:00 – table
8:48:00 – because you don't have an optimized
8:50:00 – program and that's what's great about
8:51:00 – email
8:52:00 – it maximizes more of what you're already
8:53:00 – doing um
8:55:00 – and drives a lot of revenue it's still
8:57:00 – the highest roi
8:58:00 – in most of marketing it's really hard to
9:00:00 – beat like even some of our highest
9:02:00 – performing clients from an roi
9:03:00 – standpoint they're spending
9:04:00 – a dollar on our service and they're
9:05:00 – getting over 300 back our lowest
9:08:00 – performing clients are getting anywhere
9:09:00 – from 5 to 10x return
9:11:00 – versus like compare it to a facebook ad
9:12:00 – like did you ever get a 300 x return on
9:15:00 – a facebook ad and those are wiser with
9:16:00 – their fee included so it's an extremely
9:18:00 – profitable channel
9:19:00 – it's money that's already in your
9:20:00 – business and nobody's really doing it
9:22:00 – well it doesn't matter if you're
9:24:00 – you know a 2 million a year retailer or
9:25:00 – 200 million year retailer
9:27:00 – i would say really less than five you
9:29:00 – know and that's probably being generous
9:30:00 – less than five percent of brands are
9:32:00 – really doing email
9:33:00 – and sms well um and most brands have a
9:36:00 – lot of untapped revenue
9:37:00 – in their customer base that's going to
9:39:00 – be make or break in the next five years
9:40:00 – as facebook ads continue to get more and
9:42:00 – more expensive
9:43:00 – you're going to have to double down on
9:44:00 – the customer and email is a great way to
9:45:00 – do that not just diversify your
9:47:00 – marketing but build a stronger brand
9:48:00 – that's actually going to stand the test
9:50:00 – of time
9:51:00 – that's killer i mean um did i hear you
9:53:00 – writing saying
9:54:00 – um the lowest performing clients are at
9:57:00 – a 10x return
9:58:00 – one dollar in 10 out yeah like 5.5 x i
10:01:00 – think is our lowest and then like
10:02:00 – five to 10x is kind of our lowest bucket
10:04:00 – of clients um
10:06:00 – but even then it's like that's still way
10:08:00 – better than the best performing facebook
10:09:00 – ads nowadays
10:11:00 – yeah three to four is is good on
10:13:00 – facebook i mean that's like amazing
10:16:00 – yeah and we have clients who who go
10:18:00 – negative on the first order
10:19:00 – um because of what we do so powerful on
10:21:00 – the back end and like that's becoming
10:22:00 – more common
10:23:00 – terms like ltv cac like that's that's a
10:26:00 – thing now like five years ago nobody was
10:28:00 – talking about ltv
10:29:00 – cac because like it wasn't you didn't
10:31:00 – need to be because you're getting a
10:32:00 – three to four x rise on your facebook
10:33:00 – ads so you're profitable in the first
10:34:00 – sale
10:35:00 – what are the brands get right about
10:37:00 – email like um you mentioned
10:39:00 – you know it enhances what you're already
10:40:00 – doing it's the highest roi channel you
10:42:00 – know less than five percent of brands
10:44:00 – are really doing it well um
10:46:00 – we'll get into some like super tactical
10:48:00 – stuff but at a high level like
10:50:00 – what do you see brands that do well with
10:53:00 – email what are what are the high level
10:55:00 – things that they're doing right how are
10:56:00 – they thinking about email like what
10:58:00 – parts of their email strategy are they
11:00:00 – focused on like
11:01:00 – paint a picture of what does it look
11:02:00 – like to do email well and then we can
11:04:00 – start diving into like each part
11:06:00 – uh each part a little more individually
11:08:00 – yeah the biggest thing
11:10:00 – is it comes down to focus for brands so
11:12:00 – the brands who are actually focusing on
11:14:00 – email and a channel like now like sms
11:17:00 – like we can just loop them together and
11:18:00 – call it just
11:18:00 – email but i'm also talking about sms now
11:20:00 – which we can get into later on
11:22:00 – how powerful the channel that is but
11:23:00 – they just focus on it and they realize
11:25:00 – that it's a great channel and it should
11:27:00 – be a top priority and that's like first
11:29:00 – and foremost like most companies their
11:31:00 – marketing budget is broken and it's 100
11:33:00 – dedicated to acquisition they're
11:34:00 – spending 500
11:35:00 – a month on facebook ads and you know
11:37:00 – they're paying for klavio and that's
11:38:00 – about it
11:39:00 – and then when brands realize that
11:41:00 – email's powerful then
11:43:00 – it's funny they they start to focus on
11:44:00 – it but then a lot of them focus on it in
11:46:00 – the wrong way and then they just like
11:47:00 – run their list into the ground
11:48:00 – and so it's kind of a tricky balance but
11:50:00 – the right brands realize the power of it
11:52:00 – and they invest their resources into it
11:53:00 – like they would it's a facebook ad
11:55:00 – and what are some of those um right ways
11:58:00 – like um
11:58:00 – we might focus on some of the mistakes
12:00:00 – later but like what what are some of the
12:02:00 – things
12:03:00 – or i mean take that question actually
12:04:00 – whichever way you want to do like what i
12:06:00 – really want people to be able to
12:07:00 – understand
12:08:00 – from this question is what does it look
12:10:00 – like to do email well
12:12:00 – and so if it's easier to explain that
12:14:00 – from the perspective of like mistakes
12:16:00 – um you know we can dig into that or if
12:18:00 – you have like a good example like this
12:19:00 – is where we ultimately try to get
12:21:00 – clients to you know we could dig into it
12:22:00 – from that perspective but
12:24:00 – um you know what does it look like when
12:25:00 – a brand gets it right
12:27:00 – or does yeah great question yeah so we
12:30:00 – can just start and i can just walk
12:31:00 – through like for example an example
12:32:00 – client like where they start with us and
12:34:00 – then
12:34:00 – where we end up taking them and then you
12:36:00 – kind of see like the full gamut of
12:38:00 – of what we do and like where brands
12:39:00 – start and where we end up bringing them
12:41:00 – to and continue to optimize from but
12:43:00 – essentially like when you break down
12:45:00 – email it's it's
12:46:00 – it's complex at its core like there's a
12:48:00 – lot of things going on there's
12:50:00 – deliverability there's
12:51:00 – creative there's testing there's
12:53:00 – optimization there's all these
12:55:00 – like different pieces to an email
12:56:00 – program but ultimately it's very simple
12:58:00 – it's not easy but it's very simple
13:00:00 – and so we look at it at the high level
13:02:00 – which is like overall like first and
13:03:00 – foremost
13:04:00 – where's email at as far as like a
13:06:00 – revenue driver a lot of people talk
13:07:00 – about what percent of revenue you're
13:09:00 – getting from email
13:10:00 – i think that's great but it's always not
13:11:00 – a great indicator like you could have a
13:12:00 – really engaged list and half your
13:14:00 – revenue is coming from it but you don't
13:15:00 – have any triggered emails set up
13:16:00 – on the email flow automation side so um
13:19:00 – you know we get clients who come to us
13:21:00 – who
13:21:00 – don't really have any automation set up
13:23:00 – um so we're talking abandoned cards
13:25:00 – we're talking post purchase journeys
13:27:00 – we're talking
13:28:00 – you know in drop indoctrination series
13:30:00 – welcome series to
13:31:00 – convert first people to their first
13:33:00 – purchase people to their next purchase
13:35:00 – recover abandoned carts uh retarget
13:37:00 – people who view that don't buy
13:38:00 – um like all these things are really
13:40:00 – important but a lot of our clients come
13:41:00 – to us with either
13:43:00 – a few of them set up none of them set up
13:45:00 – or
13:46:00 – they're set up and they were set up
13:47:00 – three years ago and they haven't been
13:48:00 – given any love since
13:50:00 – and these are tools that can power 10 to
13:53:00 – 20 of your revenue just from the
13:54:00 – automated emails alone
13:55:00 – and they're almost always underutilized
13:59:00 – and since you're always sending them
14:00:00 – every single day it's something that you
14:02:00 – should be optimizing and something that
14:03:00 – should be built
14:04:00 – on a best-in-class methodology you know
14:06:00 – get over to the campaign side
14:08:00 – those are your one-off sends your your
14:10:00 – newsletters you know some of the more
14:12:00 – i guess you could say like higher
14:14:00 – revenue brands come to us they're
14:15:00 – usually sending a decent amount of those
14:17:00 – but they might be sending too much or
14:18:00 – they're sending repetitive content or
14:20:00 – they're not sending great content so
14:21:00 – making sure you're balancing the volume
14:23:00 – of your setting that you're sending
14:24:00 – enough to
14:25:00 – really maximize revenue from the channel
14:27:00 – but you're also sending great content
14:28:00 – and and your segmentation is smart so
14:30:00 – that you're not just
14:31:00 – mailing your list into the ground
14:32:00 – because like there's a lot of companies
14:34:00 – with huge lists who are getting no
14:36:00 – return from them because
14:37:00 – they have not a great engagement from
14:40:00 – their list because they
14:41:00 – focused on the wrong thing so ultimately
14:43:00 – it's like you need a great suite of
14:44:00 – email automation that's built to the
14:46:00 – customer journey that's another big
14:47:00 – mistake we make it's just people just
14:49:00 – guess the timing they guess the content
14:51:00 – and everything and it's the same with
14:53:00 – agencies they'll just go in and copy and
14:54:00 – paste the same templates
14:56:00 – and it's just like that doesn't work
14:57:00 – because like we have a client who's
14:58:00 – really successful who sells mattresses
15:00:00 – they're getting an insane roi on our
15:01:00 – service
15:02:00 – because we built it around their
15:03:00 – customer journey we also have another
15:05:00 – client who sells phone cases teeth
15:06:00 – whitening
15:07:00 – whatever it may be it's like all these
15:08:00 – products are bought differently and you
15:10:00 – need to build the email program around
15:11:00 – those
15:12:00 – uh but then come back to those two core
15:14:00 – pieces of your email marketing which is
15:16:00 – like
15:16:00 – the automation and then the ongoing
15:18:00 – campaigns
15:19:00 – at a high level and then we'll take them
15:22:00 – to a place where that's fully optimized
15:23:00 – on both of those which we can get into
15:25:00 – more details
15:26:00 – as we go awesome awesome no this is
15:28:00 – killer i got a couple of clarifying
15:29:00 – questions um related to those pieces
15:31:00 – first
15:32:00 – um how how do you focus on
15:36:00 – measuring the financial success of email
15:39:00 – as a channel is it not percentage of
15:41:00 – revenue like
15:42:00 – help us understand like how do you
15:43:00 – define it when a client comes in
15:45:00 – um so that people can kind of quantify
15:47:00 – it for themselves of how they're doing
15:48:00 – and then setting a goal of where they
15:50:00 – wanted to get to
15:51:00 – yeah so for us it's based on our
15:53:00 – internal data that we have working with
15:55:00 – all the brands we have over the last
15:56:00 – five years but ultimately to find that
15:59:00 – what we're looking at is
16:00:00 – what is your existing setup from
16:01:00 – literally like a checklist perspective
16:03:00 – of do you have this do you have that
16:05:00 – and then what is the amount of revenue
16:07:00 – you're getting from the channel and
16:08:00 – where is it coming from within that so
16:10:00 – then we kind of benchmark it with our
16:11:00 – internal data and say hey
16:12:00 – you're getting a lot of your revenue
16:13:00 – from email but you only have half the
16:15:00 – best practices that we set up with our
16:16:00 – clients set up
16:17:00 – so you can drive a lot more as far as
16:19:00 – specifics around that it varies
16:20:00 – depending on client average
16:22:00 – order value industry but we have all
16:23:00 – those metrics in-house that we can
16:24:00 – benchmark against to predict like where
16:26:00 – we'll be in 90 days for the client and
16:28:00 – we'll build the program to be able to
16:30:00 – hit that target
16:31:00 – um through our initial strategy using
16:33:00 – our own in-house data
16:35:00 – awesome awesome so you're really it's
16:37:00 – like a mix of an audit
16:38:00 – and the revenue part of like okay like
16:40:00 – if you're only doing 20
16:41:00 – of what you should be and you're driving
16:44:00 – 30
16:44:00 – revenue through email imagine if you've
16:46:00 – got the rest of that stuff in place
16:48:00 – right
16:48:00 – i had a clarifying question on one more
16:50:00 – part of that um you said
16:52:00 – figuring out how much uh revenue is
16:54:00 – coming from email as a channel
16:56:00 – and then where it's coming from within
16:58:00 – the channel can you kind of split those
17:00:00 – out at a high level so people can be
17:01:00 – thinking of that from the
17:03:00 – um like a segmentation perspective so
17:06:00 – are you saying like some of us come from
17:07:00 – pre and post or pre-sale
17:09:00 – some of it's coming from you know
17:11:00 – abandoned cars some of it's coming from
17:12:00 – um
17:13:00 – you know retention like when you say
17:14:00 – where it's coming from in the channel
17:16:00 – what do you mean
17:17:00 – yeah so we mean like um similar to the
17:20:00 – checklist it's like okay like how much
17:22:00 – is coming from campaigns what percent of
17:24:00 – email revenue is that
17:25:00 – what campaigns are driving it and then
17:27:00 – on the automation side or what's called
17:29:00 – like flows in Klaviyo for example
17:31:00 – um you know what flows are driving the
17:32:00 – most revenue like you we have some
17:34:00 – clients who have like one flow set up
17:35:00 – they're sending every other day
17:36:00 – and they're seeing a lot of revenue from
17:38:00 – email but they're missing everything on
17:39:00 – the back end they don't even have an
17:40:00 – abandoned cart set up
17:41:00 – um that sort of thing um and so just
17:44:00 – looking at the breakdown because
17:45:00 – internally we have metrics and we
17:46:00 – know roughly like depending on your
17:48:00 – industry the size of your business what
17:49:00 – percent
17:50:00 – of your email program should come from
17:52:00 – each of those and it's going to vary so
17:53:00 – it can't get into super specifics
17:55:00 – um but that that's ultimately what we
17:57:00 – look at and so
17:58:00 – yeah we're benchmarking it on both of
18:00:00 – those things and that's how we can find
18:02:00 – like where you actually should be
18:03:00 – because you'll be doing 35
18:04:00 – of your revenue from email but it could
18:05:00 – you could just be sending one email a
18:06:00 – month and it's doing really well
18:08:00 – because it's doing 100 000 in revenue in
18:10:00 – your 300k a month brand
18:13:00 – it's powerful i'm kind of i'm thinking
18:14:00 – of it kind of from a sports analogy
18:16:00 – um that like how much can you bench lift
18:19:00 – right
18:20:00 – it doesn't disrespect like every single
18:21:00 – part of your health right like maybe you
18:23:00 – crush a bench lift but like you can't
18:24:00 – run half a mile without dying yeah or
18:26:00 – what's your body weight like you could
18:27:00 – be
18:28:00 – massively overweight 400 pounds and like
18:30:00 – you can bench more than me
18:31:00 – but like i might be stronger than you
18:33:00 – pound per pound
18:34:00 – exactly so what i'm really hearing um
18:36:00 – for for the listeners is like you got to
18:38:00 – look at this holistically right like um
18:40:00 – are you living a healthy life is kind of
18:42:00 – the measure of like are you healthy like
18:43:00 – can you function well for the rest of
18:45:00 – your life
18:45:00 – it's not just about percentage of email
18:47:00 – it's about you know how much how much
18:48:00 – revenue you're driving where it comes
18:50:00 – from
18:51:00 – um you know your holistic plan for email
18:53:00 – like all those things
18:54:00 – um i think that's that's super powerful
18:56:00 – um i mean one of the questions i had
18:58:00 – um as we were preparing is like what are
19:00:00 – the must-have flows for stores and i
19:03:00 – don't know if that's too much of like a
19:04:00 – newbie question
19:05:00 – i think what i'm more looking at is like
19:07:00 – for the listener like all of our
19:08:00 – listeners like six and seven figure
19:10:00 – brands so like they're not starting from
19:11:00 – scratch
19:12:00 – they're all gonna be doing some form of
19:14:00 – email maybe they'll mail chimp but like
19:16:00 – a lot of them are gonna be on flavio or
19:17:00 – some of the other guys um
19:18:00 – and so i guess i'm curious from their
19:19:00 – perspective like they probably have
19:21:00 – abandoned cart flows but like what are
19:23:00 – some of the
19:24:00 – like the lowest hanging fruit flows that
19:26:00 – you see that when you get those in place
19:27:00 – for brands they do really well you
19:29:00 – rattled them off earlier but
19:30:00 – um let's slow down and kind of go
19:31:00 – through some of the must-have ones
19:34:00 – definitely i mean the top performers are
19:36:00 – typically your welcome series
19:38:00 – which is growing the list so through
19:40:00 – on-site pop-up through new subscribers
19:41:00 – coming in as customers through your
19:43:00 – footer
19:44:00 – um that's usually a top performer so
19:46:00 – getting people to become a first-time
19:47:00 – customer
19:48:00 – abandoned card is always a top performer
19:50:00 – browse abandonment in klavio so
19:52:00 – setting up the viewed product tracking
19:54:00 – on your website being able to retarget
19:55:00 – people who don't buy
19:57:00 – um those are three that are really
19:59:00 – powerful that are a
20:00:00 – great place to start and then beyond
20:02:00 – that too starting to think more about
20:04:00 – the customer journey
20:05:00 – people who buy once how do you get them
20:06:00 – to buy again people who buy twice how do
20:08:00 – you get them to buy again
20:09:00 – um so starting with what we call uh
20:12:00 – cross-sell and retention flow initially
20:14:00 – which is
20:14:00 – you're not really pushing any discounts
20:16:00 – um you're just trying to get people to
20:17:00 – buy
20:18:00 – and then if the brand is open to doing a
20:20:00 – discount we'll later put them into
20:21:00 – more of a win back series to really try
20:23:00 – to win them back as a customer
20:25:00 – we'll do different things based off
20:26:00 – different products and we'll get more
20:27:00 – granular and segmented over time as we
20:29:00 – optimize the client's account
20:31:00 – uh but really it's it's really that
20:33:00 – simple but then you get to scale
20:35:00 – and it comes about optimizing so sure
20:37:00 – you have an abandoned car but did you
20:38:00 – set it up two years ago and you're doing
20:40:00 – 100 grand a month and now you're doing a
20:41:00 – million a month
20:42:00 – um how much revenue are you putting
20:44:00 – through it oh we're putting 70 grand a
20:45:00 – month through our ban of car flow
20:46:00 – great so a 10 increase is an extra seven
20:49:00 – grand a month which is
20:50:00 – you know um a lot more revenue per year
20:53:00 – right like almost 100 grand
20:54:00 – um and then that would scale over time
20:56:00 – with your business so like also too it's
20:58:00 – like people get too complex and like
20:59:00 – they want to add like 30 flows but
21:01:00 – sometimes it's better
21:02:00 – to be simple and then optimize what you
21:03:00 – already have because it gets more and
21:05:00 – more important at scale too that's what
21:06:00 – you notice with their bigger clients
21:07:00 – it's like we'll run a small test it'll
21:08:00 – only increase something by like
21:10:00 – 0.5 percent um but you know if you're at
21:12:00 – a scale of like 100 million dollars a
21:14:00 – year that's a lot of revenue from like
21:16:00 – one single test yeah oh let's dig into
21:18:00 – that because i know we wanted to talk
21:20:00 – about optimization so i'm gonna kind of
21:21:00 – change up the order a bit but um
21:24:00 – what is the right what's the right way
21:26:00 – that uh what's the right way to be doing
21:28:00 – optimization on email as an entire
21:32:00 – channel like what are some of the best
21:33:00 – practices
21:34:00 – um that you focus on getting in place
21:36:00 – with with um
21:37:00 – clients and like what are some of the
21:38:00 – routines that you know brands that are
21:40:00 – running email in-house
21:42:00 – you know would benefit from you know
21:43:00 – layering into how they do email kind of
21:45:00 – the equivalent of like we talked about
21:46:00 – before with with facebook ads right like
21:48:00 – people you don't turn on a facebook ad
21:50:00 – and see what happens like there's a
21:51:00 – whole routine that people do and like
21:53:00 – ad buyers know that and even clients
21:55:00 – know that now where it's like when you
21:56:00 – they evaluate agencies they know if like
21:58:00 – oh like they don't they don't even
21:59:00 – look at row ass like that'd be a huge
22:01:00 – issue right um so i'm curious like
22:03:00 – from an email side like what's a robust
22:06:00 – way to do
22:07:00 – optimization correctly yeah well it's
22:10:00 – really similar to
22:11:00 – optimizing your ecommerce site or
22:13:00 – optimizing everything i think a lot of
22:14:00 – brands try to
22:15:00 – just throw things at the wall or they
22:17:00 – they come up with a rule like every
22:18:00 – email must have an a b test which sounds
22:20:00 – like great in practice because it's like
22:21:00 – okay cool we're always going to optimize
22:23:00 – but then you end up just a b testing
22:25:00 – subject lines for a quarter and then you
22:26:00 – don't actually learn anything because
22:28:00 – there's no real true hypothesis or any
22:30:00 – true test or
22:30:00 – methodology behind what you're trying to
22:32:00 – discover so just like we think about
22:34:00 – um you know our strategic framework for
22:36:00 – building out a program we think
22:38:00 – about how we optimize our clients
22:40:00 – accounts very strategically as well so
22:42:00 – thinking back to
22:43:00 – like we live and die by the 80 20 rule
22:45:00 – just because it is like
22:46:00 – so powerful and so easy so it's like
22:48:00 – what is the 20 percent we can test to
22:49:00 – drive 80
22:50:00 – of the results so on the uh flow side
22:54:00 – so for automations it's looking at okay
22:55:00 – what is the top revenue driving flow and
22:57:00 – then from there what are the top emails
22:59:00 – and then once again it's like we're
23:00:00 – looking at everything holistically it's
23:02:00 – like what is the gap okay well if we're
23:03:00 – seeing open rates above
23:05:00 – industry benchmark but conversion rates
23:07:00 – are lower than industry benchmark
23:08:00 – we're going to test creative or offer or
23:11:00 – something in there to optimize for
23:13:00 – a better conversion or if open rates are
23:15:00 – low we're going to optimize for
23:17:00 – subject lines but if we're already
23:18:00 – getting great subject lines where are we
23:19:00 – going to optimize subject lines that'd
23:20:00 – be a waste of a test and a waste of
23:21:00 – resources
23:22:00 – and similar for the campaign side with
23:24:00 – your one-off sends that you're doing a
23:26:00 – few times a week
23:27:00 – um looking at that the same way like
23:28:00 – it's it's pretty straightforward Klaviyo
23:30:00 – even has a feature called smart send
23:31:00 – time where it'll automatically determine
23:33:00 – after a few sends like what the best
23:35:00 – time to send an email is so
23:36:00 – running that and just getting together
23:38:00 – what you would imagine in your head to
23:39:00 – be a dialed program but like
23:41:00 – doing it very strategically so like what
23:43:00 – are our top performing campaigns of the
23:44:00 – past
23:45:00 – and do and and doing more of those which
23:47:00 – isn't even really a straight a b test
23:49:00 – but it's more like when you're being
23:50:00 – being more strategic about your planning
23:52:00 – and then a b testing everything so you
23:54:00 – know
23:54:00 – like for one particular client we know
23:56:00 – that kind of out of the box subject
23:57:00 – lines perform a lot better than
23:59:00 – you know get 15 off the shampoo it'd be
0:01:00 – better than be like
0:02:00 – not like you won't believe this but um
0:04:00 – just to be a little bit more crazy have
0:06:00 – a little bit more fun with pop culture
0:08:00 – they always
0:08:00 – do well their top you know 30 campaigns
0:10:00 – of last year had crazy subject lines
0:12:00 – versus like
0:13:00 – 20 off normal uh kind of content and
0:16:00 – just
0:17:00 – like really starting to discover like
0:18:00 – okay this is what the best subject line
0:20:00 – is for us this is the best sun time
0:21:00 – these are our top performing campaigns
0:23:00 – which is really straightforward and
0:24:00 – really black and white but i think
0:25:00 – people over complicate it it's just like
0:27:00 – what would you want to know when you're
0:28:00 – going to press send to maximize your
0:30:00 – results
0:30:00 – and then you optimize for that and then
0:32:00 – what we do with our clients is we have
0:33:00 – the economies of scale of already doing
0:35:00 – these tests and operating with clients
0:37:00 – over the last five years across a bunch
0:38:00 – of different industries
0:39:00 – over a billion emails sent so we can go
0:42:00 – and take our learnings from an ex from
0:43:00 – our existing client base and apply them
0:45:00 – to
0:46:00 – our current client or our new clients
0:48:00 – from day one so like we don't even have
0:50:00 – to waste six months testing and
0:51:00 – optimizing we know in general
0:53:00 – for your industry xyz is a good metric
0:55:00 – or this is xyz best
0:57:00 – practice and then starting from there
0:58:00 – but ultimately like optimizing
1:00:00 – people try to make it more complex than
1:02:00 – it needs to be and
1:04:00 – also don't optimize before you build if
1:06:00 – you're missing out you're not sending
1:07:00 – enough or you're missing some of those
1:08:00 – key flows we talked about
1:10:00 – you should build those first before you
1:12:00 – go and try to optimize and a b test
1:14:00 – every single email you've sent that's a
1:16:00 – good point i mean um
1:17:00 – so if you're not doing some of those
1:19:00 – best practices um or you don't have like
1:21:00 – all the the main flows that matter
1:23:00 – like don't worry so much about like
1:24:00 – split testing every email within the one
1:26:00 – flow that you have right like maybe get
1:27:00 – the rest of the stuff in place
1:29:00 – then start testing um i think that makes
1:32:00 – a lot of sense uh
1:34:00 – we didn't really dig in too deep on uh
1:36:00 – because i want to transition into sms in
1:37:00 – a second but um
1:38:00 – we didn't dig too deep on you know
1:40:00 – automation and segmentation and
1:42:00 – one of the things that caught my
1:43:00 – attention um as we were chatting before
1:44:00 – is
1:45:00 – you know you mentioned like people just
1:46:00 – they say that too much like they get
1:48:00 – segmentation wrong i don't know if
1:49:00 – that's exactly what you meant or what
1:50:00 – you said
1:50:00 – frankly i might be paraphrasing but it
1:52:00 – sounded like there was something
1:53:00 – contrarian about how you think about
1:56:00 – segmentation automation
1:57:00 – let's dig into that part like what what
2:00:00 – do people get wrong when it comes to
2:02:00 – you know segmenting and or automating
2:05:00 – with email
2:06:00 – yeah so i think segmentation is
2:09:00 – extremely powerful
2:10:00 – especially for the right company but i
2:12:00 – think especially right now in the
2:14:00 – the place that we're in in like this
2:15:00 – world of direct consumer and high growth
2:17:00 – and like retention is now like this hot
2:19:00 – cool thing i think segmentation is a bit
2:21:00 – overrated and if you get two segmented
2:24:00 – two
2:24:00 – granular what ends up happening is you
2:26:00 – end up speaking to a very small
2:28:00 – um percent of your audience and you end
2:31:00 – up missing out on money
2:32:00 – versus you know being a little bit more
2:34:00 – generic but you're ending up gonna
2:35:00 – drive better results and you're going to
2:37:00 – communicate with more of your customers
2:38:00 – and i think people do that in the wrong
2:40:00 – way
2:40:00 – so like it's like hey john you bought
2:42:00 – black pants you might like these red
2:43:00 – pants
2:44:00 – that's great but what about looking at
2:45:00 – segmentation from a more holistic level
2:47:00 – like we were talking about earlier in a
2:49:00 – more strategic level of like where is
2:50:00 – the most money hiding in your business
2:52:00 – like okay
2:53:00 – or do you are 80 of your buyers one-time
2:56:00 – buyers you have a one-time buyer problem
2:58:00 – that's the segment you should focus on
2:59:00 – not red pants you might also like these
3:01:00 – blue pants
3:02:00 – um and think about segmentation in that
3:04:00 – way more based on customer behavior not
3:06:00 – just based on like customer attributes
3:08:00 – and then optimizing for it as well so
3:11:00 – making sure you're also
3:12:00 – emailing a segment that's large enough
3:14:00 – so that's another mistake we see people
3:16:00 – make it's like okay we're gonna go after
3:17:00 – people about the red pants well it's
3:18:00 – only 2 000 people on their 500 000 list
3:21:00 – so even if you know half the list
3:23:00 – converts it's only 1500 orders
3:25:00 – versus you know having a lot more people
3:26:00 – convert off that 500 000
3:28:00 – 500 000 person email even though it
3:31:00 – might be a more generic message you'll
3:32:00 – get more people to your site and you end
3:33:00 – up making more money and you'll be able
3:35:00 – to keep a relationship with more people
3:37:00 – and so just being able to balance that
3:38:00 – is super important the one segment that
3:40:00 – is small that you can hit up and like
3:42:00 – always drive revenue from for the most
3:43:00 – part
3:44:00 – are the vips so like your top 10 or 20
3:46:00 – of customers or less depending on how
3:47:00 – big the brand is
3:49:00 – um and how many customers you have is a
3:51:00 – really
3:52:00 – great segment that's really small but
3:54:00 – can actually drive a lot of revenue and
3:56:00 – i think that's the way brands should
3:57:00 – look at it more is like more like
3:58:00 – where's this person in their customer
4:00:00 – journey versus
4:01:00 – you know what did they buy might they
4:02:00 – like now um and optimizing for that like
4:04:00 – do a mix of both but like don't
4:06:00 – don't worry too much about sending a
4:09:00 – super personalized message for everybody
4:11:00 – especially on the campaign side you can
4:12:00 – always set that up later
4:14:00 – um you know in a flow or something but
4:17:00 – first make sure it's even worth it
4:18:00 – because so many brands are wasting
4:19:00 – resources to send something
4:21:00 – to some that's only gonna send to you
4:23:00 – know point zero zero one percent of
4:25:00 – their customer base
4:26:00 – every single month and it sounds great
4:27:00 – from a customer experience perspective
4:28:00 – but
4:29:00 – ultimately it's a it's a waste of money
4:30:00 – for the business and not going to drive
4:31:00 – an roi
4:33:00 – dude that's super super powerful um this
4:36:00 – brings me back to a question i had
4:37:00 – earlier i i still want to hit on it
4:38:00 – because i think it fits here
4:39:00 – um you mentioned a mistake that that
4:42:00 – brands make with email is not
4:44:00 – uh defining the customer journey right
4:46:00 – right and they're just um you know
4:47:00 – guessing what the customer journey is or
4:49:00 – guessing the timing on certain things
4:51:00 – and then as we're digging into
4:52:00 – automation and segmentation like what i
4:54:00 – really heard you say
4:55:00 – is focus in on the customer journey and
4:57:00 – figure out like the segment in the
4:59:00 – customer journey where there's the
5:00:00 – biggest opportunity right
5:01:00 – um can you can you paint a picture of
5:04:00 – like how
5:05:00 – people should define their customer
5:08:00 – journey not not what is a customer
5:10:00 – journey but more of like
5:12:00 – how how does somebody map that out for
5:14:00 – their business what are like the
5:16:00 – big levers within a customer journey
5:18:00 – where you see brands get it wrong
5:19:00 – whether that's
5:20:00 – you know time to reorder um you know
5:23:00 – lapse time is something that came up
5:25:00 – i don't know what you guys would call it
5:26:00 – but um you know there's a lot of
5:28:00 – different things
5:29:00 – uh that go into a customer journey how
5:31:00 – should somebody be thinking about how to
5:33:00 – architect their customer journey so that
5:35:00 – they can then be doing testing within
5:37:00 – each of those how do you define a
5:38:00 – customer journey with clients and what
5:40:00 – are like the main levers
5:41:00 – great question so our most successful
5:43:00 – clients will
5:44:00 – invest in outside firms who specialize
5:47:00 – in this
5:47:00 – to do in-depth uh research on their
5:50:00 – customer base and then
5:51:00 – you know i mean that costs tens of
5:52:00 – thousands of dollars if not hundreds of
5:53:00 – thousands of dollars
5:55:00 – um but in terms of like what you can do
5:56:00 – on an actionable uh
5:58:00 – level for people listing this podcast is
6:00:00 – like what i like to do is just
6:02:00 – look at the most successful customers
6:04:00 – that you have your best customers
6:06:00 – and then literally go through and like
6:08:00 – look through the journey
6:09:00 – of those people like you what's great
6:11:00 – about a platform like Klaviyo is if you
6:13:00 – find a profile you can see the entire
6:15:00 – history of that person
6:16:00 – so you can see like hey here's the first
6:17:00 – product they ordered here's the second
6:19:00 – here's
6:19:00 – when they're converting is it off email
6:21:00 – is it off this um
6:22:00 – and then you can really start to figure
6:24:00 – that out and then you know use your data
6:26:00 – and analytics to also determine the
6:27:00 – windows
6:28:00 – of when people are going to come back um
6:32:00 – so in terms of like timing that's really
6:33:00 – helpful but also you got to realize your
6:35:00 – timing has probably warped
6:36:00 – especially if you don't have a great
6:37:00 – program bringing people back so if your
6:39:00 – average reorder date is 66 days
6:41:00 – but you haven't been sending anything
6:43:00 – post purchase besides campaigns
6:44:00 – you can probably make that lower if you
6:46:00 – start going for the sale around day 20
6:48:00 – or 30
6:49:00 – while people are really excited about
6:50:00 – your product so use that as a benchmark
6:52:00 – and then build the strategy around it
6:54:00 – um as far as data goes how to find your
6:56:00 – best customers and what that might look
6:58:00 – like at a high level like that's kind of
6:59:00 – how we think about it happy to dive in
7:01:00 – deeper there
7:01:00 – but then also too from a strategy and a
7:03:00 – content framework
7:05:00 – just thinking about the customer and
7:06:00 – like putting yourself in their shoes and
7:08:00 – and you know what's really helpful about
7:10:00 – what you do john with live chat is you
7:11:00 – have a lot of conversations with
7:13:00 – customers in terms of like
7:14:00 – why are you abandoning this a car why
7:16:00 – are you banning this cart why are you
7:17:00 – doing this
7:18:00 – why are you doing that and they have
7:18:00 – their objections and they surface these
7:20:00 – so when you're abandoning card emails
7:21:00 – and you're browsing in emails you should
7:23:00 – be feeding these
7:24:00 – to people before they even have the
7:26:00 – chance to ask and taking all those
7:27:00 – objections off the table so by the time
7:29:00 – it comes for them to
7:30:00 – place uh press the place order button
7:32:00 – you don't have any of these objections
7:33:00 – so that is another aspect of customer
7:36:00 – journey and how to integrate it into
7:37:00 – email
7:37:00 – is just think about how people buy look
7:39:00 – at your emails too and it's like does
7:41:00 – anybody really want to read a five
7:42:00 – paragraph
7:43:00 – image email that like you gotta like
7:44:00 – zoom in to see
7:46:00 – or an email that you came and see in
7:47:00 – dark mode like that's customer journey
7:48:00 – related as well
7:50:00 – um and thinking about email from that
7:52:00 – perspective as well so like finding your
7:54:00 – best customers building the program
7:55:00 – around that and then also finding the
7:57:00 – friction points and building the program
7:58:00 – around
7:59:00 – that as well on a more content level
8:02:00 – throughout the customer journey
8:03:00 – um through email yeah i think that's
8:07:00 – powerful
8:07:00 – like it sounds so simple um to just say
8:10:00 – like
8:11:00 – segment down to the top customers most
8:13:00 – valuable customers in uh
8:14:00 – in Klaviyo and then map out like what was
8:17:00 – their journey like how long did it take
8:19:00 – for a reorder what did they reorder
8:20:00 – where did that come from
8:21:00 – where my head kind of goes with this
8:23:00 – type of stuff is um
8:25:00 – where i get excited is being able to get
8:27:00 – the end result of those insights
8:29:00 – um and so for people like you know six
8:31:00 – and seven figure brands have teams right
8:33:00 – that doesn't mean like as
8:34:00 – you know uh vp ecommerce or something
8:36:00 – that like you should be doing every
8:37:00 – single part of that but like definitely
8:39:00 – i think an action from this episode is
8:41:00 – is
8:42:00 – build that segment and get your team to
8:44:00 – basically get
8:45:00 – you know 100 customer journeys mapped
8:47:00 – out and then somehow figure out how to
8:49:00 – mesh them all up in google sheets or
8:50:00 – in a drawing and then present it to you
8:52:00 – because there's going to be insights
8:53:00 – that come from that you're going to
8:54:00 – realize like
8:54:00 – you know everybody reorders within like
8:56:00 – this 30 30 to 40 day window right that's
8:58:00 – probably
8:59:00 – your reorder time and see what you can
9:01:00 – do to bring that to 15. right
9:02:00 – those are probably short time periods
9:04:00 – but you get the idea like get your team
9:06:00 – yeah compile that yeah and it depends on
9:08:00 – the product too and what's great too
9:10:00 – is like let's say you don't have a lot
9:11:00 – of time if you're cmo level
9:13:00 – vp level director level or even just the
9:15:00 – founder ceo
9:16:00 – or entrepreneur co-founder like you can
9:19:00 – just look at
9:20:00 – a hundred profiles in the course of an
9:22:00 – hour or two inside Klaviyo and you can
9:24:00 – really use your
9:25:00 – gut to kind of feel it out um you know
9:28:00 – if you don't have the time to
9:29:00 – or money to invest in a firm that's
9:30:00 – gonna do this for a hundred thousand
9:32:00 – dollars and actually like map everything
9:33:00 – out you can kind of feel it out
9:34:00 – especially until you get to that level
9:35:00 – then you just pay someone to do it for
9:37:00 – you if you have the budget yeah and
9:38:00 – they'll go through and they'll even
9:39:00 – interview customers and and that's when
9:40:00 – it gets really powerful because you can
9:42:00 – say like hey
9:43:00 – i didn't buy because xyz exact reason
9:45:00 – and then you have the survey data and
9:46:00 – then we put that in the band of card
9:47:00 – emails you guys do it with your live
9:49:00 – chats
9:49:00 – and that's when like you know it's like
9:51:00 – you a b test buttons all day you can a b
9:53:00 – test timing all day but when you
9:54:00 – actually take real objections off the
9:56:00 – table through this customer data and you
9:57:00 – build the program around what customers
9:59:00 – are actually doing like
10:00:00 – that's that's our secret sauce and why
10:01:00 – we drive so much revenue for our clients
10:04:00 – yeah yeah it's funny like secret sauce
10:05:00 – is usually just a lot of very
10:07:00 – sophisticated work that
10:08:00 – you know people won't do themselves um
10:10:00 – that's what i've seen because like when
10:11:00 – you've done that when you've done that
10:13:00 – uh 500 times like it's very very simple
10:16:00 – for you to do it for
10:16:00 – one more brand and see okay here it is
10:18:00 – it's like a doctor right like if you've
10:20:00 – diagnosed something 500 times like it's
10:21:00 – pretty fast for you to see it
10:23:00 – and that's the benefit of working with
10:24:00 – people that do this stuff all the time
10:26:00 – um i want to spend uh i want to spend
10:28:00 – some time digging into sms here at the
10:30:00 – end
10:30:00 – um like you mentioned earlier like
10:32:00 – lumping in email and sms like it's all
10:34:00 – it's all
10:35:00 – um part of the game now um i wanna i
10:39:00 – wanna rapid fire through some questions
10:40:00 – to understand
10:41:00 – like how big uh source should be
10:44:00 – thinking about
10:44:00 – where sms fits in and like the cadence
10:47:00 – between
10:48:00 – email and sms and that balance there's a
10:50:00 – lot of different angles we can take but
10:52:00 – i think that everyone would agree like
10:53:00 – okay we should be doing sms
10:55:00 – but i don't think people have really
10:56:00 – understood like how it fits into the
10:58:00 – overall email architecture so i want you
11:00:00 – to kind of explain how that fits in
11:02:00 – the balance between email and sms kind
11:04:00 – of paint a picture on that
11:07:00 – yeah in terms of performance or more in
11:09:00 – terms of like executing tactically
11:11:00 – alongside email i think it's more of
11:14:00 – executing tactically so like where does
11:16:00 – sms fit into the automated flows like if
11:18:00 – you're doing campaigns like you do sms
11:20:00 – and email or do you split it up
11:22:00 – that second one might be a little bit
11:24:00 – too granular but more about how to
11:26:00 – execute
11:26:00 – both in a way where they serve each
11:28:00 – other rather than just like we layered
11:30:00 – in some sms randomly and like we'll see
11:32:00 – how it goes like sms is kind of a
11:34:00 – a very related channel to email so how
11:36:00 – do how does it all fit together
11:39:00 – right yeah i mean this goes back to a
11:41:00 – bigger problem inside of e-commerce
11:43:00 – which is there's a lot
11:44:00 – of experiences that just aren't aligned
11:46:00 – um so you'll see a tv ad with one
11:48:00 – discount you'll see a facebook ad with a
11:49:00 – different discount and then you'll get
11:50:00 – an email with a different offer and a
11:52:00 – text with a disa
11:53:00 – different offer like that's not good
11:54:00 – that doesn't feel good to the consumer
11:56:00 – and it creates a lot of friction because
11:58:00 – now they're confused they're overwhelmed
11:59:00 – they don't convert
12:00:00 – the same happens with email and sms if
12:01:00 – you're not sending messages that are
12:02:00 – complementary
12:03:00 – following the same calendar accelerating
12:05:00 – the same automated sequences but you
12:07:00 – just have some sms messages
12:10:00 – sequenced in there you're going to see a
12:12:00 – lot better results when those are
12:13:00 – working together so that's the way we
12:15:00 – think about it is like okay think about
12:16:00 – your email and sms channel
12:17:00 – channels what are the most important
12:19:00 – messages you're sending and then send
12:21:00 – those messages
12:22:00 – also on the sms channel because it's
12:25:00 – cutting through the noise
12:26:00 – at a rapid rate um and then also like
12:28:00 – build that list too like some
12:30:00 – like a channel like sms is once in a
12:32:00 – lifetime like we got lucky with email
12:34:00 – it's a list you build and can own
12:36:00 – who knew something else would come out
12:37:00 – that we can do that like sms is really
12:39:00 – like a miracle like the fact that
12:41:00 – there's two channels where you can own
12:43:00 – the actual list
12:44:00 – where like you know we've had facebook
12:46:00 – and google and youtube and instagram
12:47:00 – which is like
12:48:00 – you know those are both owned by the
12:49:00 – same two companies like the fact that we
12:50:00 – have another own channel is like really
12:52:00 – powerful and just yeah
12:53:00 – it's as simple as layering it on top of
12:54:00 – email and making sure like
12:56:00 – you know you're not sending a different
12:57:00 – discount out to the text audience as you
12:59:00 – are
13:00:00 – to um the email and you're creating that
13:02:00 – just like discombobulated disjointed
13:05:00 – experience that
13:06:00 – a lot of brands end up doing especially
13:08:00 – at scale like you'll see this with
13:09:00 – retail like they'll have their tv
13:11:00 – ads with the sale and like i said you
13:12:00 – get the facebook ad with a different
13:14:00 – offer and an email with a different
13:15:00 – offer and a text with a different offer
13:16:00 – like
13:17:00 – it's just a mess so making sure
13:19:00 – everything is congruent and aligned and
13:21:00 – your overall marketing strategy is
13:22:00 – holistic is
13:23:00 – super important and when that happens we
13:25:00 – see increased performance from email
13:27:00 – and sms because you're just everywhere
13:29:00 – and that's the best marketing it's like
13:30:00 – when you're
13:31:00 – everywhere and and i want to dig in a
13:35:00 – little bit more into the cadence right
13:36:00 – so i get it of like keep the customer
13:38:00 – experience aligned
13:39:00 – across the channels help us understand
13:41:00 – um
13:42:00 – when it's right to use sms and when it's
13:45:00 – right to use email as far as like the
13:46:00 – sequence of communication or how long
13:48:00 – it's been from the trigger or
13:50:00 – whatever whatever the the methodology is
13:52:00 – how you think about it
13:53:00 – like when do you send sms versus when
13:56:00 – you send email
13:57:00 – um in in either a campaign but i think
14:00:00 – more of this question is about in
14:02:00 – automated flows and things related to
14:03:00 – triggers like when
14:04:00 – when sms went email yeah campaign is
14:08:00 – really straightforward it's like your
14:09:00 – most important messaging
14:10:00 – just send that right your sale campaign
14:13:00 – your new product launch
14:14:00 – sending like once or twice a week maybe
14:17:00 – once or twice a month
14:18:00 – if you're a brand that is like you know
14:19:00 – we don't want to over communicate or
14:20:00 – potentially annoy customers
14:22:00 – we found like twice a week is really
14:23:00 – good um you know
14:25:00 – campaigns it's simple right it's like is
14:26:00 – this an important message is it like
14:28:00 – not a common occurrence send it via text
14:30:00 – so everybody can see it automation side
14:32:00 – it's a little more tricky
14:34:00 – um but it's very similar concept so like
14:36:00 – when somebody signs up to your list
14:38:00 – shoot them a welcome text shoot a
14:39:00 – reminder a few days later
14:41:00 – um because they're gonna see it that's
14:43:00 – what's great about sms is it's like
14:44:00 – it's not like it's cannibalizing any
14:46:00 – sales it's just those eighty percent of
14:48:00 – people the seventy percent of people or
14:49:00 – maybe even ninety percent of people who
14:51:00 – aren't opening your emails
14:52:00 – um they're seeing these messages because
14:54:00 – sms is getting a massive open rate so
14:56:00 – it's like if you got 100 open right on
14:57:00 – your email
14:58:00 – you drive a lot more revenue that's the
15:00:00 – revenue that sms is driving
15:01:00 – um so your welcome series is really
15:03:00 – important to be through sms abandoned
15:04:00 – cart is really powerful through sms
15:06:00 – that's one of the highest roi messages
15:08:00 – you can send
15:08:00 – in all of sms um and then also you know
15:11:00 – working into post purchase but like
15:13:00 – not like an email where you'd say like
15:14:00 – hey thank you and then you send them a
15:16:00 – text a day four weeks to get them
15:18:00 – indoctrinated into the brand like just
15:19:00 – do that via email and
15:21:00 – most important uh flows as well so like
15:23:00 – win back you could do via text as well
15:25:00 – um there but yeah ultimately most
15:28:00 – important messaging
15:29:00 – send it through asset mass got it got it
15:32:00 – that makes sense um
15:34:00 – is it reasonable with the automation to
15:35:00 – to lean towards sms
15:38:00 – when it's close to the trigger and then
15:40:00 – start skewing out to email
15:42:00 – so with an abandoned cart sms within the
15:45:00 – first
15:45:00 – 30 minutes to one hour email after that
15:48:00 – right like
15:49:00 – like tie it to the actual action that
15:51:00 – caused you to communicate is that is
15:52:00 – that a legit way to think of it
15:54:00 – yeah you can do that or you can do
15:56:00 – something too we call like a two touch
15:58:00 – where we'll send both messages at the
16:00:00 – same time and you'll get a text and an
16:01:00 – email on your phone at the same time
16:03:00 – and then you're a lot more likely to see
16:05:00 – that and convert because it's like
16:06:00 – brand brand oh what is this you notice
16:09:00 – it in your sea of 100 other nokia
16:11:00 – notifications
16:12:00 – um but then also like you said too it's
16:14:00 – like example on a welcome series
16:16:00 – you send the welcome series email and
16:18:00 – the uh first text at the same time
16:20:00 – the reminders maybe at the same time and
16:22:00 – then you have like four other welcome
16:23:00 – emails but you don't have any other
16:24:00 – welcome text
16:25:00 – because it's just that initial discount
16:27:00 – or offer in that first text
16:29:00 – yeah first how do you how do you make
16:31:00 – sure that like the customer experience
16:33:00 – is is um
16:37:00 – that it feels right to the customer for
16:38:00 – you to be sending a text and an email at
16:40:00 – the same exact time
16:41:00 – are you tweaking the messaging on that
16:43:00 – or are you just realizing like it
16:45:00 – it doesn't really matter we just send
16:46:00 – both at the same time because i'm kind
16:47:00 – of thinking of it from the customer's
16:49:00 – perspective of
16:50:00 – you know if you got a text you know 30
16:51:00 – minutes after you abandoned um
16:53:00 – then you know that's going to sound like
16:54:00 – you know we're trying to help you with
16:56:00 – any questions that you had right
16:57:00 – and then um if you had an email you know
17:00:00 – a couple hours later especially if you
17:01:00 – did not respond to the text like that
17:03:00 – makes sense
17:04:00 – i find it hard to understand like how
17:06:00 – sending both at the same time unless the
17:07:00 – messaging serves each other
17:09:00 – um wouldn't feel like you were
17:10:00 – intentionally doing it so that they see
17:12:00 – it
17:12:00 – right which is kind of what you said
17:14:00 – like how do you how do you make sure
17:16:00 – that both of those serve the customers
17:17:00 – experience
17:19:00 – yeah it's a little bit of both so in
17:20:00 – text you're limited to the amount of
17:22:00 – characters you have
17:23:00 – so it might be like hey you forgot this
17:24:00 – in your cart and then the email is like
17:26:00 – hey
17:26:00 – here are the products you actually
17:27:00 – forgot and then here's some common
17:29:00 – objections that we're answering
17:30:00 – questions some reviews
17:32:00 – so you're adding value in the email that
17:33:00 – you're sending as well um and then also
17:35:00 – like most people don't even see the
17:36:00 – email
17:37:00 – um you know or they like texts are open
17:41:00 – on the fly i think 90
17:42:00 – are open in like the first five or 10
17:43:00 – minutes whereas like you know an email
17:45:00 – we get people opening emails
17:46:00 – for to ten weeks later maybe even a year
17:50:00 – later i was looking at a clever profile
17:51:00 – the other day they opened an email from
17:52:00 – a year ago today
17:54:00 – um whereas like text that doesn't really
17:55:00 – happen most people are opening up front
17:57:00 – um i don't think they converted i think
17:59:00 – that i think it was an unsub
18:01:00 – but it's true yeah
18:04:00 – got it dude this this makes sense um
18:08:00 – i wanna i wanna respect your time so
18:09:00 – we're coming up uh coming up on time um
18:11:00 – anything else big on
18:13:00 – sms um that you think is important to
18:15:00 – dig into at this point i know we didn't
18:17:00 – spend a ton of time on it
18:18:00 – yeah it's just a powerful revenue driver
18:21:00 – and it's
18:21:00 – really simple to get started with you
18:23:00 – want to do it smart
18:25:00 – but you should be building that list
18:26:00 – right now even if you're not
18:27:00 – communicating on a consistent basis with
18:29:00 – those
18:30:00 – people just because you're not going to
18:31:00 – get the time back and with compliance
18:33:00 – you need to add people to your list in a
18:35:00 – way that is compliant
18:36:00 – and you can't just take an old customer
18:37:00 – list and say hey they are compliant now
18:39:00 – um so like first and foremost start
18:41:00 – building that list and then two it's
18:42:00 – very powerful uh it's like setting an
18:44:00 – email that has a 90
18:46:00 – open rate like if you ever normally have
18:48:00 – a 10
18:49:00 – open rate which is like you know not
18:51:00 – good um and you get a 90 over rate like
18:53:00 – that's a 9x increase in eyeballs on your
18:55:00 – email which is going to lead to a 9x
18:56:00 – increase in revenue
18:58:00 – um so it's very powerful and we have
18:59:00 – clients who have scaled sms into
19:01:00 – a seven figure channel in less than six
19:03:00 – months even for seven figure brands like
19:05:00 – we have a customer we're driving
19:07:00 – a hundred to a hundred thirty thousand a
19:09:00 – month in sms alone
19:10:00 – uh it's outperforming email on some days
19:12:00 – and they're only a
19:14:00 – 500k per month brand um so they're
19:16:00 – seeing a large chunk of that revenue
19:18:00 – coming from sms
19:19:00 – and it's all new revenue to and whenever
19:21:00 – we send out a text
19:23:00 – they know it because they can feel it in
19:24:00 – their warehouse they're like hey did you
19:25:00 – send another text today and we're like
19:27:00 – yeah
19:27:00 – why and like because our warehouse is
19:29:00 – working double time to get these orders
19:30:00 – out
19:30:00 – um so you can actually feel it it's a
19:32:00 – great channel you know these are really
19:34:00 – like
19:34:00 – once every 20 years that they actually
19:36:00 – come out and can be used the technology
19:38:00 – is now here to be
19:39:00 – able to do it in a scalable and
19:40:00 – compliant way um
19:43:00 – which didn't really exist five years ago
19:45:00 – um
19:46:00 – and so it's it's an awesome channel
19:48:00 – definitely take advantage of it build
19:49:00 – your list in the very least and the same
19:50:00 – with email like email is still crushing
19:52:00 – at a very high level the average um
19:54:00 – i think shopify plus store on klavio is
19:56:00 – getting over 100x roi on their spend
19:59:00 – super powerful you can't find it
20:00:00 – anywhere if you're really roi driven
20:02:00 – focus on channels like even on sms to
20:05:00 – take what you're doing like don't get
20:06:00 – rid of acquisition but you can really
20:08:00 – take your business and brands to the
20:09:00 – next level and unlock a lot of growth by
20:11:00 – driving
20:11:00 – more revenue from what you already have
20:14:00 – in terms of your existing traffic and
20:15:00 – customer base
20:17:00 – awesome dude awesome this was super
20:18:00 – powerful i want to ask you in a second
20:20:00 – um you know what uh what people can do
20:23:00 – to continue the conversation with you or
20:24:00 – like you know the main resource on your
20:26:00 – site that you think would be helpful for
20:27:00 – them to dig deeper
20:28:00 – um but i always try to recap also at the
20:30:00 – end um of what we
20:32:00 – what we kind of went through and some of
20:33:00 – the big takeaways i think um
20:35:00 – you know one of the big items we dove
20:36:00 – into is like how email just fits in as a
20:38:00 – channel right like acquisition is hard
20:40:00 – facebook's expensive
20:41:00 – uh you know google google is google um
20:44:00 – you know tick tock's big right now but
20:45:00 – eventually that'll change like
20:46:00 – er the acquisition channels change but
20:48:00 – you don't own any of them right so like
20:50:00 – email fits in in a way where it's like
20:51:00 – this is your customer list and your
20:53:00 – prospect list and you can you can
20:54:00 – leverage that
20:55:00 – um so it's super super important to get
20:57:00 – right um dylan also went into
21:00:00 – you know what brands do well uh what
21:02:00 – brands do right when it comes to email
21:04:00 – right so like
21:05:00 – being able to quantify it having you
21:07:00 – know the right um
21:08:00 – flows in place um you know having the
21:10:00 – right optimization process in place like
21:12:00 – there's a number of things we dove into
21:14:00 – there
21:14:00 – um and then not you know over segmenting
21:17:00 – i think was another takeaway like
21:19:00 – segment based on
21:20:00 – what part of the customer journey has
21:21:00 – the best opportunity for you and the
21:23:00 – customer not
21:24:00 – you know these people want uh blah blah
21:26:00 – blue plans so now they'll buy red pants
21:28:00 – right and like there's three of them
21:29:00 – um too small um so there's a lot of
21:32:00 – stuff here we also talked about sms
21:33:00 – which i know dylan recapped at the end
21:35:00 – bottom line do sms build your list um
21:36:00 – start exploring it because it's it's uh
21:39:00 – it could be as powerful or more powerful
21:41:00 – than email and it's an owned audience
21:43:00 – right
21:43:00 – um as we uh so we'll have a lot of stuff
21:46:00 – in the show notes
21:47:00 – um of like additional resources and a
21:49:00 – much better recap than i just did but um
21:51:00 – if people want to continue the
21:52:00 – conversation with you or like dig
21:54:00 – in uh to some resource that you put
21:57:00 – together to kind of like study even
21:58:00 – further before connecting with
22:00:00 – you what's the best way for them to do
22:02:00 – that
22:03:00 – yeah so we've got a lot of resources on
22:06:00 – our website
22:07:00 – of tactical email examples which you can
22:09:00 – find at Wavebreak.co
22:11:00 – resources one of our most popular is
22:14:00 – a retention marketing guide and how you
22:16:00 – can use email to
22:17:00 – fuel more profit in your business and
22:19:00 – the math on how to double your business
22:21:00 – without doubling your ad spend
22:22:00 – um it's just a really different approach
22:24:00 – than most people take to email
22:26:00 – um so it's a really good read um that's
22:28:00 – at waybreak dot co slash retention dash
22:30:00 – marketing it's not
22:31:00 – gated or anything like that it's
22:33:00 – literally just a guide that you can read
22:35:00 – um and then you can get on the email
22:37:00 – list at waybreak.co
22:38:00 – resources which every week we're sending
22:40:00 – out podcasts from my podcast the way
22:42:00 – break podcast
22:43:00 – uh so if you enjoyed this enjoyed
22:45:00 – listening to my voice you can go listen
22:46:00 – to more of my voice at
22:47:00 – Wavebreakpodcast.com
22:49:00 – it's sponsored by Klaviyo and justjuno we
22:51:00 – love them and
22:52:00 – interview a lot of really cool brands
22:53:00 – recently had on chirp how they did 40
22:55:00 – million last year with one sku
22:56:00 – and sold out like six months from the
22:59:00 – year uh their vpn marketing went into
23:01:00 – all the secrets i've interviewed founder
23:02:00 – ceo of
23:03:00 – vanity planet alex dasmulci on how they
23:05:00 – scaled influencer marketing into this
23:07:00 – multi-eight-figure brand
23:08:00 – steven barelli cuts clothing a lot of
23:10:00 – other e-commerce leaders
23:12:00 – um getting their secrets behind the
23:13:00 – scenes and conversations just like this
23:15:00 – i think there's a lot of interviews and
23:16:00 – podcasts out there that
23:18:00 – frankly just aren't very good they're
23:20:00 – very boring very enterprise that's why i
23:21:00 – love coming on john's stuff because i
23:23:00 – know it's always good and fun and
23:24:00 – actionable for store owners and
23:26:00 – he's like if you're looking for another
23:27:00 – podcast like john's like way brick
23:29:00 – podcast is a good one and then
23:30:00 – if your brand who's listening to this
23:32:00 – you're like oh my goodness we're not
23:33:00 – doing any of this
23:34:00 – right or we can take it to the next
23:36:00 – level but we don't have the time or
23:38:00 – resources in-house um you know we can't
23:40:00 – find anybody
23:42:00 – in the marketplace to do this like to
23:43:00 – hire in-house which is a huge problem
23:45:00 – like a lot of brands are hiring us right
23:47:00 – now because you can't find any good
23:48:00 – email talent on the market like you'll
23:50:00 – post job posts in a month later have no
23:51:00 – good leads
23:52:00 – um if you want to take email to the next
23:54:00 – level and have a team of best in class
23:56:00 – experts running your email and sms you
23:57:00 – can learn more about working with us
23:59:00 – at Wavebreak.co and you can schedule a
0:00:00 – call at waybreak.comcall
0:03:00 – awesome man so many good resources i
0:05:00 – forgot about the podcast i should have
0:07:00 – mentioned that earlier but
0:08:00 – really really good resources there
0:09:00 – dylan's been interviewing uh
0:11:00 – you know just ecom leaders for quite a
0:13:00 – few years so there's some absolute gold
0:14:00 – in there
0:15:00 – uh i think you've been on it too like
0:16:00 – two or three times so if you guys
0:19:00 – perspective on this
0:20:00 – go listen yeah yeah yeah we'll have
0:22:00 – we'll link that up in the show notes too
0:24:00 – um just for for some context i think we
0:26:00 – touched on some email stuff there as
0:27:00 – well the abandoned cart flows and things
0:29:00 – that we do to kind of get chat we should
0:30:00 – do another one sometime
0:32:00 – we've learned them i know i know it
0:35:00 – feels like things are moving really
0:36:00 – quick so we'll definitely dig in but um
0:38:00 – for everyone listening the show notes
0:39:00 – will be at ecommercetownhall.com so go
0:42:00 – ahead and check those out
0:43:00 – i hope it's been helpful for you guys
0:44:00 – and you're able to basically implement a
0:46:00 – number of things from this
0:48:00 – um and on our end we'd love to hear from
0:50:00 – you guys on
0:51:00 – you know what you implement from this
0:53:00 – episode and how it works so come back to
0:55:00 – ecommercetownhall.com let us know how
0:56:00 – it's going and we'll continue the
0:57:00 – conversation there but
0:58:00 – for now dylan thank you so much man i
1:00:00 – really really appreciate the time and
1:01:00 – thanks for dropping so much knowledge
1:03:00 – here
1:03:00 – thanks for having me john it's been a
1:05:00 – blast
1:06:00 – awesome take care dude thanks for tuning
1:09:00 – in to e-commerce town hall
1:11:00 – for more resources related to today's
1:13:00 – episode visit e-commerce
1:15:00 – ecommercetownhall.com
1:16:00 – and don't forget to check out helpflow
1:19:00 – helpflow provides
1:20:00 – 24 7 live chat teams to over a hundred
1:23:00 – e-commerce stores
1:24:00 – and can drive more sales while providing
1:26:00 – an awesome customer experience
1:28:00 – through their live chat agents
1:30:00 – helpflow's done for you 24 7 live chat
1:33:00 – team
1:33:00 – can predict and save abandons directly
1:36:00 – on your website
1:37:00 – by engaging with chat they can also use
1:39:00 – conversational upsells to increase
1:41:00 – average order value
1:43:00 – in a way that feels good to visitors
1:45:00 – ultimately they're going to provide an
1:46:00 – overall amazing brand experience to your
1:49:00 – customers
1:49:00 – learn more today at helpflow.com