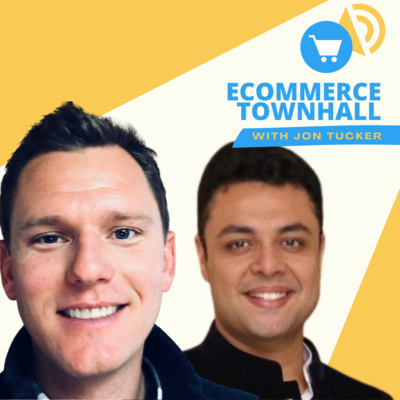 eCommerce Townhall Ep1: Conversion Rate Optimization for E-commerce Businesses with Shekhar Kapoor of ConvertCart
On today's episode, we have Shekhar Kapoor, VP of Marketing at ConvertCart.com. We're digging into Shekhar's perspective from eComm CRO tests that you can use to improve your website's conversion. You don't want to miss this one! Listen to the episode now and don't forget to subscribe to our podcast.
In this episode, I am pleased to interview Shekhar Kapoor, VP of Marketing at ConvertCart.com. This platform helps eCommerce businesses increase their conversion rate with a margin of 30% within six months. They run optimization tests using a powerful technology that enables them to iterate tests quickly and scale what works to take your business to the next level.  Convertcart.com works with 500 different eCommerce stores consistently and runs approximately 6000 tests every year.
Shekhar worked with different B2C and B2B companies in marketing and sales consulting for more than seven before joining Convertcart.com, which changed his perspective on conversion and optimization from mere interest to a passion that is deeply rooted in making a difference in the eCommerce world.
During this episode, we talk about conversion rate optimization metrics, and we dive into some of the perspectives that Shekhar has from his experience with thousands of eCommerce optimization tests that can help you improve your site conversion.
SHOW NOTES
In This Episode, You Will Learn:
[02:45] Shekhar's career background and his impact in the eCommerce world.
[04:40] Some of the misconceptions around conversion rate optimization and how they influence the success of online stores.
[07:48] The high-level framework for proper conversion rate optimization test for an established brand.
[12:17] Mistakes eCommerce businesses make that result in loss of great opportunities for conversions and sales.
[16:45] How to leverage search metrics to maximize conversion through mobile and desktop searches.
[20:58] The structural elements of navigation and sub-navigation that increase the conversion rate.
[24:38] Technical limitation in setting up winning navigation and sidebars and appropriate directions to look into for both desktop and mobile.
[27:00] Key optimization techniques for product pages that change customer behaviors and convert to more sales.
[33:00] Running a split test on new conversions and calculating lapse points for existing conversions for your eCommerce store.
[37:20] Channels level conversion rate optimization through.
[42:50] Take home from Shekhar on productive eCommerce marketing using conversion rate optimization.
[47:30] Episode summary.
NOTABLE QUOTES:
● The search framework is like a funnel, and when fully optimized, it can lead to high conversions.
● Small, consistent wins are the source of success in conversion optimization; looking for a big win will fail every time.
● You don't have to leak thousands trying, invest only in optimizations and you will crack all the fundamentals and grow in size.
● A good search solution will get your users to the right products, descriptions, and reviews relevant to their search.
LET'S CONNECT!
Shekhar Kapoor
Website: www.convertcart.com
Email: shekhar@convertcart.com
Jon Tucker
Website:
www.ecommercetownhall.com
www.helpflow.com
Email: jtucker@helpflowchat.com
Like our Facebook Page: Ecommerce Townhall
YouTube: Ecommerce Townhall
EPISODE TRANSCRIPT
0:00 – hey guys on today's episode i've got
0:02 – Shekhar
0:03 – Kapoor who is vp of marketing at
0:06 – convertcart.com
0:07 – ConvertCart has a really really
0:09 – powerful approach uh to conversion
0:11 – optimization
0:12 – uh where obviously they run tests like
0:14 – you normally would with cro
0:16 – but they also have a full technology
0:18 – backend that really enables them
0:20 – to iterate tests really quickly and to
0:23 – scale
0:23 – what works really quickly so at the end
0:25 – of the day you can test faster test
0:27 – better
0:28 – and ultimately improve results what
0:30 – we're going to dig into with Shekhar on
0:31 – this episode is some of the unique
0:33 – perspectives that he has
0:34 – from seeing thousands of ecom cro tests
0:37 – so we're not going to talk about the
0:38 – typical stuff you normally see
0:39 – in a blog post of you know five tips to
0:41 – improve conversions we're going to be
0:43 – getting into the nitty-gritty on a few
0:44 – specific tactics that you can use
0:46 – to improve conversions on your store so
0:48 – you don't want to miss this one
0:50 – dig in and i'm looking forward to seeing
0:51 – what you implement welcome to e-commerce
0:54 – town hall
0:54 – where six seven and eight figure
0:56 – e-commerce store leaders
0:58 – learn how to scale and streamline to get
1:00 – to the next level
1:02 – on each episode you'll see strategies
1:04 – from the industry experts behind
1:05 – successful stores
1:07 – that you can take back and apply with
1:09 – your teams right away
1:11 – the show is brought to you by
1:12 – helpful.com help blow provides 24 7 live
1:16 – chat teams to over a hundred e-commerce
1:18 – stores
1:19 – and can help you drive more sales while
1:21 – providing an
1:22 – awesome customer experience through
1:24 – their live chat agents
1:26 – check them out at helpflow.com but for
1:28 – now let's dive into today's episode
1:31 – hey guys welcome to e-commerce town hall
1:34 – super excited to dig into today's topic
1:36 – today i've got Shekhar Kapoor he's vp
1:39 – marketing at convertcart.com
1:41 – uh ConvertCart has help 500 stores over
1:44 – 500 stores
1:45 – increase conversions by as much as 30 or
1:47 – more so they really
1:48 – they really understand their stuff um
1:50 – when it comes to cro and
1:51 – we worked with them on a number of
1:53 – clients uh and so
1:55 – you know it's really a hot topic in
1:58 – e-commerce there's a lot of
1:59 – resources you can look at and a lot of
2:01 – best practices there's a lot of coaches
2:03 – there's a lot of people out there
2:05 – but it's uh it's hard especially with
2:07 – stores in our audience at six and seven
2:09 – figures and above like these are not new
2:10 – stores
2:11 – it's hard to get things in place that
2:13 – are going to
2:14 – really move the needle when you're at
2:16 – that scale and so that's really what we
2:17 – want to dig into
2:18 – with Shekhar today um and so we're gonna
2:20 – look at a couple different angles
2:22 – um but the takeaway i want you guys to
2:23 – get is um you know really
2:25 – methodical ways for stores to increase
2:27 – conversions um
2:29 – and do it the way that you know
2:30 – sophisticated cro guys do so
2:33 – shakar super excited to have you um
2:35 – welcome to the show i appreciate you
2:36 – taking the time
2:38 – um before we dig into the nitty-gritty
2:40 – of everything
2:41 – give me a little bit of your background
2:42 – kind of paint a picture i know your
2:43 – background but um give give some context
2:45 – to everybody listening
2:47 – thanks a lot Jon it's great to be here
2:48 – thanks for having me
2:50 – and uh as far as i go i i've i've i
2:53 – personally
2:54 – was in the marketing and sales
2:55 – consulting business for
2:57 – about more than seven years um after
3:00 – having worked
3:00 – you know full time for a bunch of b2b
3:02 – b2c companies
3:04 – um you know on sales and marketing and
3:06 – um
3:08 – you know when i came across ConvertCart
3:11 – i was to be honest with you blown away
3:13 – with the way we were doing conversion
3:14 – optimization
3:16 – i hadn't looked at conversion
3:17 – optimization as seriously as i do now
3:20 – before but i was interested to convert
3:22 – and um
3:23 – and that's really where um you know i
3:26 – saw the potential
3:27 – um so if you really see what what truly
3:31 – matters
3:31 – in the way my uh you know uh
3:34 – you know horizon to conversion
3:36 – optimization has opened up up is
3:38 – uh you said 500 stores that we work with
3:40 – right now uh
3:41 – we run an average of one to two
3:43 – experiments a month for them
3:45 – you know on an ongoing basis so we're
3:47 – talking about roughly 6000 experiments
3:49 – we're running every year
3:50 – and um i of course look the sales and
3:53 – mark overlook the sales and marketing
3:54 – um you know divisions here um
3:58 – and i personally have spoken to at least
4:00 – 1 000 e-commerce entrepreneurs uh that's
4:02 – that's
4:02 – what i could keep a tab on to be honest
4:04 – with you uh over the last um
4:07 – four years um so yeah it's been it's
4:09 – been a ride
4:10 – nice i'm curious you know what are some
4:13 – of the big
4:14 – things that stand out as you talk to all
4:15 – these ecom guys and girls to really
4:17 – understand like
4:18 – what are some misconceptions around cro
4:20 – or when somebody comes to you especially
4:22 – with an
4:22 – uh an established store like the
4:24 – majority of our audience six and seven
4:25 – figures some eight so like they're not
4:27 – you know starting from scratch
4:28 – but even then you know i noticed they
4:30 – have misconceptions like what are some
4:31 – of the things that you've seen
4:33 – in those conversations um that you're
4:35 – able to kind of unlock a different
4:36 – perspective in uh in these guys
4:40 – so for all the companies and the
4:42 – businesses that i've spoken with or
4:43 – individuals that i've spoken with
4:45 – i i would largely put them in three
4:47 – different buckets so there are
4:48 – businesses or business owners that are
4:50 – largely
4:51 – completely uh unaware about conversion
4:53 – and optimization they don't know the
4:55 – benefits
4:55 – of optimization they they've not tried
4:57 – it they know their experience probably
5:00 – needs to be better but they're not
5:01 – taking a
5:02 – you know serious shot at it so i call
5:03 – them um
5:05 – you know there's no better way to put it
5:06 – but illiterate entrepreneurs right
5:07 – they're not lifted about conversion
5:09 – optimization then there are people who
5:10 – are
5:10 – who are trying so they're using some you
5:12 – know minor tools
5:14 – but they're not successful of course
5:15 – because they're not really
5:17 – doing full-blown optimization they're
5:19 – not using complex solutions to solve
5:21 – problems like product discovery or trust
5:24 – so on and so forth
5:25 – and then the third one is people who are
5:27 – aware that they truly need to solve this
5:29 – problem
5:29 – they are trying solutions one after the
5:31 – other uh and they're not successful so
5:33 – largely what i've seen is about 98
5:36 – 99 of the people that i've met um
5:39 – uh they're not successful with
5:41 – optimization and and the primary reason
5:43 – for that is because
5:44 – it's a complex process of of you know
5:47 – analyzing data and finding a problem
5:49 – coming up with the right solution for
5:50 – those problems on the side so for
5:52 – example
5:52 – you know you may analyze data and find
5:55 – that
5:56 – product discovery is really difficult on
5:57 – the site right people are just hoving
5:58 – from one page to another
6:00 – and the journey is just broken and you
6:02 – want to fix that problem
6:05 – you'll probably go sign up to the
6:06 – product discovery solution uh you know
6:08 – maybe improve your search maybe work on
6:10 – navigation but then your ability to do
6:14 – that is going to depend on
6:15 – the ability of either the tools that you
6:17 – use or the teams that you hire
6:20 – there's definitely nothing that's that
6:21 – that's sort of a you know all-in-one
6:24 – setting out there and that's the reason
6:27 – if you really see if you look at the
6:28 – metrics for some of the most major sas
6:32 – tools that are available out there that
6:34 – are in the conversion at optimization or
6:36 – the a b testing
6:36 – space they see a 30 to 40 churn rate on
6:40 – an annual basis
6:41 – right so their customers leave them on
6:43 – an ongoing basis because it's
6:44 – incredibly hard to see success when you
6:47 – use these third-party solutions
6:49 – so in variable that's one common sort of
6:51 – pattern that i've seen they you know so
6:52 – there are people who don't know they
6:53 – should be working on optimization
6:55 – and people who know and they're working
6:56 – on optimization but neither of them is
6:58 – really successful and
7:00 – that's purely because you know people
7:02 – don't fully understand
7:03 – how tough it could be to you know
7:05 – basically optimize uh conversions and to
7:07 – work on their sites experience
7:09 – audit got it there's so much we could
7:11 – dig into and i know um there's gonna be
7:13 – like probably four or five like major
7:14 – areas we'll dig into kind of like we
7:16 – were chatting about before
7:17 – um but i want to spend a couple minutes
7:19 – on on what you just said
7:22 – and the question is really what is at a
7:25 – high level the right way
7:27 – for a brand to do cro and that doesn't
7:29 – mean like how to do everything but
7:31 – you mentioned you know a testing process
7:33 – you mentioned one to two experiments a
7:35 – month there's i'm sure there's a way you
7:36 – prioritize those and structure those
7:38 – you mentioned you know there's different
7:39 – tools out there that do different things
7:41 – like
7:42 – what's the framework at a high level of
7:44 – how to properly run
7:45 – cro for an established brand so
7:49 – the first place you would want to start
7:51 – is is
7:52 – with data so i you wouldn't be surprised
7:55 – that i i we often meet
7:57 – businesses that are doing you know um
8:00 – you know upper seven figures in revenue
8:02 – and uh
8:03 – and they're still not great in the way
8:05 – they track data using even google
8:06 – analytics or otherwise so that's the
8:08 – first place to start
8:09 – you have to have airtight visibility on
8:12 – absolutely each and every
8:13 – event that happens on your site now
8:14 – whether you're using third-party tools
8:16 – to do that or using an analytics
8:18 – google analytics that is or something
8:20 – else it's up to you you could hire an
8:22 – expert off of
8:24 – any freelancer site and just set it up
8:26 – properly uh that's super important
8:27 – because the more data you have and as
8:29 – you collect data over time the more
8:31 – clarity you will have on who your
8:32 – customer is
8:33 – why they're your customer and then you
8:35 – can extrapolate that back
8:37 – into you know how can you get more of
8:38 – that kind of people so
8:40 – that's the first place to start the
8:41 – second thing is to have a serious
8:43 – analyst or you know sit down and analyze
8:45 – how your funnel looks just look at your
8:46 – most fundamental funnel right so look at
8:48 – where traffic enters the site
8:50 – uh look at you know what are the
8:52 – channels that are bringing you the most
8:53 – amount of money
8:54 – and what is the journey that people take
8:57 – you know on your site
8:58 – to finally you know put that cash in
9:00 – your pocket or finally buy that those
9:02 – products from you
9:03 – what are the questions that they have in
9:04 – mind right so once you've
9:06 – really decoded what is it that works
9:09 – you will instantly start to get clarity
9:11 – on what is it that's not working
9:12 – because you know you would you would see
9:14 – where the journeys are failing you know
9:15 – what
9:16 – where are people falling off you know
9:17 – why are they falling off what are they
9:19 – not interacting with and so on and so
9:20 – forth
9:21 – that will immediately then of course
9:22 – point at what solutions could possibly
9:24 – solve those problems
9:26 – um one of the other interesting things
9:27 – is you know you have to have a handle on
9:30 – behavior
9:31 – you have to have a handle on um you know
9:33 – just fundamental stuff like trust
9:35 – you know clarity of value proposition is
9:37 – there friction on the side
9:39 – right is there something that's too
9:40 – confusing because um
9:42 – you know there's an interesting way to
9:43 – put it up as entrepreneurs
9:46 – um and you know i have a friend of you
9:49 – know rishi he runs this company called
9:50 – frictionless commerce so
9:52 – he's he's a guru for product page
9:54 – optimization you know
9:55 – he he he does copy like in the god mode
9:59 – but
9:59 – he says you know entrepreneurs are
10:00 – likely to be um you know too close to
10:03 – the problem
10:04 – so they will probably never look at
10:05 – their own side and truly be able to
10:07 – scrutinize it
10:08 – that's also why we do free audits for
10:10 – sites where we say you know what let us
10:12 – find the problem on your site
10:13 – you can walk away with the problem if
10:14 – you want don't work with us but let us
10:16 – at least find out for you
10:17 – so once you've once you've really uh you
10:20 – know scrutinized the
10:21 – the site and found the right problems
10:23 – and and now that's when you're chasing
10:24 – the right solution so i think
10:26 – 70 of the success depends on finding the
10:28 – right problem
10:29 – the remaining 30 is just plain execution
10:31 – right getting the right designer
10:32 – designing something
10:33 – going and running the optimization um
10:36 – you could use an a b testing tool
10:37 – or if the problem is super
10:38 – straightforward and you know it's it's a
10:40 – hole you would want to plug
10:42 – you could just run that implementation
10:44 – so for example if you want to fix your
10:45 – search
10:46 – uh you'll just probably sign up with a
10:48 – search solution or hire a developer to
10:50 – fix your search
10:51 – uh just get it done and you will
10:53 – instantly start to see a lift
10:54 – um but as i said 70 of the effort is
10:56 – just finding the problem
10:57 – the remaining 30 is purely just you know
11:00 – nailing it down
11:01 – with the solution interesting one of my
11:03 – takeaways from that is is really um
11:05 – even if you're not laser focused on
11:08 – increasing conversions right now and
11:09 – like that's not your goal this quarter
11:11 – is like to get a proper testing routine
11:13 – in place make sure the data is
11:14 – collecting
11:15 – right um like make sure you got your
11:17 – ecommerce data and analytics like we
11:19 – still see that happen with brands that
11:20 – um
11:21 – especially heavy facebook driven brands
11:23 – where they've scaled the whole thing on
11:24 – facebook ads
11:26 – the pixel is set up well and the
11:27 – facebook ads account tracks revenue and
11:29 – like they run everything in there
11:30 – but they don't have like e-commerce
11:32 – tracking set up in uh in analytics right
11:34 – which is a huge missed opportunity when
11:36 – you want to
11:36 – retroactively go back so just having
11:39 – that stuff in place is key
11:40 – um and then that gives you that baseline
11:42 – really to move forward with
11:44 – um i want to switch gears and talk
11:47 – through
11:47 – like what are um you know some of the
11:50 – biggest ways
11:51 – um that you've seen to to improve
11:54 – conversions like what's the low hanging
11:55 – fruit what are the big opportunities
11:57 – that you see i know we talked about
11:59 – you know search and site navigation and
12:01 – all those things like
12:02 – let's kind of dig into some of that um
12:04 – you know search i think was the first
12:06 – big one that we talked about product
12:07 – discovery getting that right
12:09 – um what are what are some of the
12:10 – mistakes you see stores make or
12:13 – you know missed opportunities when it
12:14 – comes to search let's dig into that
12:17 – sure i think it's a massive area to be
12:19 – honest um
12:21 – you to first understand that search is
12:23 – incredibly fundamental to e-commerce
12:25 – today
12:26 – okay uh and that's not because
12:29 – that's not for us to debate to be honest
12:31 – with you that's not because
12:32 – hey you know what you're selling
12:33 – something that people will probably want
12:34 – to search for when they come on and say
12:36 – no that's not the logic the logic is
12:37 – that's what
12:38 – people inherently behave like people
12:41 – inherently
12:41 – are i mean they search everywhere in our
12:44 – lives right so that's that's practically
12:46 – what i mean
12:47 – if i'm cooking and and the temperature
12:50 – of the pan is not too
12:51 – not too accurate i'll probably go google
12:53 – first you know before even
12:54 – you know giving it a shot so what's
12:56 – really happening is
12:58 – people are using search incredibly
13:00 – aggressively across the board amazon is
13:02 – actually more than 55
13:03 – of the total product searches that
13:05 – happen in the world today so amazon has
13:07 – actually surpassed google
13:08 – um you know in terms of the number of
13:10 – products that are being searched online
13:12 – what that truly means is that people use
13:15 – search
13:16 – beyond what uh it's meant for so you
13:19 – know search on a shopify site
13:20 – is to is meant for people to find
13:23 – products
13:24 – that are on that site right that's what
13:25 – it's meant for but people are going to
13:27 – type in stuff that is probably not going
13:29 – to be that
13:30 – um they're going to be they're going to
13:31 – be typing in their favorite colors
13:33 – they're going to be typing in you know
13:34 – what they think your product
13:36 – looks or sounds like or feels like and
13:38 – then you've got to be able to serve
13:40 – amazing results to them so that they
13:41 – convert
13:42 – so search is probably the most you know
13:44 – the human to technology connection there
13:46 – is next level and you've got to crack
13:47 – that
13:48 – and you've got to work on it very
13:49 – consciously so i look at search as a
13:52 – funnel
13:52 – you have to have so the first thing is
13:55 – you know what percentage of your site
13:57 – visitors you search you look at that
13:59 – data first right
14:00 – um there's one thing that i can tell you
14:02 – right out of the back that people that
14:04 – use a search bar on a site
14:05 – of course this is true for sites upwards
14:07 – of 30 or 40 products
14:09 – 30 or 40 uh you know skus but
14:12 – for people that use you know search on a
14:15 – site
14:16 – they normally convert at least 10 times
14:18 – better if not more
14:20 – than people who don't use the site
14:21 – search right so you're talking about the
14:22 – highest quality traffic you know people
14:24 – with the highest intent are the ones who
14:26 – are going to use the search bar
14:27 – so the first thing is how many people
14:29 – actually use the search bar the second
14:30 – is
14:31 – what percentage of them convert and the
14:33 – third is what percentages
14:34 – of them bounce off so now you know if
14:37 – your search is truly even searches you
14:38 – know serving results
14:39 – that matter so if 90 of the people that
14:41 – made the search are going to bounce off
14:43 – instantly as soon as they see the
14:44 – results you're serving them completely
14:47 – you know broken results so that's the
14:50 – first bit we just search
14:51 – you know you know first part which is
14:52 – you know search usage the second part is
14:54 – serving the results so you've got to be
14:56 – able to you know translate your product
14:59 – feed your product information into
15:00 – really intuitive results
15:02 – so normally what what a good search
15:04 – solution would do is not only would it
15:06 – search
15:06 – for the right product name it would also
15:08 – search the products description
15:10 – the products reviews to serve results
15:12 – that are relevant to what the user is
15:13 – searching for
15:15 – so um you are you and what you're also
15:17 – looking to do is and which is why
15:19 – you know in the way that we do things uh
15:21 – it is it has worked out beautifully well
15:23 – for our customers is
15:24 – we will never sort of set up and forget
15:27 – about
15:28 – anything such as a search right we will
15:29 – never set up and forget about
15:31 – in fact that that's true for everything
15:33 – that's true for email marketing
15:34 – which is also something that we do
15:36 – that's true for reviews that's true for
15:38 – search that's true for everything you
15:39 – cannot set up and forget about
15:41 – um anything so with search especially
15:44 – what you can do is once you've set it up
15:46 – you can continuously analyze
15:48 – what are the queries that people are
15:50 – searching for on the site what are the
15:52 – queries they're entering on their search
15:53 – bar and that'll tell you you know
15:55 – whether they're finding what they're
15:56 – looking for or not like there are
15:58 – you know phone repair path sites you
15:59 – know um auto part sites that we've
16:01 – worked with where we have seen search
16:03 – queries
16:04 – in in the hundreds or the thousands of
16:06 – parts that they never had
16:08 – in the in you know in their inventory
16:10 – and they have ended up
16:11 – you know com starting new business lines
16:12 – because people were inherently coming
16:14 – and searching for stuff
16:16 – so that's insane that's data that's
16:18 – completely oh nobody even looks at that
16:19 – data today
16:24 – that sounds like super complicated to
16:26 – get in place i know you guys haven't
16:27 – have tools i'm not like plugging you
16:28 – guys but
16:29 – i mean if if somebody's not using
16:31 – ConvertCart right like
16:33 – how do they go about doing that of
16:35 – really like tuning search
16:36 – and then monitoring the metrics of
16:38 – search and then essentially like doing
16:40 – cro just on that search funnel like what
16:42 – what's the framework of how they do that
16:44 – in all honesty i mean
16:46 – i mean i'm not of course you know we do
16:48 – that fantastic really well and i think
16:51 – we are great at it so that's obviously
16:52 – there but there are search tools
16:53 – available
16:54 – that you can just plug onto the site and
16:56 – you can uh you know get going so there
16:58 – is a
16:58 – very degree of sort of uh you know
17:00 – complexity and very degree of
17:02 – flexibility with which you can use them
17:04 – so some of them will allow everything
17:05 – but they're going to be you know you
17:07 – need to be half an einstein to be able
17:08 – to do that
17:09 – and the other ones are not going to be
17:11 – as flexible as you would want
17:12 – and you know the other thing is you've
17:14 – got to keep business use cases in mind
17:16 – right so for example in a lot of cases
17:19 – people will only search for the sku
17:21 – number
17:21 – they will not search for because the
17:23 – site is so specific the business is such
17:25 – that they'll just search for the
17:26 – exact product that they're looking for
17:29 – um but another case is that they're
17:30 – doing the exact opposite they're just
17:32 – searching for some
17:32 – really vague terms and you've got to
17:34 – connect the product so i think
17:36 – half of the i i think less than half 30
17:38 – 30 to 40
17:39 – of the success depends on the tool you
17:41 – choose the remaining is really what you
17:43 – do with it
17:44 – got it so that process like similar to
17:46 – cro earlier right like
17:48 – signing up for the different cro tools
17:49 – you see in these groups like is not is
17:51 – not the answer it's the process of how
17:53 – you use those it's having the data it's
17:54 – analyzing that data and running tests
17:57 – uh so i definitely hear you on that over
17:59 – you know with search
18:00 – and especially if you look at the
18:02 – devices you know if you look at desktop
18:04 – and if you look at mobile
18:05 – desktop is more navigation friendly you
18:06 – will see that a conversion rate on
18:08 – desktop is generally twice that of
18:09 – mobile
18:10 – because mobile is not navigation
18:12 – friendly you know shopify themes
18:14 – most of them inherently have the the
18:16 – menu button the hamburger icon on the
18:18 – top left side of the screen which is the
18:20 – hardest
18:20 – place to reach on a cell phone yeah and
18:22 – so people what i mean they're just
18:24 – trying to
18:24 – make their journey shorter so they'll
18:26 – just shoot for the search bar and
18:28 – and if that's a serves you know crap
18:31 – results so then
18:32 – yeah god help you yeah so search i mean
18:35 – um
18:36 – i didn't realize how deep you could go
18:38 – into search of like consistently
18:39 – monitoring queries and running tests on
18:42 – you know query by query results and um
18:44 – you know essentially
18:45 – just doing cro just within um the search
18:47 – side i
18:48 – i want to step uh back a little higher
18:50 – level and go into more navigation like
18:52 – we talked about and then mobile
18:54 – but anything else to add on the search
18:55 – side specifically um
18:57 – other than you know running that search
18:59 – process
19:00 – the way you run cro on the rest of the
19:02 – website like thinking of it like a
19:03 – funnel anything else big to add on
19:04 – search
19:06 – um i think depending on the business i
19:10 – would want to sort of you know change
19:12 – the amount of emphasis that's given to
19:14 – search in the experience as such
19:16 – um you know i think your company does a
19:18 – fantastic job of you know helping people
19:20 – find what they're looking for on the
19:21 – side that's the most direct way of
19:23 – making that happen
19:24 – you know chat is very natural as well
19:26 – and people are gonna end up asking at
19:28 – some point hey you know what this is
19:29 – what i'm looking for do you have it and
19:30 – you know if there's somebody manning the
19:32 – other side of the jet
19:34 – instead of just a robot i i hate talking
19:36 – to chat bots by the way so
19:38 – i i'm a big advocate of so i'm a big
19:40 – advocate of what you guys are doing
19:42 – um so that's also a search bar really
19:45 – speaking that that's also search that's
19:47 – also discovery
19:48 – i mean it's it's a lot of other things
19:49 – but social discovery so that definitely
19:51 – helps but as far as search goes you know
19:53 – if you are a
19:54 – if you're a business that has you know
19:56 – thousands of products
19:57 – uh like we've worked for the business
19:58 – that are at 600 000 skus
20:00 – um right so that's a lot of products so
20:03 – what we did for them is we put
20:04 – the search bar front and center middle
20:06 – of the screen
20:07 – and we you know basically their entire
20:10 – home page was
20:11 – just for discovery so you had all the
20:13 – brands they you know
20:15 – featured all the possible you know
20:18 – vehicles that they supported so it was
20:20 – an auto parts store
20:21 – of course yeah um so that was really
20:23 – interesting got it got it that makes
20:25 – sense
20:26 – um let's dig into the navigation side
20:29 – right so like search is an element of
20:30 – navigation but um
20:32 – you know let's dig into the things that
20:34 – stores need to consider
20:35 – on the navigation side of like how
20:37 – they're structuring
20:39 – um you know nav and sub nav and you know
20:41 – the differences on mobile versus desktop
20:43 – and filtering products and all those
20:44 – types of things
20:45 – um i know search is a is a big part of
20:47 – that but um you know what are some other
20:49 – things that um
20:50 – you guys start to realize in your
20:52 – testing routine that can have you know
20:53 – really big impact as far as
20:55 – how you structure navigation right so a
20:58 – couple of data points you may want to
20:59 – take a look at
21:00 – if you want to find problems there are
21:02 – the time that somebody spends with us
21:04 – on your site versus the number of pages
21:06 – they view
21:07 – so if you if you see people up jumping
21:08 – across too many pages
21:10 – they're probably looking for something
21:12 – that they're not able to find
21:13 – we also look at another interesting data
21:15 – point which is actually more related to
21:17 – product page optimization which we can
21:18 – talk about later but
21:20 – um you would see that there may be a
21:23 – sort of uh
21:25 – anomaly you may find with category page
21:29 – or collections page the amount of time
21:31 – spent how fast
21:32 – how far the user scrolls down and
21:36 – how they're able to uh you know
21:39 – i mean how many products they engage
21:40 – with from each category so basically
21:43 – you're trying to understand if if at all
21:46 – i mean are they a shopper
21:47 – or are they just you know jumping around
21:50 – um
21:51 – where site nav plays an important role
21:53 – is how specific
21:55 – can you make the um
22:00 – how specific can you make it for the
22:02 – user um you know
22:03 – uh when they're finding something or or
22:06 – let's turn the table around how specific
22:08 – of a
22:08 – request can you generate from the user
22:10 – right so if you're selling
22:12 – fashion you could just have t-shirts
22:14 – right or you could have t-shirts men and
22:16 – women or you could have t-shirts
22:18 – uh men and then you could have either
22:20 – sizes or colors
22:21 – right or or you could have you know
22:24 – polos or crewnecks and and different
22:27 – types of t-shirts so
22:29 – the more specific you get the better it
22:31 – is
22:32 – typically speaking unless if you're if
22:34 – you're sort of a
22:35 – if you're a deals store and you just
22:37 – want people to take a look at those
22:39 – eighty percent off that kind of stuff so
22:41 – if you're doing that gimmicky stuff then
22:42 – i'm i think you're anyways gonna be a
22:45 – business that's driving a lot of your
22:46 – traffic directly to the product page so
22:48 – navigation doesn't matter for you at all
22:49 – but you got to get more specific
22:52 – um with the navigation at least attempt
22:55 – to do that one of the ways in which you
22:56 – could also do that is use
22:58 – uh product selection wizards or create
23:01 – these
23:01 – you know flows within your experience um
23:05 – there's this site you could we could
23:07 – probably put the link up for the
23:08 – audience you know it's called
23:09 – repairsuniverse.com we've done it for
23:11 – them
23:11 – so they're a phone repair part store and
23:14 – you know we've helped them create a
23:16 – wizard so you could really nail down
23:17 – what you want
23:18 – without having to go through the
23:20 – navigation or search or anything
23:22 – else got it yeah i've seen that with um
23:26 – you know product recommendation quizzes
23:28 – and things like that i know
23:29 – it's it's different than a wizard but
23:31 – it's kind of like that same concept of
23:33 – you know asking questions
23:34 – down a flow that leads to these are the
23:37 – three products out of 600
23:38 – um that are probably a fit for you right
23:41 – um we we do that a little bit
23:42 – uh for certain clients on on the chat
23:45 – conversation so we'll like ask them that
23:47 – in conversations
23:48 – uh naturally get them down to what
23:50 – products they're interested in and then
23:51 – basically link them to uh to collections
23:54 – or pre-filtered collections
23:55 – um what are some of the technical
23:57 – limitations you guys see to get that
23:59 – stuff in place because i think like
24:00:00 – sidebar
24:01:00 – layered navigation different people call
24:02:00 – it different things but like it's not
24:04:00 – uh i think we've all experienced those
24:06:00 – or we know okay like we would benefit by
24:08:00 – just having people be able to drill down
24:10:00 – and you know click down in the sidebar
24:12:00 – or something but it seems like
24:13:00 – maybe it's a shopify thing i'm not sure
24:15:00 – but it just seems like some stores uh
24:17:00 – struggle
24:18:00 – with getting that stuff in place what
24:19:00 – what are the big technical limitations
24:21:00 – to getting that in place and like what
24:23:00 – general direction should a store be
24:25:00 – looking at with their web team to say
24:26:00 – okay here's how we could solve it
24:28:00 – so there are two ways to do it i think
24:30:00 – the first step is is
24:32:00 – is more iterative where you're trying to
24:33:00 – crack what works for you
24:35:00 – and the second step is where you're sure
24:37:00 – some things works and you just want to
24:38:00 – code it in and keep it for good
24:41:00 – um the first one i think is more
24:43:00 – important i think
24:44:00 – shopify and in fact woocommerce big
24:46:00 – commerce
24:47:00 – magento all of these e-commerce
24:49:00 – platforms now allow for
24:51:00 – uh you know a lot of you know uh overlay
24:54:00 – up optimization or overlay customization
24:56:00 – like for example in our case how we
24:58:00 – we do good for clients we just have to
25:00:00 – add a javascript
25:01:00 – snippet to the site and all of the
25:03:00 – improvements that we run are run as an
25:05:00 – overlay so there is zero involvement
25:07:00 – from the client's technical team or the
25:09:00 – design team or anybody else for that
25:10:00 – matter
25:11:00 – the entire ownership is ours and the
25:14:00 – the improvements will run as a
25:15:00 – javascript overlay and they'll run
25:17:00 – asynchronously so what that really and
25:19:00 – that's important because what that means
25:21:00 – is that there'll be no
25:22:00 – negative impact on the site load times
25:24:00 – and that's that's
25:25:00 – that's great right so um that's when you
25:28:00 – would want to iterate and sort of
25:30:00 – perfect what is it that you're looking
25:31:00 – for
25:32:00 – right how do you want your sidebar to
25:33:00 – look how do you want your navigation to
25:35:00 – look once you've nailed down with a few
25:37:00 – tests
25:38:00 – um how you wanted to look on mobile how
25:40:00 – you want to look on desktop you can then
25:42:00 – code it in and make make the change
25:44:00 – permanent on your site the other thing
25:46:00 – is
25:46:00 – which which is good that you mentioned
25:48:00 – that is you could you could and you
25:50:00 – should actually
25:50:00 – crack this experience separately
25:54:00 – um you know for mobile and desktop and
25:58:00 – for other devices basically
25:59:00 – so and you could do that so you could
26:01:00 – actually look at data separately when
26:03:00 – you're a b testing
26:04:00 – um on how conversion rates are
26:07:00 – influenced depending on the experience
26:09:00 – that you serve for mobile
26:10:00 – and for desktop and then serve
26:13:00 – completely different experiences in both
26:14:00 – i mean of course it's going to be
26:15:00 – different but i'm saying
26:16:00 – they could be drastically different um
26:18:00 – depending on what converts and
26:20:00 – you know make conversion and experience
26:21:00 – the the most uh
26:24:00 – uh primary piece basically
26:28:00 – audit got it yeah so what i'm really
26:29:00 – hearing is is um you know testing it
26:32:00 – first
26:32:00 – before you hard code it in and also
26:34:00 – desktop versus mobile like it's gonna be
26:36:00 – hit very differently so
26:38:00 – um i i think that's a good uh good segue
26:41:00 – into
26:42:00 – what we had um riffed on a little bit
26:43:00 – before about really like product pages
26:46:00 – and
26:46:00 – product pages for mobile specifically um
26:49:00 – you know what are some of the big things
26:51:00 – that um stores need to get right when it
26:52:00 – comes to mobile
26:54:00 – um and you know different optimization
26:57:00 – elements that are really important for
26:58:00 – mobile
26:58:00 – how are you guys thinking about that
26:59:00 – with clients the product pages are the
27:02:00 – most important pages on an e-commerce
27:04:00 – site
27:04:00 – that's where the action is right so
27:06:00 – that's
27:08:00 – that's the central piece in in in the
27:11:00 – optimization process
27:12:00 – uh i don't want to say apart from of
27:14:00 – course the cart page but
27:16:00 – but but you know product page is where
27:19:00 – the decision is
27:20:00 – is made cart pages is where that
27:22:00 – decision is
27:23:00 – materialized it's brought brought into
27:25:00 – reality right so both are equally
27:26:00 – important but
27:28:00 – if you were to optimize a product page
27:30:00 – it is
27:32:00 – 100 uh you know a function of data in
27:36:00 – the way that
27:37:00 – product page generates a lot of data
27:39:00 – right that's where you will see the most
27:41:00 – number of mouse interactions
27:42:00 – the most amount of time spent the most
27:45:00 – farther somebody would
27:46:00 – you know the you're further down
27:48:00 – somebody would scroll so those are the
27:50:00 – things that
27:51:00 – you're going to really have to put to
27:52:00 – use the other thing is see we at convert
27:54:00 – cart
27:55:00 – and all the other companies that i've
27:56:00 – consulted and worked with over the last
27:58:00 – many years
27:59:00 – i have always encouraged companies to be
28:01:00 – very outward looking you know a lot of
28:02:00 – the cases companies are very inward
28:04:00 – looking right so they're always looking
28:05:00 – at oh what could we do better and you
28:06:00 – know what
28:07:00 – what is something that i could do better
28:09:00 – with my team or better with my
28:11:00 – technology
28:11:00 – you know sometimes that often leads to
28:14:00 – people reinventing the wheel which is
28:15:00 – not
28:16:00 – necessary it shouldn't be important
28:18:00 – there are some amazing
28:19:00 – sites out there that are doing a stellar
28:21:00 – job at converting customers some of them
28:23:00 – are going to be your competitors
28:24:00 – right some of them are going to be from
28:26:00 – different industries
28:27:00 – and you feel free to make art your own
28:30:00 – you know
28:30:00 – um uh i have a book it's called uh
28:34:00 – still like an artist it's by this artist
28:36:00 – called
28:37:00 – austin clean yeah so it's it's right
28:39:00 – across from where i'm sitting right now
28:42:00 – and uh that's all he talks about in the
28:43:00 – book he says it's okay to steal as long
28:45:00 – as you make
28:46:00 – the stolen piece of art your own so you
28:49:00 – should not reinvent the wheel but if you
28:50:00 – talk if you come back to product page
28:52:00 – optimization
28:53:00 – i see companies obsessing over a b
28:56:00 – testing the
28:57:00 – the color of the call to action button
28:59:00 – right hand
29:00:00 – and really uh you know insignificant
29:03:00 – stuff
29:03:00 – that is not going to change the
29:04:00 – customer's behavior are you most like
29:06:00 – more likely to click on a button if it's
29:08:00 – red or if it's green nobody's
29:10:00 – nobody gives a damn you know so you've
29:13:00 – got to focus on the right problem
29:15:00 – and uh um
29:18:00 – you've got to crack two or three key
29:20:00 – things you've got to first crack the
29:21:00 – structure
29:23:00 – of the page itself you you need to make
29:26:00 – sure you answer three questions
29:27:00 – incredibly well which is why should i
29:29:00 – buy what you're selling
29:30:00 – why should i buy it from you and not
29:32:00 – somebody else and why should i do that
29:34:00 – right now like these are some
29:35:00 – some really important questions if
29:37:00 – you're trying to sell something to
29:38:00 – somebody
29:39:00 – do it in your site's experience this is
29:41:00 – relevant not only relevant business
29:43:00 – advice sales advice this is a relevant
29:44:00 – e-commerce optimization advice as well
29:47:00 – so that means your value propositions
29:49:00 – need to be clear your social proof and
29:50:00 – trust
29:51:00 – information need to be needs to be clear
29:52:00 – price should be clear reviews
29:55:00 – should be clear product images should be
29:57:00 – fantastic so those are some really basic
29:59:00 – things
30:00:00 – the rest of the optimization is going to
30:02:00 – purely depend on data i see a lot of
30:04:00 – sites running product ads and they're
30:06:00 – driving a load of traffic a lot of
30:08:00 – traffic on
30:09:00 – their product pages directly um
30:12:00 – and that means they're shortening that
30:15:00 – traffic's journey and they're
30:16:00 – relying on their product pages to be
30:18:00 – landing pages to convert hundreds of
30:20:00 – thousands
30:20:00 – of dollars in revenue um that's going to
30:23:00 – make optimization a little bit harder
30:25:00 – because you have shorter journeys
30:27:00 – so it's harder to figure out what worked
30:29:00 – um but how we would typically do it and
30:31:00 – for
30:32:00 – for different devices is we would look
30:34:00 – at um
30:35:00 – so let's let's just say uh we we figure
30:38:00 – out that
30:39:00 – there's a product description video and
30:42:00 – people who watched the video
30:44:00 – uh they converted 20 better let's just
30:46:00 – say that's the hypothesis
30:48:00 – right that's that you know what if
30:49:00 – people watch the video more
30:51:00 – i think the conversion rate is going to
30:52:00 – go up because the video makes a very
30:54:00 – compelling case for the product so what
30:55:00 – we're going to do with the a b test is
30:56:00 – we're going to make the video the
30:58:00 – primary
30:59:00 – thing they see instead of the images
31:01:00 – when they come to the product page
31:03:00 – right so we're going to run that a b
31:04:00 – test and we'll run that a b test across
31:06:00 – devices across channels
31:07:00 – so people coming from paid organic
31:09:00 – direct other channels
31:11:00 – and people that are coming from mobile
31:14:00 – and desktop everybody's going to see
31:15:00 – that
31:16:00 – so you let that test run and normally
31:17:00 – what i would recommend companies to do
31:20:00 – and we do that for our clients is
31:21:00 – we will then you know backtrack the test
31:24:00 – so we'll see
31:25:00 – okay maybe the test itself was neutral
31:27:00 – and there's no improvement
31:29:00 – but how did that a b test do for the
31:31:00 – traffic split on just mobile
31:33:00 – or for the traffic split on just desktop
31:36:00 – or for the traffic split for the paid
31:38:00 – traffic on mobile
31:39:00 – alone and turns out you will find some
31:42:00 – small
31:42:00 – wins in in when you break an a b test
31:45:00 – down and that's
31:46:00 – that's really where success is so you
31:49:00 – because you know
31:49:00 – if you're gonna be optim if you if you
31:51:00 – are getting into optimization to run
31:53:00 – this one test that's gonna change your
31:55:00 – life and you know
31:56:00 – you know you're gonna go by a tesla it's
31:58:00 – not gonna happen that's not gonna happen
32:00:00 – so you you you've got to what you're
32:03:00 – looking for is
32:04:00 – is you know several small wins to get to
32:07:00 – that one big victory that's really what
32:08:00 – you're after
32:10:00 – got it yeah that's something um you know
32:12:00 – i know mitch had mentioned initially
32:14:00 – when we first chatted that like
32:15:00 – that was something that you guys have
32:17:00 – been able to do really well is not
32:18:00 – necessarily like figure out what's
32:19:00 – what's the bright color of the product
32:21:00 – button
32:21:00 – but instead you know like four return
32:24:00 – visitors from facebook that go to this
32:27:00 – you know section of the site like this
32:29:00 – is how to get you know a 20
32:30:00 – bump in conversion on those guys right
32:32:00 – so it's like sections of your visitors
32:34:00 – or cohorts of your visitors
32:35:00 – dig a little bit deeper into that part
32:37:00 – of like what are some of the um
32:39:00 – the insights you guys have seen or
32:41:00 – examples from clients that you've seen
32:43:00 – where
32:44:00 – where you found cohorts of visitors or a
32:47:00 – successful test within a cohort of
32:49:00 – visitors
32:50:00 – um that you've then you know rolled out
32:52:00 – for that cohort in the future
32:54:00 – so rather than just you know what tests
32:56:00 – have worked what tests have worked
32:57:00 – within certain cohorts so people can
32:59:00 – kind of get their gears turning
33:00:00 – themselves
33:01:00 – so we see that all the time okay it's
33:04:00 – not
33:05:00 – something that's rare at all it's very
33:07:00 – common
33:08:00 – and that's why you know i am one of i
33:11:00 – see a lot of people in the space and i
33:13:00 – see a lot of influencers in the space i
33:15:00 – was the other day i was looking at this
33:16:00 – round table i
33:17:00 – i remember who it was forget about it
33:19:00 – but i was seeing a lot of talk
33:21:00 – about you know sort of not passing these
33:25:00 – statements
33:26:00 – in marketing that are you know sweeping
33:28:00 – statements and
33:29:00 – for example somebody said you know what
33:31:00 – facebook ads are going to be screwed
33:32:00 – with the with the ios update so the
33:35:00 – other guy said don't say that you know
33:37:00 – you don't know what's going to happen
33:38:00 – etc so i think you know what we don't
33:40:00 – need to
33:41:00 – behave that way so there's a lot of data
33:43:00 – when i'm making some of these statements
33:44:00 – for example i made a statement about
33:45:00 – search
33:46:00 – there's a lot of confidence because i've
33:48:00 – seen a lot of data backing that up
33:50:00 – right and i've seen that across hundreds
33:52:00 – of sites across
33:53:00 – at least 40 industries um and i've seen
33:57:00 – business owners themselves saying wow
33:59:00 – that's amazing you know
34:01:00 – they've themselves seen it so bottom
34:04:00 – line with this kind of optimization or
34:05:00 – you know a common example that i can
34:07:00 – tell you is very simply put
34:08:00 – always repeat visitors are going to
34:11:00 – convert significantly better
34:13:00 – than new visitors that's obvious
34:14:00 – everybody knows that
34:16:00 – you will also see that the conversion
34:19:00 – rate for repeat visitors on mobile and
34:21:00 – desktop
34:22:00 – will be comparable although the overall
34:25:00 – conversion rate on mobile and desktop
34:27:00 – will always be very different so mobile
34:28:00 – will normally convert half
34:30:00 – as good as desktop but for repeat
34:32:00 – visitors they don't care if they're on
34:33:00 – mobile on desktop
34:34:00 – that will still they'll still it'll
34:36:00 – still be comparable in their case
34:39:00 – uh but there are a few things that
34:40:00 – people don't look at for example there's
34:42:00 – uh
34:43:00 – there's something called a lapse point
34:45:00 – um a lapse point is essentially the
34:47:00 – number of days it takes for a visitor to
34:50:00 – become a churn customer
34:51:00 – every business has a lapse point they
34:53:00 – don't calculate it of course we help
34:55:00 – them calculate that but
34:56:00 – a lapse point is essentially you know
34:58:00 – for example for
34:59:00 – um somebody who's selling fashion 60
35:02:00 – days could be their laps point which is
35:03:00 – if that customer has not bought from you
35:05:00 – within 60 days
35:07:00 – they're probably never going to buy from
35:08:00 – you again right
35:10:00 – and so so i want to slow down for that
35:12:00 – part so lapse point is the number of
35:14:00 – days
35:15:00 – before uh a new visitor or somebody that
35:18:00 – hasn't bought
35:19:00 – is not going to buy like after that
35:21:00 – point they're very unlikely to buy
35:23:00 – so so so lapse point is a metric
35:26:00 – applicable only to your existing
35:27:00 – customers so somebody was bought from
35:29:00 – you once
35:30:00 – if they don't buy again for the next 60
35:32:00 – days the the period is lapsed and
35:34:00 – they're not going to buy from you ever
35:35:00 – again
35:36:00 – but that's laps so 60 days is your 60
35:38:00 – days is your lapse point
35:40:00 – right so we were able to in
35:43:00 – in many cases run an a b test and and
35:46:00 – see how that a b test performed for
35:49:00 – returning visitors
35:51:00 – right so we of course ran run an a b
35:55:00 – test for example on the cart page right
35:56:00 – we added some
35:58:00 – recommendations maybe right so we
36:00:00 – decided to cross-sell
36:02:00 – and we saw the ab test results for the
36:04:00 – entire site then we split that
36:06:00 – those test results and saw them
36:07:00 – separately for new visitors and
36:08:00 – returning visitors
36:10:00 – for returning visitors the ones that
36:13:00 – were
36:13:00 – past this lapse point and they were
36:15:00 – visiting the site
36:16:00 – we were able to lift their conversion
36:18:00 – rate so we basically brought the
36:21:00 – we basically pushed the lapse point
36:23:00 – further from 60
36:24:00 – to 80 or even 90 days because we
36:27:00 – converted them so their lifetime value
36:28:00 – of the customer went up
36:30:00 – that's phenom i mean if for anybody who
36:32:00 – listens to this and they understand what
36:33:00 – i'm talking about
36:35:00 – that's what you're after that's what
36:36:00 – makes an e-commerce business successful
36:38:00 – you don't want to make people buy a
36:40:00 – product once you want to
36:42:00 – you know really put your put your hands
36:43:00 – deep into their pockets
36:46:00 – and probably have their credit card on
36:47:00 – file forever and they should be happy
36:49:00 – doing that
36:50:00 – yeah that's powerful so that i mean
36:52:00 – that's a takeaway
36:54:00 – i i don't know if i've i've i don't know
36:56:00 – if i've heard
36:57:00 – our audience actually really dig into
36:59:00 – that at a granular level everybody knows
37:00:00 – about repeat orders
37:01:00 – but the concept of what is the lapse
37:03:00 – point and what can you do to extend that
37:05:00 – out
37:05:00 – um that's a whole testing process in and
37:07:00 – of itself right
37:08:00 – um what what other what other um you
37:12:00 – know channel level insights have you
37:13:00 – guys seen that's a good little golden
37:14:00 – nugget like anything else to dig into on
37:16:00 – like
37:17:00 – channel level cro yeah so
37:21:00 – see that's that's really so that's
37:23:00 – actually one of the first things that
37:25:00 – uh our clients um look at and go over
37:29:00 – because it takes time for
37:30:00 – for this some of the more complex stuff
37:32:00 – to happen because you need to have a lot
37:33:00 – of data
37:34:00 – to run highly statistical statistically
37:37:00 – significant stuff right so
37:38:00 – also i i mean we are thrilled when you
37:41:00 – know we sign up clients that have a lot
37:43:00 – of traffic because then we can do a lot
37:44:00 – but we are equally thrilled when they
37:46:00 – are slightly smaller because
37:47:00 – we are working directly with the owners
37:49:00 – and we have like
37:51:00 – a yes on almost everything we suggest so
37:53:00 – that makes our job also equally exciting
37:55:00 – so we can do really adventurous stuff
37:57:00 – but
37:58:00 – as far as channel level stuff goes now
38:00:00 – there's a serious amount of money being
38:02:00 – spent on google for example
38:04:00 – or your you know facebook ads and that
38:06:00 – kind of stuff
38:07:00 – and one thing that can turn the balance
38:10:00 – sheet around for an e-commerce business
38:11:00 – is how your paid traffic converts
38:13:00 – if it converts just twenty percent
38:15:00 – better
38:16:00 – uh your return on ad spend is going to
38:18:00 – change forever
38:19:00 – um you'll you'll be able to spend more
38:21:00 – money on ads which means you'll be able
38:23:00 – to bring more traffic which then again
38:24:00 – converts a little bit better
38:26:00 – so your revenue is going up for good
38:28:00 – right you're set
38:29:00 – basically and um that's why we look at
38:32:00 – each channel separately
38:34:00 – um and you've got to do that but
38:37:00 – most businesses want us to take a look
38:39:00 – at the paid channel i mean they're not
38:40:00 – aware that we can do that once they find
38:42:00 – out that we can look at the channel
38:43:00 – level they say hey you know what
38:44:00 – why don't you look at my paid traffic
38:46:00 – i'm paying my agency hundreds of
38:47:00 – thousands of dollars
38:48:00 – um you know every year and um
38:51:00 – and i i don't know what's really
38:53:00 – happening you know our rois has been so
38:55:00 – we always also an interesting question
38:56:00 – we always ask is
38:58:00 – has your roi has grown over the last
39:00:00 – three years or two years
39:02:00 – in most cases it has it right so people
39:04:00 – don't
39:05:00 – normally look at the year-on-year trend
39:07:00 – but it but
39:08:00 – if you plot the year-on-year trend for
39:10:00 – something like ros for most e-commerce
39:12:00 – companies
39:12:00 – it will sit right on top of each other
39:14:00 – there's no change in their trend for the
39:16:00 – year you know season is better
39:17:00 – you know off season's worse so
39:21:00 – so one of the key things we would want
39:22:00 – to do is look at their paid traffic
39:25:00 – specifically focus aggressively on
39:28:00 – building a
39:29:00 – solid email list for them from that
39:31:00 – traffic leveraging that email list so
39:33:00 – then make sure that they convert through
39:35:00 – you know through email marketing you
39:37:00 – know you create better retargeting
39:38:00 – audiences out of them
39:40:00 – do whatever you can on the demand chain
39:41:00 – side on the ad side
39:43:00 – but on the cro side whatever it is that
39:45:00 – we can do to analyze because
39:49:00 – there is you know basis which
39:53:00 – if you look at paid channel if you look
39:54:00 – at if you look at the paid channel for
39:55:00 – any business
39:57:00 – you will instantly all you know get a
39:59:00 – lot of data from the business right so
40:00:00 – you this is how much we spend this is
40:02:00 – how much revenue we make this is our
40:03:00 – roas
40:04:00 – the average order value for that channel
40:06:00 – is going to be different um then you
40:08:00 – will see other data so how many visits
40:09:00 – does it take for a customer to actually
40:11:00 – convert
40:12:00 – how many uh how much time do they spend
40:14:00 – on the site so those metrics are gonna
40:15:00 – really matter so
40:16:00 – what you will instantly also start to
40:18:00 – realize is of the total traffic they
40:20:00 – drive from that channel
40:22:00 – 50 of the traffic they've been driving
40:24:00 – is completely crap right so
40:26:00 – there are cases where we are also able
40:28:00 – to tell them hey you know what just uh
40:30:00 – stop any ads you're running on
40:32:00 – washington and ohio
40:34:00 – completely leave them out you have zero
40:36:00 – conversions from those regions
40:38:00 – so we in fact built this tool called
40:40:00 – ppcgear.com it's under approval at the
40:42:00 – moment it's not yet
40:43:00 – out um but that
40:46:00 – you know at the click of a button tells
40:48:00 – people where they are leaking money in
40:49:00 – their adwords or you know what are some
40:51:00 – of the
40:51:00 – low i mean that's unread to cro but but
40:54:00 – i find it really painful
40:55:00 – if companies you know spend money uh
40:58:00 – unproductively
40:59:00 – and i think that's not a function of
41:00:00 – them not being able to spend it
41:02:00 – productively it's the fact that
41:04:00 – as i said entrepreneurs too close to the
41:05:00 – problem they're too passionate about
41:07:00 – what they're doing
41:09:00 – they don't have the time to scrutinize
41:10:00 – what their agency is doing for them
41:12:00 – so they i i mean there's no better way
41:15:00 – out for them
41:16:00 – i'm uh i'm smiling because we've been
41:18:00 – going through this we've been doing uh
41:19:00 – doing some ad tests for helpful
41:21:00 – specifically
41:22:00 – and um yeah
41:25:00 – the business owner's too close to the
41:26:00 – problem right um the way i would word it
41:28:00 – or what i kind of got to this aha moment
41:30:00 – last week
41:31:00 – is as i'm digging deeper into the data i
41:33:00 – realized like
41:34:00 – unemotionally and objectively like it's
41:36:00 – not working we need to change we need to
41:38:00 – course correct the ad spend and
41:39:00 – uh look at a number of different things
41:40:00 – just normal advertising stuff um but i
41:43:00 – really wanted it to work and it was kind
41:44:00 – of like one of my main rocks for this
41:46:00 – past quarter
41:46:00 – and um i said i think we can figure it
41:48:00 – out i think we can get it to work
41:50:00 – um and i'm the one that makes a decision
41:52:00 – on that right so it's like
41:53:00 – if i want to keep writing the check i
41:54:00 – can write the check um but that doesn't
41:56:00 – mean it's actually gonna work and there
41:58:00 – wasn't actually data to support of
41:59:00 – saying okay like let's just continue
42:00:00 – going down the path and so i
42:02:00 – totally resonate with that of like
42:03:00 – business owners just get too close to
42:05:00 – the problem
42:06:00 – and i think having having somebody like
42:08:00 – you guys that
42:10:00 – just thinks of it methodically and has a
42:11:00 – framework that the business owner
42:13:00 – understands it's not like some secret
42:14:00 – sauce where you just send them reports
42:16:00 – and they go oh my god i don't know how
42:17:00 – they're doing this like
42:18:00 – when you show people how to run
42:20:00 – effective cro and how to analyze it and
42:22:00 – how to just do it methodically
42:24:00 – it gives them a lot more confidence and
42:25:00 – clarity right um i
42:27:00 – i want to respect your time i know we're
42:28:00 – coming up on time um
42:30:00 – are there any other like major insights
42:32:00 – or takeaways that you think are
42:34:00 – you know most important um for listeners
42:36:00 – you know they're they're all really like
42:38:00 – six seven figure stores so they've got
42:40:00 – traffic they're spending money on ads a
42:41:00 – lot of them are probably doing some
42:43:00 – level of cro already
42:45:00 – or they think they are um you know what
42:47:00 – are what are the major insights you
42:48:00 – think
42:49:00 – um you know somebody should take away
42:50:00 – from this
42:53:00 – i think one of the important things is
42:57:00 – i think the reliance on general reliance
43:00:00 – on marketing agencies
43:02:00 – is is i think there has to be an end to
43:04:00 – that at some point
43:06:00 – um i was looking at a lot of data so we
43:08:00 – were talking to our own clients
43:09:00 – i think we share a you know a few names
43:13:00 – and
43:14:00 – um we we happen to know a few people
43:16:00 – commonly so
43:18:00 – generally speaking for all the people
43:19:00 – that i've spoken to i've seen that
43:20:00 – e-commerce companies are likely to
43:22:00 – switch
43:22:00 – agency every six to seven months at an
43:25:00 – average
43:26:00 – so that's how impatient you know
43:29:00 – that that those switches are and that's
43:32:00 – unfortunate because neither does the
43:33:00 – agency get any long-term value from that
43:35:00 – engagement
43:36:00 – and if you switched six seven eight
43:38:00 – months after signing up with an agency
43:39:00 – definitely you know you've leaked some
43:41:00 – money you you've not seen any value
43:42:00 – there
43:44:00 – and the number one reason for that is
43:45:00 – because the expectation is that somebody
43:48:00 – from
43:48:00 – outside of your business probably not
43:51:00 – having worked in the same industry as
43:53:00 – you
43:54:00 – um and does not own any technology
43:56:00 – that's the key piece they don't own any
43:58:00 – technology so they're not technologists
44:00:00 – they're they're merely human resource
44:03:00 – that's the problem they solve right
44:04:00 – that's a problem an agency solves
44:07:00 – but they come into your business
44:08:00 – understand this context
44:10:00 – and then help you solve everything so
44:13:00 – there are two kinds of entrepreneurs
44:15:00 – right and this is a question that you've
44:16:00 – got to ask yourself
44:17:00 – each entrepreneur needs to ask
44:18:00 – themselves there are a few fundamental
44:20:00 – pillars that any business
44:22:00 – survives on you have a value proposition
44:23:00 – there's a price you sell it at
44:25:00 – and there's a market you sell it to if
44:27:00 – you have these three things
44:29:00 – in place and you're 100 confident
44:32:00 – on or you know that that you are you
44:35:00 – have a large market
44:36:00 – that you can sell an exciting offering
44:38:00 – to um you know
44:40:00 – in online of course um
44:43:00 – you you've got to get your hands dirty
44:47:00 – um but get
44:50:00 – the right kind of experts um along with
44:53:00 – you at all times
44:54:00 – so you will drastically reduce the time
44:56:00 – you take to solve each
44:58:00 – channel or each source of revenue um
45:01:00 – and that's really where that's why
45:03:00 – that's exactly why convert cut was
45:04:00 – basically
45:05:00 – born um we thought hey you know if you
45:08:00 – spend money on an agency they don't own
45:10:00 – any technology so that's definitely
45:12:00 – not working if you go and sign up with
45:14:00 – the tool on your own you know the time
45:15:00 – to use it
45:16:00 – if you hire a team then you don't know
45:18:00 – how to run that team because you don't
45:19:00 – know what they're going to do
45:21:00 – so convert cuts are the best of both
45:22:00 – worlds so we have a team of experts that
45:24:00 – does the optimization and these people
45:26:00 – own the technology so we have our own
45:28:00 – all-in-one conversion and optimization
45:30:00 – tool suite
45:31:00 – and this comes together so the owners of
45:33:00 – the technology are the
45:34:00 – end users and that has a massive impact
45:37:00 – on
45:38:00 – what we're capable of and i think
45:39:00 – through this conversation it's fairly
45:40:00 – easy to understand that
45:42:00 – that's i mean i think we're doing a fair
45:44:00 – job in my opinion we know our stuff
45:46:00 – um uh so i think i i just see a lot of
45:50:00 – struggle in the
45:51:00 – in the you know e-commerce businesses
45:53:00 – that are in the 500 000
45:54:00 – to 5 million revenue range um from the 5
45:57:00 – million
45:58:00 – onwards it's it's pure optimization i
46:00:00 – think anybody who's at five million
46:01:00 – dollars
46:02:00 – they just need to invest you know a
46:04:00 – hundred thousand dollars a year
46:06:00 – or less on optimization only
46:08:00 – optimization
46:09:00 – nothing more if they just do that um
46:12:00 – they will double in size in a year or
46:14:00 – uh you know at least a year and a half
46:17:00 – max
46:17:00 – uh because they've they've cracked the
46:19:00 – most fundamental problems
46:21:00 – for anybody smaller than that i i just
46:23:00 – see them struggling with agencies
46:24:00 – leaking a lot of money
46:26:00 – i i'm it's very unfortunate yeah yeah we
46:29:00 – see that too um so we get really deep
46:31:00 – with our clients to really see like
46:33:00 – you know who they're working with and
46:34:00 – paid traffic and all those types of
46:35:00 – things and like we do see
46:37:00 – until they find the right agencies they
46:38:00 – just cycle people just cycle through
46:40:00 – agencies
46:41:00 – it's it's a little bit rough um for for
46:43:00 – really both of them like you said
46:44:00 – i want to ask you very expensive yes so
46:48:00 – like i i look at that as you know not
46:50:00 – only is it agency expensive right but
46:52:00 – then you're if you're talking paid
46:53:00 – traffic like
46:54:00 – it's not just the agency fee like if you
46:56:00 – spend a hundred thousand dollars on paid
46:57:00 – traffic for the ad budget
46:58:00 – and it doesn't work very effectively
47:00:00 – then that's a that's a problem that's
47:01:00 – that's a hard expense
47:02:00 – um so i think there's there's a lot to
47:04:00 – consider there i want to ask you here as
47:06:00 – we wrap up
47:07:00 – um you know if people want to continue
47:08:00 – the conversation or or the
47:10:00 – um you know additional resources you'd
47:12:00 – recommend i want you to kind of kind of
47:13:00 – list those here in a second but
47:15:00 – just to kind of recap um some of the
47:18:00 – main things that we covered like what
47:19:00 – i'm really seeing in my notes um
47:21:00 – is uh you know the importance of
47:24:00 – having that data tracking in place so
47:26:00 – one of the things that Shekhar talked
47:28:00 – about is like even if you're not
47:29:00 – focused on cro right now like make sure
47:31:00 – analytics is set up well make sure
47:33:00 – you're tracking the events like make
47:34:00 – sure you have everything tracking so
47:35:00 – that as you start to focus on that you
47:37:00 – guys can
47:38:00 – can see that um and see that data um he
47:41:00 – also talked about
47:42:00 – um about uh leveraging search to really
47:45:00 – maximize conversions and
47:47:00 – you know my takeaway from that was
47:48:00 – thinking of search as a funnel
47:50:00 – right like basically somebody sees a
47:52:00 – search box right
47:53:00 – uh somebody engages in the search box
47:55:00 – somebody searches twice in the search
47:57:00 – box somebody bounces in the search box
47:59:00 – somebody converts after the search box
48:00:00 – like the whole thing's a funnel even
48:01:00 – though it's just a search box
48:02:00 – like being able to really think of it
48:05:00 – like that and optimize that entire
48:06:00 – process can
48:07:00 – can do really really well um you know we
48:10:00 – also talked about navigation getting the
48:12:00 – navigation side right
48:13:00 – similar methodology as the search box
48:15:00 – side uh product pages for mobile and
48:17:00 – then the other part i think that was
48:18:00 – huge was um
48:20:00 – granular cro like at the channel level
48:22:00 – right so
48:23:00 – um figuring out how do you you know
48:25:00 – optimize for different cohorts of
48:26:00 – visitors um how do you focus in just on
48:28:00 – paid traffic um
48:30:00 – how do you get that lapse point and
48:32:00 – focus on increasing that right
48:34:00 – um or extending that out so a lot of a
48:36:00 – lot of good nuggets um we're going to
48:38:00 – have a lot in the show notes as well
48:40:00 – um but if people want to continue the
48:42:00 – conversation with you shakar or you know
48:44:00 – dig deeper into some of the stuff you
48:45:00 – talked about
48:46:00 – where can they continue the conversation
48:48:00 – and you know if there's one big resource
48:49:00 – on your site that would be best for them
48:51:00 – to really dig in deeper on their own
48:52:00 – what would that be so um i mean
48:56:00 – from a conversation perspective we're
48:57:00 – gonna make it a conversation itself so
48:59:00 – we
48:59:00 – we do these really exhaustive site
49:02:00 – audits
49:02:00 – and we'd be happy to run one of those
49:04:00 – for anybody who's going through this
49:06:00 – um so you can just go to convertcard.com
49:09:00 – and
49:09:00 – uh you know there's a free site audit
49:11:00 – button just hit that fill the form we'll
49:13:00 – be in touch or
49:14:00 – reach out to me um i can probably put my
49:17:00 – email id
49:18:00 – uh you know under wherever we host this
49:20:00 – uh shakecrat
49:21:00 – convertcard.com um as far as content
49:24:00 – goes we've actually published a lot of
49:25:00 – very good content so we we are we're
49:27:00 – gonna be in a couple of days out with
49:29:00 – a bunch of ways to deal with
49:32:00 – the whole new ios update uh and what
49:36:00 – e-commerce companies can do to
49:39:00 – regardless to generate demand uh you
49:41:00 – know even if facebook falls flat
49:43:00 – on his face because we know there's a
49:44:00 – lot of you know
49:46:00 – demand sitting there for people and uh
49:48:00 – you want to make sure there's something
49:50:00 – you know that helps them absolutely
49:52:00 – absolutely so we'll link that up in the
49:54:00 – show notes but for anybody listening um
49:56:00 – the email address is
49:57:00 – shekhar@convertcart.com uh but again
50:03:00 – we'll put that in the show notes uh you
50:04:00 – can check it out at
50:06:00 – ecommercetownhall.com
50:07:00 – um thanks to everyone for listening i
50:09:00 – hope that you guys find what shakar
50:11:00 – uh shipar dug into is helpful and
50:12:00 – something that you can implement and
50:14:00 – we'd love uh to hear
50:15:00 – what you guys actually implement and how
50:18:00 – it's going and to kind of get uh deeper
50:20:00 – into uh
50:20:00 – your respective businesses in the
50:22:00 – comments so drop those into
50:24:00 – ecommercetownhall.com
50:26:00 – thank you so much for your insight today
50:28:00 – i really appreciate it
50:29:00 – and i hope you have an awesome week you
50:31:00 – too thank you
50:33:00 – thanks for tuning in to e-commerce town
50:35:00 – hall for more resources related to
50:37:00 – today's episode
50:38:00 – visit ecommercetownhall.com and don't
50:42:00 – forget to check out helpflow
50:44:00 – helpflow provides 24 7 live chat teams
50:47:00 – to over a hundred e-commerce stores
50:49:00 – and can drive more sales while providing
50:51:00 – an awesome customer experience
50:53:00 – through their live chat agents helpful's
50:55:00 – done for you 24 7 live chat team
50:58:00 – can predict and save abandons directly
51:01:00 – on your website
51:02:00 – by engaging with chat they can also use
51:04:00 – conversational upsells to increase
51:06:00 – average order value in a way that feels
51:08:00 – good to visitors
51:10:00 – ultimately they're going to provide an
51:11:00 – overall amazing brand experience to your
51:13:00 – customers
51:14:00 – learn more today at helpflow.com